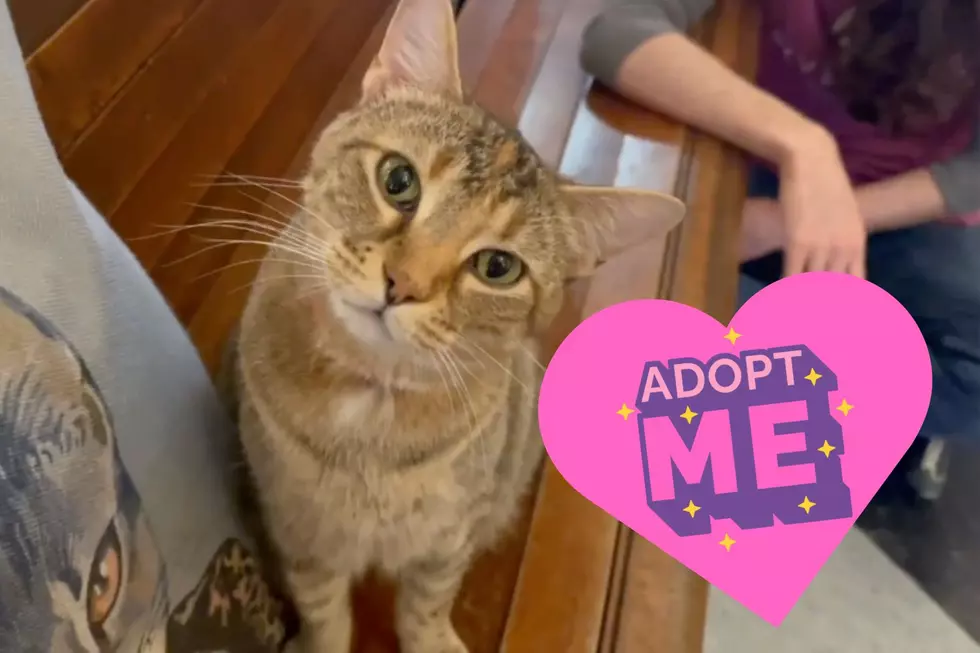 Sweet Indiana Cat in Shelter for 300 Days Hopes Someone Will Finally Rescue Her [VIDEO]
VHS/Canva
Allow us to introduce you to this week's Pet of the Week from the Vanderburgh Humane Society.
Meet Josephine (JoJo)!
Hi, my name is Josephine, but my friends call me JoJo. I'm 4 years old and currently hold the title of longest River Kitty resident. I've been here a whopping 300 days (enter mind-blown emoji here.) Not sure why, as all of the lounge regulars, staff, and volunteers adore me! Full transparency, I wasn't too sure of this place when I first arrived. Everyone was wanting to give me attention all the time and I simply did not know how to receive it. It wasn't long before I started warming up, though. I love being fed those little packs of gravy for cats, even when it gets messy. So grab a few of those and pay me a visit at River Kitty! I promise you'll fall in love with me, too. The $80 adoption fee includes spaying, microchip, vaccinations, and a best friend for life.
Browse all adoptable pets at vhslifesaver.org.
---
What's happening at the VHS?
Our low-cost vaccine clinic is this Saturday, February 11th 
We offer standard cat and dog vaccinations, basic disease testing (FELV, FIV, Heartworm), flea prevention, heartworm prevention, and ID microchipping.
Walk-in ONLY! 7:30 am-1:30 pm. First come, first serve. Please understand that we try to see as many clients as possible, but the demand is often greater than time allows.
Upcoming Saturday pet vaccine clinic dates:
February 25th
March 11th
March 25th
The next VHS Volunteer Orientation is on February 22nd at 6:30 pm in the VHS lobby!!
If you are planning to attend, please RSVP with your name to: m.mckittrick@vhslifesaver.org
For more info or to apply, please visit: vhslifesaver.org/getinvolved
Why do cats have whiskers? Why do they meow? Why do they nap so much? And answers to 47 other kitty questions:
Why do they meow? Why do they nap so much? Why do they have whiskers? Cats, and their undeniably adorable babies known as kittens, are mysterious creatures. Their larger relatives, after all, are some of the most mystical and lethal animals on the planet. Many questions related to domestic felines, however, have perfectly logical answers. Here's a look at some of the most common questions related to kittens and cats, and the answers cat lovers are looking for.