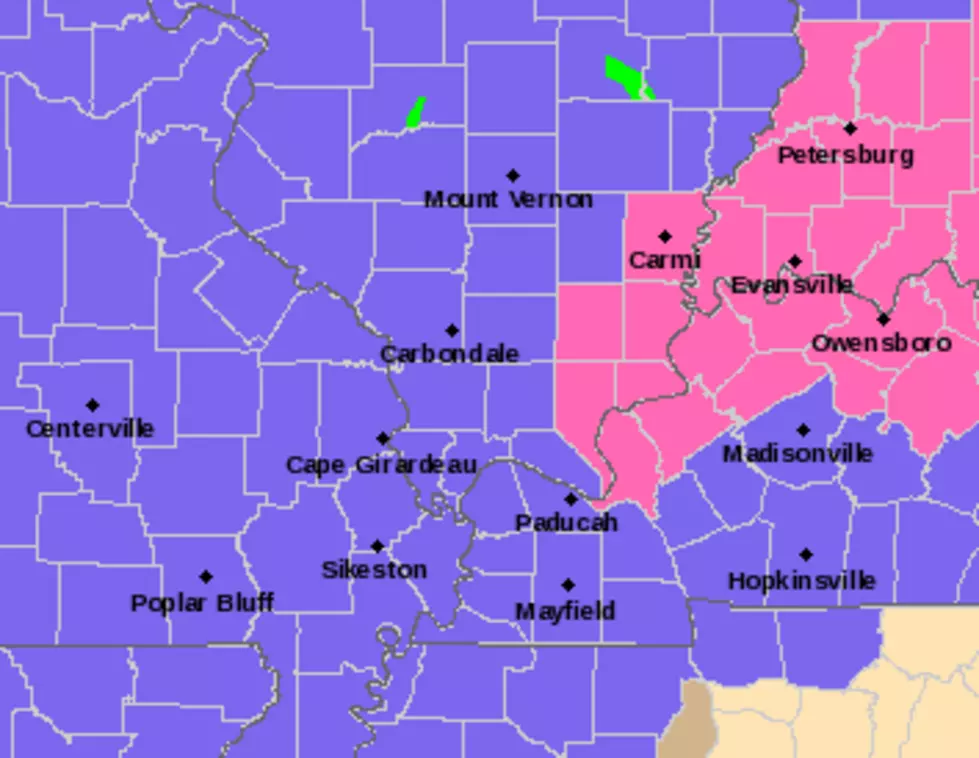 Winter Storm Warning Issued for Large Portion of the Tri-State
(National Weather Service)
The National Weather Service issued a Winter Storm Warning for all of Southern Indiana and parts of Western Kentucky in the Tri-State early Saturday morning beginning at Noon. Here's what they say we can expect:
URGENT - WINTER WEATHER MESSAGE
National Weather Service Paducah KY
334 AM CST Sat Jan 19 2019

...HEAVY SNOW AND VERY GUSTY WINDS MAY CREATE NEAR WHITE-OUT
CONDITIONS THIS AFTERNOON AND THIS EVENING...

ILZ083-086-087-090-091-INZ081-082-085>088-KYZ007-010-014-015-
018>020-192130-
/O.UPG.KPAH.WW.Y.0002.190119T1800Z-190120T0600Z/
/O.NEW.KPAH.WS.W.0002.190119T1800Z-190120T0600Z/
White-Saline-Gallatin-Pope-Hardin-Gibson-Pike-Posey-Vanderburgh-
Warrick-Spencer-Livingston-Crittenden-Union KY-Webster-Henderson-
Daviess-McLean-
Including the cities of Carmi, Harrisburg, Shawneetown, Golconda,
Elizabethtown, Fort Branch, Petersburg, Poseyville, Evansville,
Boonville, Rockport, Smithland, Marion, Morganfield, Dixon,
Henderson, Owensboro, and Calhoun
334 AM CST Sat Jan 19 2019

...WINTER STORM WARNING IN EFFECT FROM NOON TODAY TO MIDNIGHT CST
TONIGHT...

* WHAT...A period of heavy snow is expected late this afternoon
  and this evening. Total snow accumulations of 3 to 6 inches are
  expected. Locally higher amounts are possible. Winds may gust
  as high as 40 to 45 mph.

* WHERE...All of southwest Indiana, including Evansville,
  portions of southeast Illinois near the Ohio River, including
  Carmi, Harrisburg, Shawneetown, and Golconda, and portions of
  western Kentucky along and north of a line from Smithland to
  Providence to Calhoun, including Henderson and Owensboro.

* WHEN...Rain will change to snow late this afternoon and early
  this evening. Snow will taper off late this evening and
  overnight.

* ADDITIONAL DETAILS...This potent weather system will bring an
  Arctic blast of air with a myriad of impacts. Strong and gusty
  winds will impact travel and also bring in cold air with single
  digit to lower teens wind chills. Plunging sub freezing
  temperatures will create flash freeze and black ice potential
  for any residual ground or roadway moisture. In addition, winds
  may produce significant visibility reductions and near white-out
  conditions at times when blowing snow is moderate to heavy.

PRECAUTIONARY/PREPAREDNESS ACTIONS...

A Winter Storm Warning for snow means severe winter weather
conditions will make travel very hazardous or impossible. If you
must travel, keep an extra flashlight, food and water in your
vehicle in case of an emergency.

The latest road conditions for the state you are calling from can
be obtained by calling 5 1 1.
The biggest difference in this forecast compared to what was expected through the majority of the week is the amount of accumulating snow . Throughout most of the week, one to two inches had been the overall consensus by local meteorologists. Now, it appears will see a bit more than that with three to five inches expected.
Whatever happens, it sounds like a good weekend to sit in the house and binge watch some TV. But, if you absolutely must get on the roads, give yourself extra time to get where you need to go.
Be sure to have the WKDQ app on your phone to receive updates as they become available. Click the button that applies to your device below to download it now.