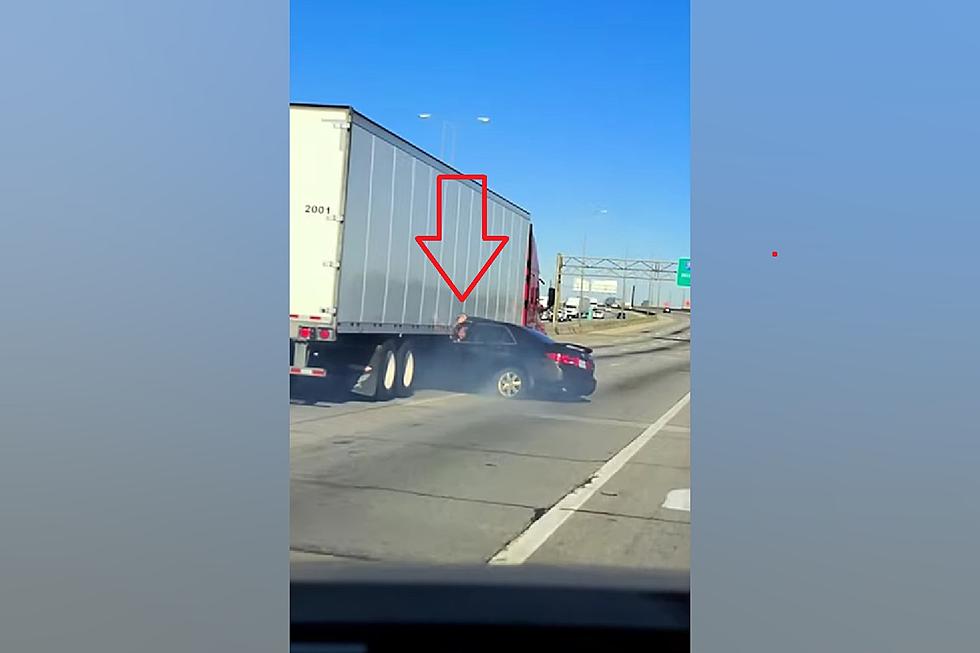 Dashcam Video Shows Semi-Truck Dragging Car Down Illinois Highway
Grzegorz Buczynski via Storyful/YouTube
What did I just see? If my eyes aren't deceiving me, it's a dashcam video showing a semi-truck dragging a half-impaled car down an Illinois interstate. Remarkably, the driver seems to be quite happy about it.
I've had to do some digging to figure out exactly where this video was captured. Watch it and I'll show you how I figured out the location in a little bit. My fear as the driver got closer was that the driver of the car must have been seriously injured or killed. Fortunately, no. You'll see them waving as the car drives by. Insane. NOTE: it appears the original video was removed from YouTube, but you can see it shared by Yahoo. WGN in Chicago has also shared it on YouTube now.
If you look at the signs, it'll tell you almost exactly where this happened as they pass a sign showing an upcoming exit to Highway 38 off of Interstate 294 near Chicago.
Looking this exchange up on Google Maps, it's approximately here.
According to the report on Yahoo, there were no injuries reported in this weird incident.
There's no context given and no explanation how the car ended up underneath the semi or why he's still just cruising down the highway. It's a complete mystery. I'll update this story if I can learn any more details. Just thankful that car driver is so gleeful.
Home Overlooking Great Lakes Looks Like a Lighthouse
Midwest Underground Bunker is Available on Ebay