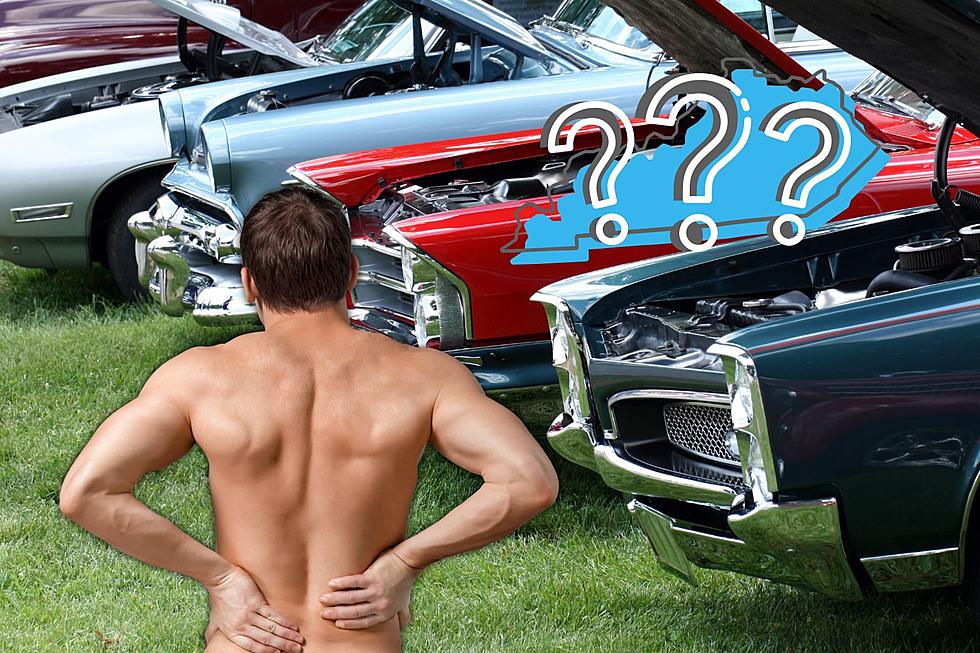 Is a 'Birthday Suit' Car Show REALLY Happening in Kentucky This Summer?
Canva
There's a post that has gone viral about a car show unlike any you have seen in the past. A car show where you show up naked in Kentucky...but is it real?
Car shows will be popping up all over Kentucky and Indiana very soon. As the weather warms up, car collectors and enthusiasts flock to see all of these classic cars on displays at car shows across the region. Like many, I have been to quite a few car shows and have seen some absolutely awesome cars. However, for me personally, car shows really aren't my thing. Once you have been to one, in your area, you have pretty much seen them all...or so you'd think.
There's a post on Facebook that has gone viral with over three thousand shares that claims that a nude car show is coming to Pikeville, Kentucky.
A nude car show? Like people showing off their cars in their birthday suits? Yep! The post reads:
Get Naked And Explore A Fun Car Show Thu, Aug 10 thru Sun, Aug 13, 2023 5:00 PM in This Small Village In coal run! This 4-day nude event will have live music, great food, and raffles!
That's a new one! I didn't know that you could host events like that where the public walks around naked in Kentucky. Surely, this can't be real? Well, the answer to that question is yes and no.
Is a Nude Car Show Really Coming to Pikeville, Kentucky?
The Facebook post about a nude car show in Pikeville, Kentucky is a hoax. Sorry to disappoint some people out there, but no nude car show is happening in Kentucky. However, the image shared within the post IS real.
There is a nude car show that is coming to Wisconsin later this year. That's where the post originally came from. Valley View Recreation Club in Cambridge, Wisconsin hosts several nude events during the summer. These events include the nude car show,  nude volleyball tournament, and the naked mile.
So, while you can't always believe everything you see on social media, sometimes there's a little bit of truth behind it.
Rejected Kentucky Personalized License Plates
There are some rejections here that are real head scratchers. For others, you might be able to deduce the reason. For others still, it's kind of obvious. None in this list, however, fall into the NSFW category.
Kentucky's Nuisance Animals
A couple of these creatures would cross over into the "dangerous" category, but the Kentucky Department of Fish and Wildlife says that these are ALL nuisances, and with good reason.
13 Movies That Were Filmed in Kentucky
Kentucky hasn't gone ignored by Hollywood, with regards to the usage of filming locations. But there could always be more, right?