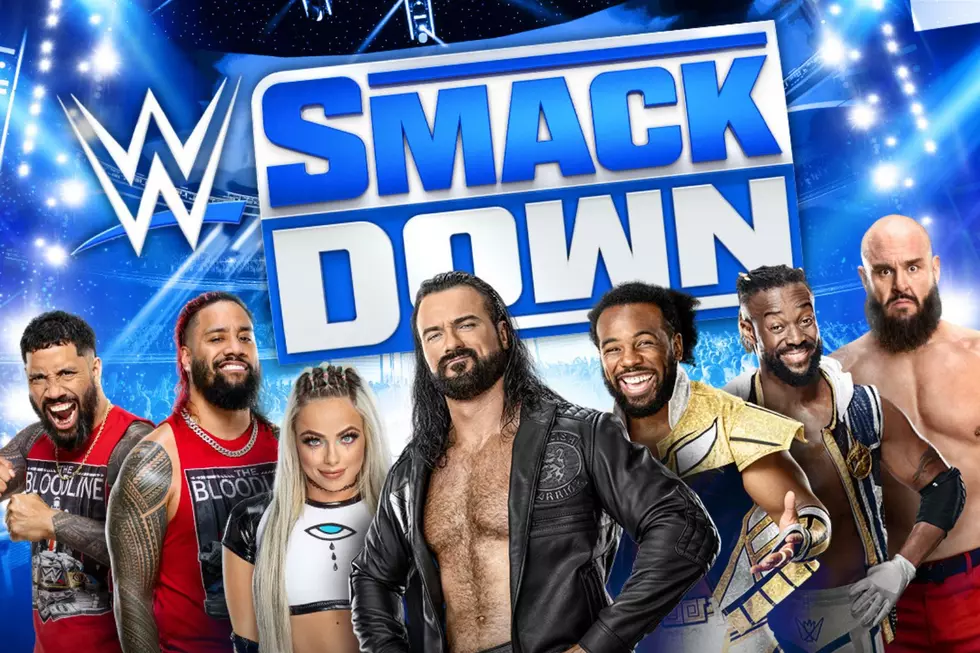 WWE SmackDown Coming to Evansville in 2023
WWE
The WWE Universe in the Evansville area will be packing the Ford Center when SmackDown comes to town in 2023.
It seems like once a year, the Evansville area is treated to a Raw or SmackDown live from the Ford Center. It's always exciting when WWE comes to town. In years past, we have had some pretty epic shows here in Evansville, and in 2023, that will be no different.
As you know, each year, the Road to WrestleMania begins at the Royal Rumble event in January. From there, the landscape of WWE changes and it really is the most exciting time of year to be a fan of WWE. After the Royal Rumble in 2023, we will have WWE Elimination Chamber, which will also set up some big matches for WrestleMania. Less than a week later, WWE's Friday Night SmackDown will be rolling into Evansville.
SmackDown Coming to Evansville in 2023
Mark your calendars for Friday, February 24, 2023. That's when WWE SmackDown will be broadcasting live on FOX from the Ford Center here in Evansville. You never know what will happen. There's so much time between now and then. Who will be champion? Who will be the winners of the men's and women's Royal Rumble matches, and challenging for the championships at WrestleMania? More importantly, what kind of surprises and matches will be occurring in Evansville?
What we do know are a few WWE Superstars advertised for SmackDown in Evansville. They include:
Drew McIntyre
Braun Stroman
Liv Morgan
Jimmy Uso
Jey Uso
Kofi Kingston
Xavier Woods
and many more to be announced.
*Card is subject to change*
Tickets for WWE SmackDown go on sale Friday, November 18, 2022, with tickets starting at only $20! You can get your tickets at the Ford Center Box Office and Ticketmaster.
99.5 WKDQ will have plenty of opportunities for you to win tickets to the show during the following weeks:
Win a pair of tickets the week of November 14th on the Afternoon Show with Travis Sams
Win a four-pack of tickets the week of January 23rd, 2023 on the Q Crew Morning Show with Ryan and Leslie.
Win a pair of tickets and be qualified for upgraded ringside seats next to Travis Sams the week of February 13th, 2023 on the Afternoon Show with Travis Sams
Don't miss your chance to be among the WWE Universe live in Evansville on February 24th, 2023 with 99.5 WKDQ!
Wrestling Matches That Could Win A Gold Medal If Professional Wresting Were An Olympic Sport
I belelive that these are some of the best matches of all time. No gimmicks, just a good old fashioned match that told a great story and left the crowd in awe of what they just witnessed.
25 Businesses That Should Come To Evansville In 2022
Evansville is constantly growing. How would you like to see any of these businesses make their way into the area this year?
25 Hidden Evansville Secrets That May Blow Your Mind
An Evansville resident recently posted a question in the "I Grew Up in Evansville, Indiana"
Facebook group
asking other members to share any hidden or little-known facts about our city not many residents would know. The answers were wide-ranging, covering everything from our manufacturing history to our place in Civil War, to a couple of popular landmarks still standing today that were the first in the entire state of Indiana. No matter how long you've lived here, chances are there will be a few things on this list you didn't know about the city we call home.