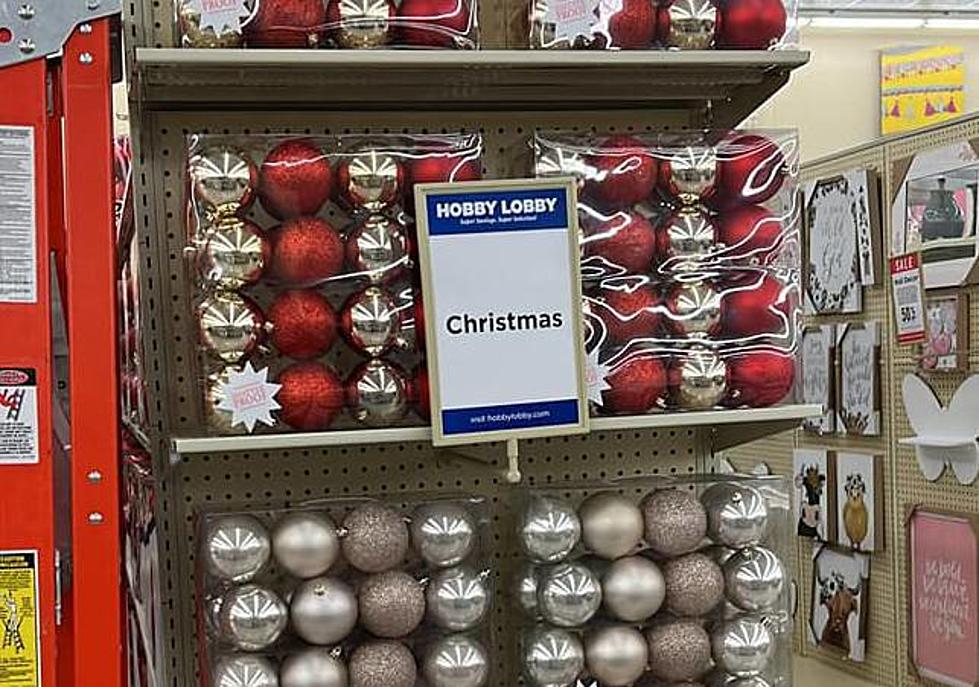 Christmas Decorations are Popping Up at Department Stores in Kentucky
Susan Clark
This is NOT a drill. My friend Susan Clark was shopping last week here in Owensboro and strolled into Hobby Lobby over at Gateway Commons off Hwy 54. Now, if you ask Susan, she will tell you that she is the self-proclaimed "Queen of Christmas". But, even the queen had difficulty wrapping her brain and garland around this!
No! Your eyes are not deceiving, my little elves. Those are indeed Christmas ornaments and they are on display at Owensboro's Hobby Lobby location IN. FREAKING. APRIL.
And that end cap isn't the extent of it either. My friend Mischelle Miller was also in Hobby Lobby last week and snapped this pic!
There's an entire aisle of Christmas ornaments that leads to this question. Isn't this a little too early???
Charles Cobb has an interesting opinion about the ornaments and why they are on display so early. His estimation? "Clearance! I bet there was a box they found after the holiday and thought put it out. Why not? Right?"
The comparisons between Susan's photo and the one Mischelle took suggest there's not much variety in the current Christmas crop. Susan says the current stock seems to be primarily ornaments. So, maybe Charles is right. Maybe it's just a bunch of clearance.
However, as Susan explained this morning on my radio show, there were two aisles full of decor. So, it doesn't seem like clearance at all. In fact, a clerk at the store told her the stock room is already packed full of Christmas trees.
It's actually not all that abnormal for Hobby Lobby to put Christmas decor out early in the year. As a matter of fact, I spoke to a former employee who admits that the company typically starts rolling out the Christmas goodies as early as June. But, it seems they're getting a jump start early in 2023- at least in the Owensboro location.
But Joy McClain offers a perfectly logical explanation for it. She says, "Hobby Lobby provides supplies for crafters who must work ahead of the season. They can't wait until October or November if they sell items at craft shows, for example."

I suppose the 12 Days of Christmas may be turning into 12 months of it.
LOOK: 25 over-the-top Christmas displays from across America
To help get everyone in the mood for the upcoming holiday season,
Stacker
compiled a list of some of the most over-the-top Christmas displays across America.