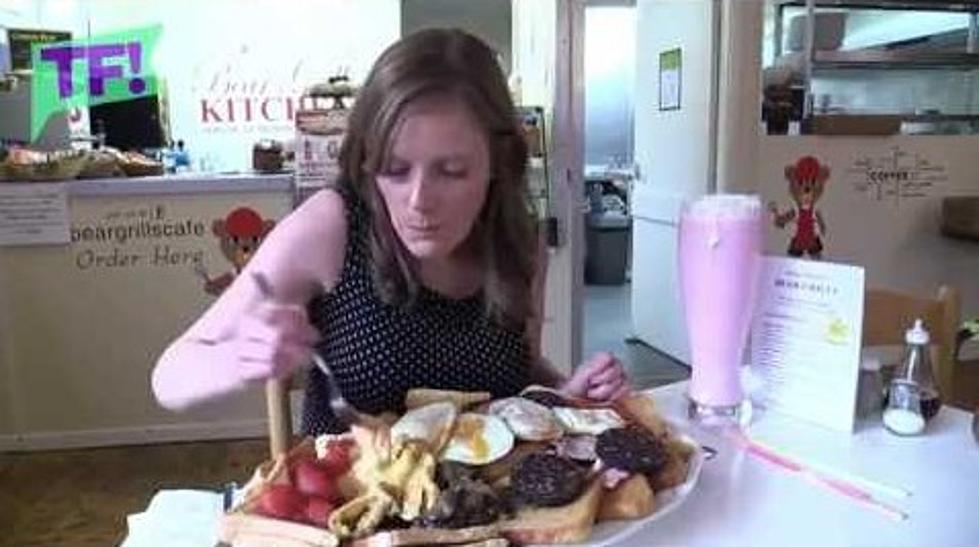 Watch A Petite Woman Eat An 8,000 Calorie, 7-Pound Breakfast – Why? Because She Can [Video]
Totally Flabbergasted via YouTube
This woman puts hot dog eating champion Joey Chestnut to shame and would eat his lunch in a competition...literally, eat his lunch!! She is not overweight and is NOT pregnant...she is just one hungry girl. Her name Is Emma Dalton, she wears a size 8, has a 24-inch waist and is 25 years old. The meal she ate is called "the Hibernator"and can be found in the Bear Grills Cafe in Great Britain.
The meal features eight pieces of bacon, eight sausages, four hash browns, four fried eggs, a four-egg cheese omelette, four waffles, four pieces of toast, four pieces of fried bread, four pieces of black pudding, two ladles of beans, two ladles of tomatoes, mushrooms, fries and a two-pint milkshake..all containing 8,000 calories and weighing in at a whopping 7 pounds!!
Dalton had to eat it in under an hour to win the challenge and she did, seemingly effortlessly. She is the only person to have successfully finished that challenge and my guess is the only person who ever WILL finish that challenge....YIKES!!