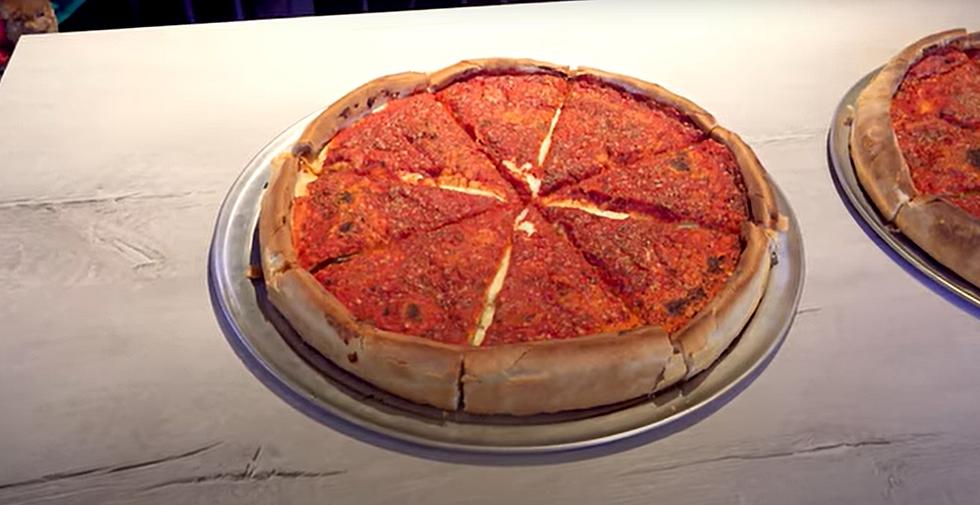 Video of a man eating an 8 pound pizza challenge in Illinois
YouTube/Randy Santel
This has to be the largest Deep Dish Pizza I have ever seen, and I can't believe this one man is attempting to eat it all in less than one hour.
Food challenge legend Randy Santel has over a million followers on his YouTube channel and has posted videos of dozens and dozens of incredible food challenges that he has completed, BUT this one is the most impressive one I have seen. The video was uploaded a couple of years ago of him eating an 8lbs Deep Dish Pizza from Riverside Pizza & Pub a restaurant in the suburb of Chicago called Batavia, IL. In the description of the video he says...
"My friend Martin and I each took on their 16" diameter 8lb Chicago-Style Stuffed Meat Lovers Pizza Challenge. It was stuffed with mozzarella cheese, pizza sauce, and 6 meats - pepperoni, sausage, bacon, meatballs, Italian beef, and ground beef."
I love deep-dish pizza with a passion, as a Chicagoan, there isn't a deep-dish place I won't try from Geno's, Lou Malnati's, and everything in between, but having to eat a whole 8-pound meat lovers deep dish sounds like a nightmare! I don't think I could honestly make it through half of this challenge and be able to walk out of there, the best thing about a giant deep-dish pizza is you can order one with 3 other friends each having two slices, and be completely stuffed.
Spoiler Alert!!!
He does complete the challenge in just about 33 mins which adds to the insanity of this video!
LOOK: 15 Discontinued McDonald's Menu Items