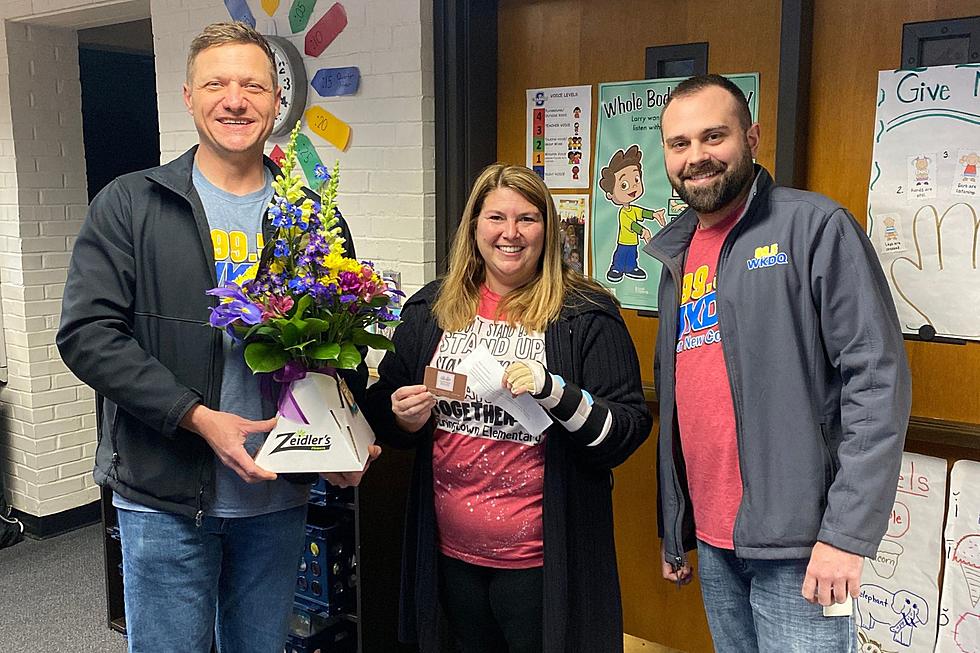 Meet the WKDQ Teacher of the Month Winner from Stringtown Elementary
Townsquare Media
99.5 WKDQ has teamed up with Liberty Federal Credit Union to give you the chance to recognize and thank a teacher in the Tri-State for the work and dedication they put into helping children learn and preparing them for their future.
It takes a special person to be a teacher. While on the surface it appears they only work from 8:00 AM until 3:00 PM each weekday for nine months out of the year, there's much more to it than that. There are papers to grade and lesson plans to make, both of which usually happen after the regular school day is over, and sometimes into the late evening hours at home.
But it's much more than just performing the day-to-day responsibilities. Great teachers truly care about each and every one of their students as if they were their own kids and not only understands each one is unique in their own way in how they learn and behave but must use that knowledge to create the best possible plan for helping that student reach their full potential. A great teacher is also someone who can provide sympathy or a shoulder to cry on when a student is having a bad day and be that student's biggest cheerleader when they're having a great one inside or outside the classroom.
WKDQ Teacher of the Month for February 2023
One teacher who checks all those boxes is Jenny Howard at Stringtown Elementary School on Evansville's north side. Jenny was nominated by Sarah Daniel, whose son is currently in Mrs. Howard's class. Here's why Sarah said Jenny deserved this month's award:
Jenny Howard is a Kindergarten teacher at Stringtown Elementary in Evansville, IN. She's been teaching Kindergarten for over 20 years. She's kind and patient with her students and is a great communicator with parents. She puts her students first. She truly loves what she does, and it shows. I'm grateful my son has her to guide and teach him [in] his first year of Elementary school.[/pullquotes]
Congratulations to Mrs. Howard and thank you for the work you do for your students. It clearly doesn't go unnoticed.
Nominate Your Child's Teacher to be Our Next Teacher of the Month
If you know a teacher you think deserves to be our next Teacher of the Month, nominate them using the entry form below. We'll select one teacher at random from the entries received and personally deliver them a bouquet of flowers from Zeidler's, along with a $50 gift card to the Copper House restaurant on Franklin Street just like we did with Mrs. Howard.
See How School Cafeteria Meals Have Changed Over the Past 100 Years
Using government and news reports,
Stacker
has traced the history of cafeteria meals from their inception to the present day, with data from news and government reports. Read on to see how various legal acts, food trends, and budget cuts have changed what kids are getting on their trays.