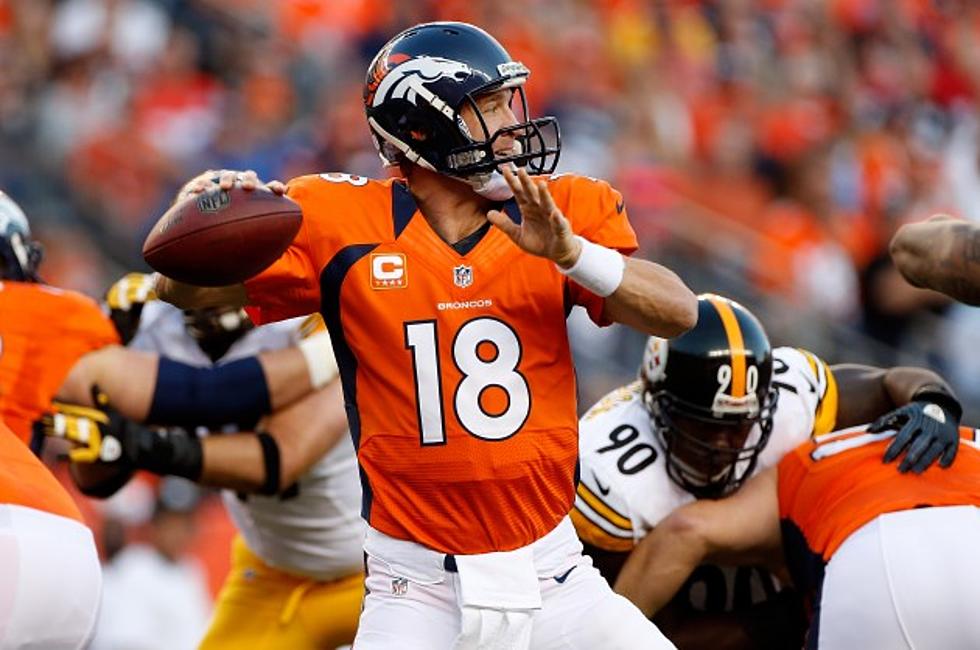 Peyton Manning's Number 18 Jersey Banned in Colorado School District
Those of us who watched Peyton Manning over the last 14 years as the Indianapolis Colts quarterback probably felt a little strange last night to see Manning in a Denver Broncos uniform taking on the Pittsburgh Steelers. Our discomfort was made even worse because Manning had a 'vintage' Peyton Manning night and shredded the Steelers defense to give the Broncos a 1-0 start to the Manning era. Good for Broncos' fans, bad for Colts fans.
It is amazing how many people I see in Evansville who still wear Manning's Colts 18 jersey and some are even wearing a 18 Broncos Manning jersey, but not many. We also see a lot of kids wearing a Manning Colts jersey in school here in the Evansville area, but you will not see kids wearing a Manning Broncos jersey in the schools in Greeley, Colorado because the Weld County School District 6 has banned Manning's #18.
The reason for the ban is because of a gang in that area that uses the number 18 in it's name and this ban has been in effect for more than four years as part of the dress code for all schools. This has not been an issue until the Broncos signed Manning and let him keep his signature number 18.
District spokesman Roger Fiedler says many parents have expressed concern over the number 18 on jerseys. When he explained the policy to those concerned, they were fine with it he says. Fiedler went on to say, "We're really trying to minimize the presence of gangs in our schools. There are gangs in the community. We take a very aggressive stance in keeping that activity and that behavior off school grounds."
The number 18 is not the only banned number on belt buckles and team jerseys in those schools...13,14,31,41 and 81 are also banned. Seems a little extreme to me.