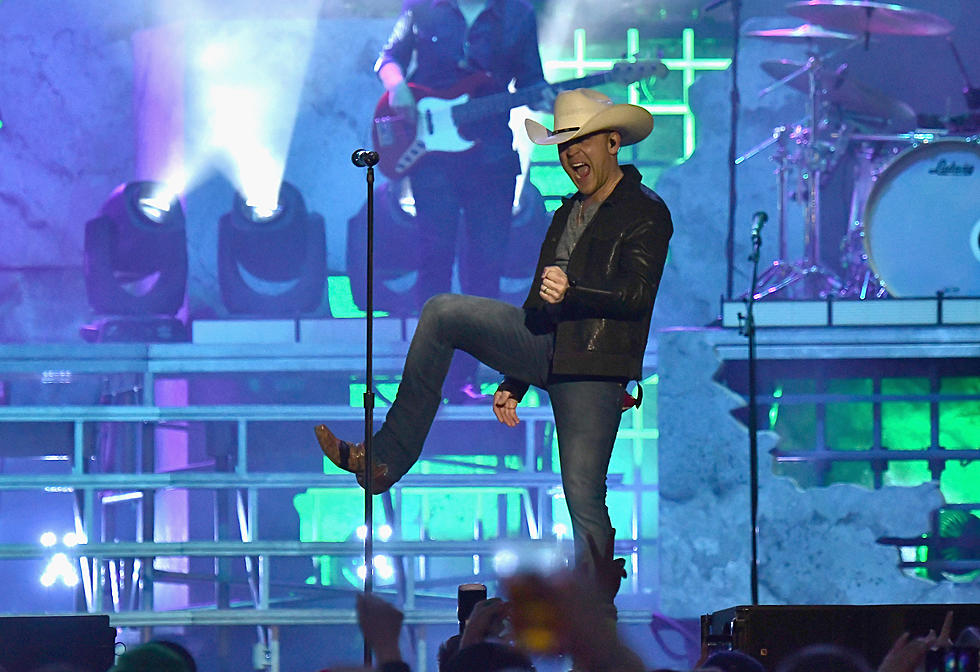 Justin Moore Coming to Owensboro Sportscenter on September 28th
Gustavo Caballero
2023 has really been an incredible year for concerts in the Tri-State. In the first seven months, we've already seen Old Dominion, Kenny Chesney, Kane Brown, Koe Wetzel, and several others stop in either Evansville or Owensboro to put on killer shows. And, we still have several more to look forward to in both cities before the year comes to an end. That list now includes what will without a doubt be another fantastic show with the announcement that Justin Moore is coming to Owensboro for a show at the Sportscenter on Thursday, September 28th.
Since breaking through in 2008, Justin has had an incredible career that has seen him score over 10 number-one hits, have two albums certified platinum for selling over one million copies each (his 2009 self-titled debut along with the follow-up, Outlaws Like Me, in 2011), and another certified gold for selling over 500,000 copies (2013's Off The Beaten Path). Plus, he's received several ACM (one of which he won), ACA, and ACC Awards nominations.
His songs cover a wide variety of topics including missing the days when he and his woman would stay up all night drinking and letting whatever happens happen with his latest single featuring Priscilla Block, "You, Me & Whiskey:"
To honoring those who lost their lives fighting for our country or putting themselves in danger to protect others in "The Ones Who Didn't Make It Back Home:"
To my personal favorite, and one I can't believe wasn't written by someone else decades ago, "Why We Drink:"
Justin Moore at Owensboro Sportscenter Ticket Information
I could go on and on about all the great songs Justin has given us over the years, but you want to know how to get tickets, right? Right. Well, then let's get to it.
Tickets for the show go on sale at the Owensboro Sportscenter box office and online through Owensboro Tickets on Friday, August 4th. However, a special presale event will take place on Thursday, August 3rd using the promo code STRAYDOG.
Although, you may not have to worry about getting that code or paying any money for tickets because starting on Monday, August 7th, Melissa and I will have your chance to win a pair for free during The Q Crew Morning Show.
Each weekday at 7:40, we'll give you the chance to play "Moore or Less." We'll give you a statement that features a number referencing a certain item. That number will be wrong. You'll have to guess if the actual number of whatever we reference is "Moore or Less" than the number we give you. Get the answer right, and you'll be going to see Justin Moore at the Owensboro Sportscenter on us.
For example, let's say the question is, "The world's population in 2019 was 5.674 billion. Is the correct number 'Moore' or less?" If you were to say, "Moore," you'd be right and we'd give you the tickets (FYI: the actual number was around 7.674 million).
Got it? Good! Be listening for your chance to win and good luck!
[Sources: Owensboro Tickets / Beano]
The 50 Best Country Songs About Small Towns, Ranked
Love 'em or leave 'em -- small towns are the settings for some of the finest songs in country music history. Here are our 50 top songs about small towns throughout country music history.
"The Fightin' Side of Me": Top 25 Country Fightin' Songs
Sure, country music is all about cracking a cold one and having a good time — but it's also about fighting when you've gotta fight. Here are the best 25 songs in the genre about dust-ups, fist fights and full-on barroom brawls.