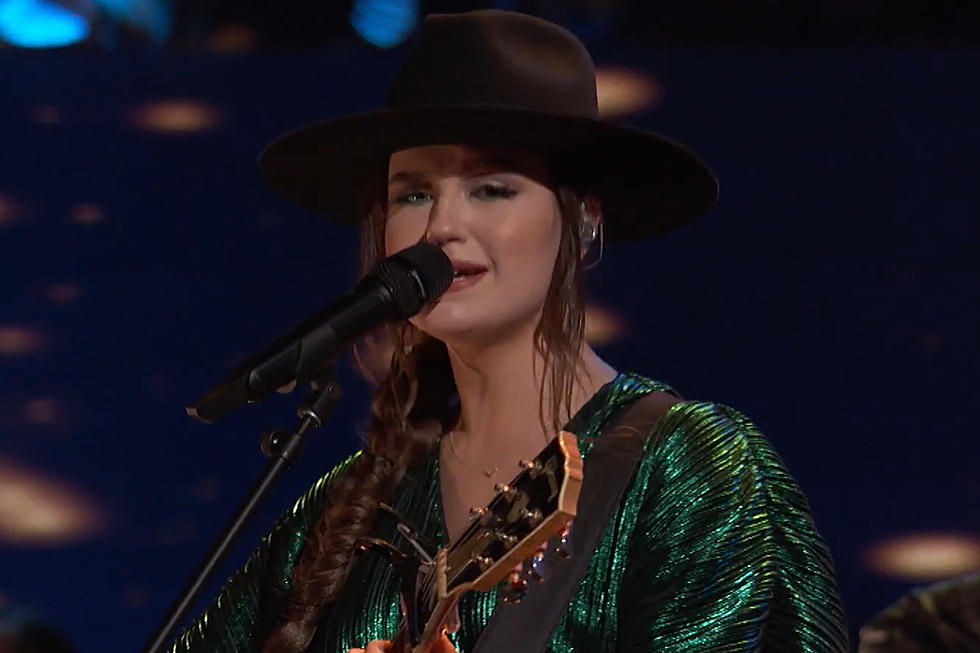 'The Voice': Team Blake Favorite Grace West Advances to the Semi-Finals With Judds Classic [Watch]
YouTube
Grace West is Blake Shelton's only country singer left standing on Season 23 of The Voice, and she made her coach proud during the live playoffs round, which kicked off on Monday evening (May 1).
For her performance, West, who already has a publishing deal in Nashville, belted out a tender-hearted rendition of "Love Is Alive" by The Judds. West had some big shoes to fill heading into her version of the song, as she didn't have a duet partner for her rendition. Instead, she made the tune her own, providing the take solo in hopes to advance to the next phase of the televised singing competition.
Wearing a wide-brimmed hat and a classy emerald green pantsuit, the Michigan native mesmerized the panel of judges with her clear country and storyteller's voice. She didn't need any bells or whistles to stop people in their tracks. She was accompanied by two musicians for most of the song as she strummed on an acoustic guitar that had been handed down to her by her grandfather.
What made the cover song even more impressive to coaches is that West is only 19 years old, so she hadn't lived through the Judds' defining moments of their career.
"I'm such a fan of you. I love you. You're so young. You're 19, and you sing all the great music I grew up on," Kelly Clarkson told the singer. "You have a very flawless way of singing country music. It's just in your bones. I love this song so much, but I don't think this song showcased the best of you, and I can't wait to see that. I am looking forward to what you're going to do."
"I don't have any bad things to say about you," Niall Horan added. "Since day one, I've just been a massive fan of you. No matter what happens on the show ... there's no doubt you will have a career. You've got the most authentic, yet familiar voice that you could possibly hear coming out of country music. I'm all for it."
Chance the Rapper said, "There's a reason that you made it this far. It's because you have great control and a strong sense of self in your identity, and it shows…. If I was Blake and I wanted to win the show, I would probably go with Grace."
"I've just been excited. I have this very unique young artist that I get to work with on my last season. The fact that you're the last person I hit my button for, it's just been really exciting to me. You did another great job today," Shelton told her.
West's performance took place mid-way through the two-hour telecast, which means she had to wait to find out whether or not she would be moving onto the Semi-Finals of the competition. Only two of five Team Blake artists were named to move forward during the final minutes of the episode, and Shelton named West as one of them.
West, along with fellow Team Blake contender NOIVAS, will now move on to the Live Semi-Finals. The Top 8 will be revealed when The Voice returns Monday (May 8) night on NBC.
Blake Shelton's Winners From 'The Voice': Where Are They Now?
How many of the eight Team Blake winners from
The Voice
can you name?
Blake Shelton
is the show's winningest coach, and several have had hits at country radio and beyond. Several more have shifted genres, changed their name or just flat-out gone missing. Here is the latest on every Team Blake winner from
The Voice.