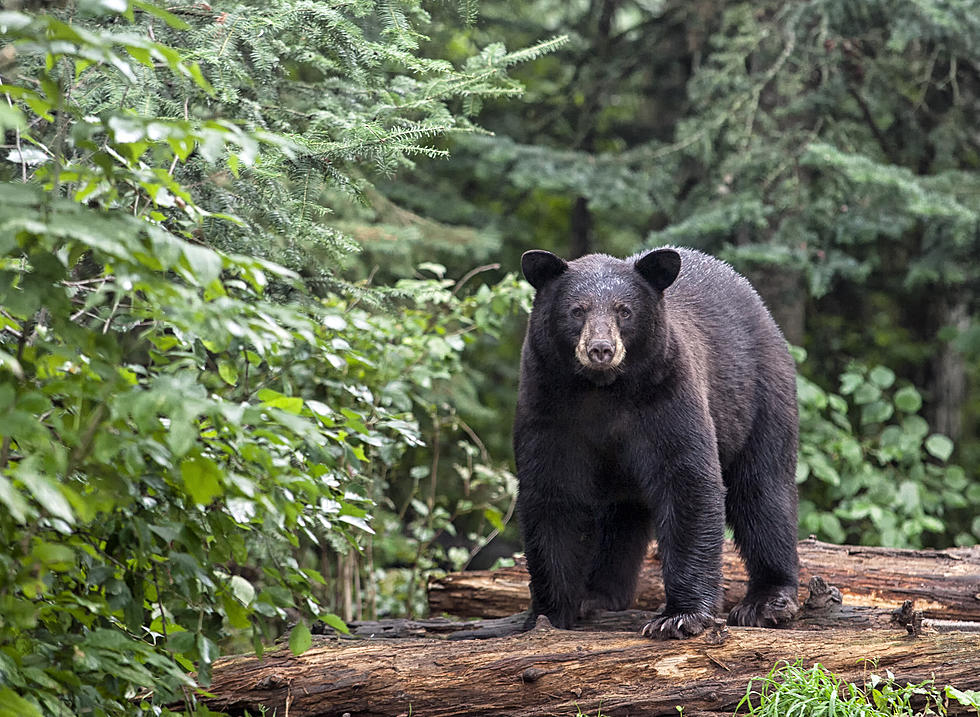 Indiana DNR Confirms Black Bear In Vanderburgh/Warrick County
Lynn_Bystrom
There's a black bear on the loose near the Vanderburgh/Warrick County line in Indiana.
Last week, we told you about sightings and reports of a black bear across Southern Illinois. There's no word yet if it is the same bear, or multiple bears roaming the area, but the sightings have gotten closer and closer to Indiana. On Tuesday, I talked with Sarah Haley, of Centerville in White County, Illinois who spotted a black bear in her backyard.
Well, it seems like this bear has made its way across the Wabash River and into Indiana. The Indiana Department of Natural Resources confirmed yesterday that a black bear was located in northeast Vanderburgh County before sunrise. This was near the Vanderburgh/Warrick County line. This means that the closest town to the bear's last confirmed location is Elberfeld, in Warrick County. I spend a little bit of time in that area, and honestly, it makes sense for the bear to find its way there.
As you know, Bluegrass Fish and Wildlife Area is near Elberfeld. It is a great source of food and water for a lot of wildlife. Perhaps the bear has moved into that area. That's pure speculation, but it would make sense. There have been no further sightings of the bear in Warrick or Vanderburgh Counties at the time of this writing. My hope is that it stays near Bluegrass and doesn't make its way to my hometown of Boonville. I don't know how I would feel about waking up to a bear in my backyard.
However, in the event that this bear does show up in your area, Indiana DNR has offered a few tips that you should know about ahead of time:
If you see a black bear:

 Do not feed it.
Observe it from a distance.
Do not climb a tree.
Advertise your presence by shouting and waving your arms and backing slowly away.
In the event that you spot this black bear in the area, you are asked to report the sighting to the Indiana Division of Fish & Wildlife. You can do so by
clicking here
.
You can find out more about this bear sighting and other tips on reducing or eliminating the potential for bear-human conflicts by clicking here.
Tristate Pet Quirks That Will Make You LOL
10 Other Uses for Hand Sanitizer
I discovered hand sanitizer's ability to be more than just a germ-killing product one morning while making coffee in the kitchen at work. While pouring myself a cup from a full pot, a small stream dribbled down the side of the pot and onto the white countertop. I wiped it up with a paper towel, but a light brown stain still remained. A tried a disinfectant wipe which helped a little, but you could still faintly see where the dribble had landed. Then I remembered having alcohol wipes at one point during the pandemic. They had been used up and not replaced for some time, but there was still a bottle of hand sanitizer sitting out. I squirted a little on the stain, wiped over it with a paper towel, and boom, the countertop looked brand new. This got my curious mind wondering if there was anything else I could use it for, so it was off to the internet to see what I could find. It turns out, thanks to its high concentration of ethanol or isopropyl alcohol, hand sanitizer can be used for all sorts of things.
6 Unique Remedies for Treating Sunburn
Chances are you have a bottle of aloe vera gel somewhere in your house that you've likely had for years ready to be applied when you've spent a little too much time out in the sun and your skin feels (and looks) like the surface of the sun. Maybe it's in a medicine cabinet or a bathroom closet. Maybe you keep it in the door of the refrigerator so it's good and cold to help ease the pain of sunburn a little quicker. While it's a great and highly recommended way to care for your skin after a sunburn, there are other options in your house that can also do the trick.
SEE: 11 Routine Tasks That Makes the Calmest Person Nervous
Best Backyard Games To Play This Summer
You can entertain your friends and family this summer by adding these games to your next backyard get together.