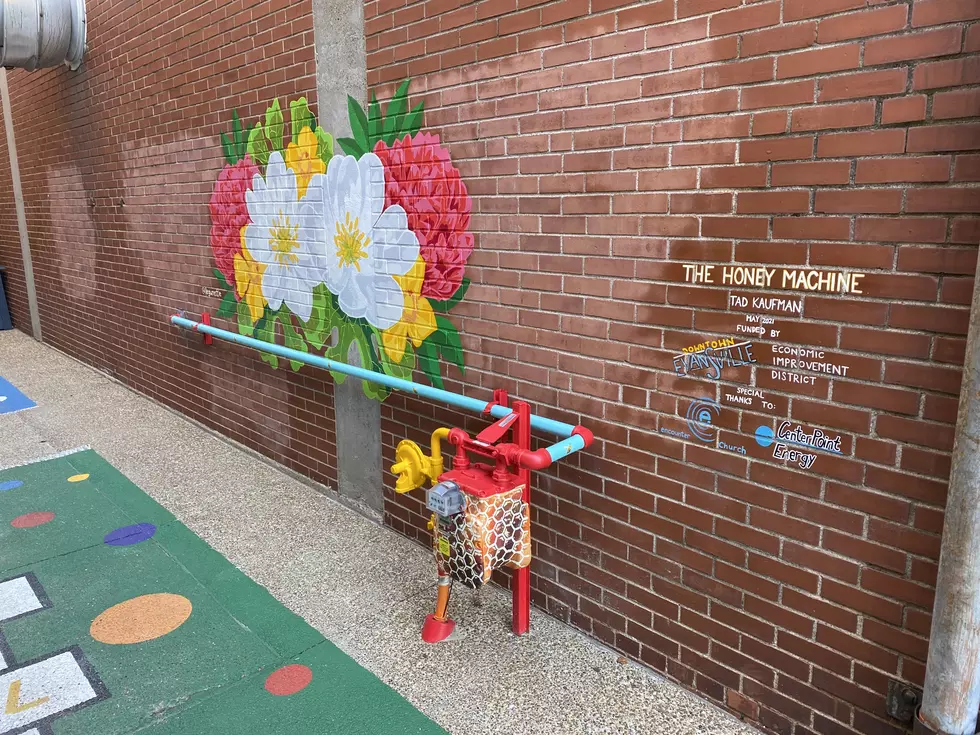 Evansville Artist Paints First Gas Meter Mural Downtown [PHOTOS]
Ryan O'Bryan
Back in February, the Downtown Evansville Economic Improvement District issued a call for local artists to paint a few of the more drab necessities of the Main Street Walkway, gas meters. The first of which is complete and ready for you to see.
If you haven't noticed, the campaign to add some color to the downtown area, particularly the Main Street Walkway has been going on for some time. Thanks to the efforts of local artists, we now have "Self-E-Alley" that runs between the Innovation Point building at 318 Main Street and The Rumjahn Gallery and Framery next door. A block east from there are angel wings on the side of the building that is home to Environmental Management Consultants, and most recently, the entire backside of the Old National Administrative Office building at the corner of Northwest 4th and Sycamore Streets was transformed into a beautiful blue and yellow mural spotlighting key pieces of Evansville's contributions to World War II, specifically the Thunderbolt airplane which was built at the old Whirlpool factory on Highway 41 and St. George Road, and the LST 325 transport ship which now sits at its new home on the Evansville riverfront across from Tropicana Casino.
The first of the four gas meters to get a make-over sits inside Game Room Alley between Enjole Interiors and Encounter Church in the 300 block of the Walkway. The once, run-of-the-mill, everyday gas meter now has a much different and far more colorful look.
LOOK: Downtown Evansville Gas Meter Transformed Into "The Honey Machine"
There have no announcements from Downtown Evansville as to when the remaining meters will be painted however, the artist application they released when announcing the project had a July 1st timeline for installation which means the remaining meters should be done soon.
[Source: Downtown Evansville on Facebook]
KEEP READING: Best Backyard Games To Play This Summer
You can entertain your friends and family this summer by adding these games to your next backyard get together.
SEE MORE: Do You Remember What These Evansville Businesses Used To Be?
On this Throwback Thursday, let's take a stroll down memory lane to see if you remember what used to be located at these Evansville Businesses.