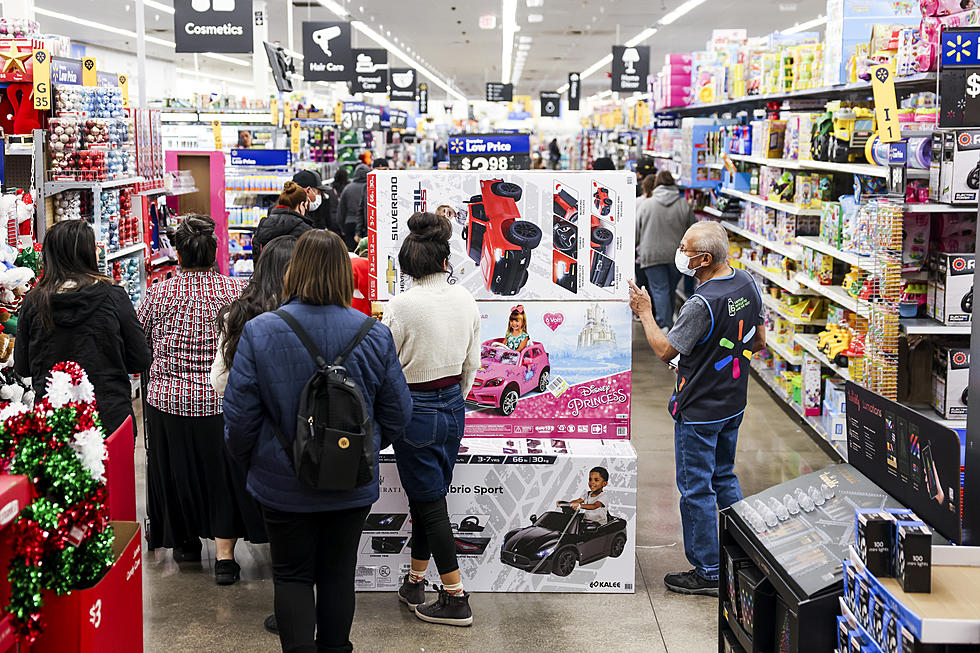 A Black Friday Story Complete with Food Choppers
Michael Ciaglo/Getty Images
A year after a much more settled-down version of Black Friday, shoppers were ready to rise and shine to go get the best deals of the year. Times have changed for Black Friday; the specials are popping up online well before the big day, other days such as "Small Business Saturday" and "Cyber Monday" have come along to keep the spirit going. I've only gone Black Friday once and it was one for the books.
I don't remember the exact year, but it was at least 10 years ago. Two of my Mom's then co-workers convinced her to go. I agreed to go along for the experience, to see if the mad dashes and huge crowds were in fact real. Mom loved to shop but she was smart, in that if she saw something during the year, she went ahead and bought it. I don't even think we had a list but I think Mom wanted to get a digital camera, remember those? No plan isn't the best strategy, but we didn't care.  
The co-workers pulled in our driveway around 5:00 a.m. but it may have been 4:30. I think the other reason I got roped in was that I was living back home at the time, anyway, it was cold and we piled in ready to shop.  
Our first stop was the Beaver Dam Walmart. The crowd was already assembling inside around these plastic-wrapped pallets with mystery items under them. All I remember is one of my friends. Mom's co-worker said something about food choppers being one of the mystery items. What? I get it, but I don't. Plus, I don't cook. When the plastic wrap was ripped off the various pallets, there were the food choppers. I don't remember what other pallet items were unveiled. I do know Mom ended buying both a digital camera and a GPS device for Dad at Walmart. Honestly, I think that first stop netted the most loot for us, well Mom. I think I only bought one thing; we'll get to that later. 
Our second stop was Target in Owensboro, and there was a line; the store hadn't officially opened yet. Now here's the experience I was told about. However, it was a tad chilly that morning, so I wasn't happy about standing in the freezing cold. One distinct memory before we were let in, Goldie Payne was trying to lead a Christmas carol sing-a-long. If you know Goldie, she and her daughters are legacy Black Friday shoppers. They scan the ads on Thanksgiving, then off they go on Friday. Target was probably the wildest place we went and where were all the shoppers? In the back, in the electronics section, grabbing DVDs (remember those?) left and right. I saw another good friend there who I did not expect to see and we looked at each other like "what is going on?"  
Next stop, some breakfast at Cracker Barrel thank goodness. I normally order biscuits and gravy with a side of bacon, but for some reason, since it was a special day, I think I ordered pancakes. Mom, again being a little out of her element, decided to go big and order orange juice with sprite, lol! She loved to do that at breakfast or make some other OJ non-alcoholic cocktail. 
Back to shopping and I believe this was our final stop, Kohl's out on 54. It was busy, but not overwhelmed with people. And this is where I bought my first and only Black Friday item, a bag/purse. It was army or olive green or was it brown? I don't know where it is. I do know it was a carry type of bag, no straps. That's not my jam. If I'm out and about, shopping or otherwise, my hands have to be free.  
The reason I wrote this piece, my mom, Lora Mae (Morris) Grant. As some of you may or may not know, she sadly passed away in March. She loved to shop and she loved to find a bargain and she loved to shop ahead of the holiday season. I also dedicate this to my family, to Mary Ann (Andy) Stewart, who remembered more details about our Black Friday trip than I did, and to Jennifer Shrewsbury, our other shopping partner. Mom had so much fun working and cutting up with them. 
Have fun shopping, be nice, laugh, and make some memories.  
LOOK: See what Christmas was like the year you were born