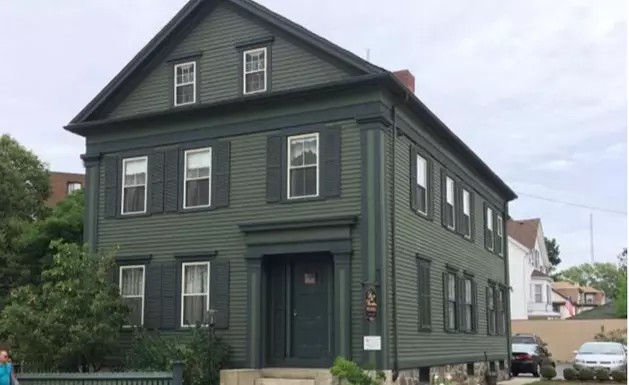 You Can Take a Virtual Tour of the Lizzie Borden House on the 129th Anniversary of the Borden Murders
Melissa/TSM
If you're looking for ways to explore spooky destinations, but don't want to worry about bringing any bad energy home with you, this may be the perfect solution! I love virtual tours because I feel like I can "travel" without ever leaving my house.  Now you can "travel" all the way to Massachusettes to see the Lizzie Borden house, from the comfort of your own home, and on the anniversary of the gruesome murders no less.
August 4th, 2021 marks 129 years since the infamous slayings happened.  On August 4th, 1892 two grizzly murders took place in Fall River, Massachusetts. The first of the murder victims found was Andrew Borden, Lizzie's father.  While the police were at the home a neighbor had come over to comfort Lizzie, when she walked upstairs the neighbor found the 2nd murder victim, Lizzie's stepmother Abby Borden.  Both had been murdered with a hatchet.  Lizzie Borden was later arrested and tried for the murder, but ultimately she was acquitted.  It was one of the biggest cases of its time with national news coverage. The case garnered so much attention, that there was a schoolyard rhyme made up about the case, and it's one we've all heard.
Lizzie Borden took an axe
She gave her mother forty whacks.
When she saw what she had done
She gave her father forty-one

Now on the 129th anniversary of the murders, there is a virtual tour going down where you can actually see the house while hearing the story of what happened there.
Join us on the anniversary of the historic 1892 Borden murders for a virtual tour of the world famous Lizzie Borden House all from the comfort of your own home! This tour will take you room for room through the entire home, with an in-depth description from one of our tour guides.

To ensure the safety of guests and staff alike, all anniversary events this month will be held virtually, and wrapped up with a 30 minute Q&A with the live audience.
If you'd like to take the tour, tickets are
$16 and you can purchase them here
. If you're ever up near Fall River, you have to make a stop at the Lizzie Borden house and take a tour. I did one a few years ago, and it is so interesting and eerie.   However, since Massachusettes is a bit of a drive away, in the meantime I am sure the virtual tour will not disappoint! check out some photos I took from the tour below.
See Inside the Lizzie Borden House
LOOK: What major laws were passed the year you were born?
Data for this list was acquired from trusted online sources and news outlets. Read on to discover what major law was passed the year you were born and learn its name, the vote count (where relevant), and its impact and significance.
See the Must-Drive Roads in Every State