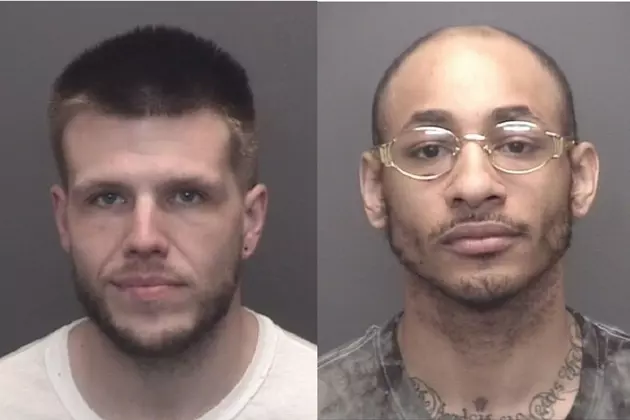 Two Men Arrested After Large Quantity of Fentanyl Found Inside Indiana Home
Vanderburgh County Sheriff's Office
Two men have been arrested after an investigation spanning months finally resulted in the execution of a search warrant at a home in Evansville, Indiana.
Both Men Are Being Held on $100,000 Bonds
28-year-old Ethan Shane Walker Parker and 30-year-old Joshua Rudolph Harvey are the two men arrested. Both are residents of Evansville. Both men are facing drug-related charges and are being held in the Vanderburgh County Jail on $100,000 bonds.
The Investigation First Began in August 2021
According to the Evansville Police Department in a statement made to Facebook, the investigation began in August of 2021 after authorities received a tip indicating that the two men were involved in the manufacturing and distribution of fentanyl pills that were made to look like prescription pills, according to authorities. [See photo below of the pills seized during the arrest] The resemblance to prescription medications makes these pills even more dangerous.
These pills look very much like real prescription pills and to an average person, could easily be mistaken for the real thing.
80-100 Times More Powerful Than Morphine
Fentanyl is an incredibly powerful and dangerous synthetic opioid often mixed with heroin. Just how powerful is the drug? 80-100 times more potent than morphine, according to the DEA.
The Numbers Are Staggering - 9.5 Million Pills Seized
In September 2021 the agency issued a public safety warning after the number of counterfeit pills seized surpassed the numbers seized in 2019 and 2020 combined (9.5 million pills) - and there were still three months remaining in 2021 at that point.
Counterfeit pills are illegally manufactured by criminal drug networks and are made to look like real prescription opioid medications such as oxycodone (Oxycontin®, Percocet®), hydrocodone (Vicodin®), and alprazolam (Xanax®); or stimulants like amphetamines (Adderall®). Fake prescription pills are widely accessible and often sold on social media and e-commerce platforms – making them available to anyone with a smartphone, including minors.
Other street names for fentanyl according to the DEA include: Apace, China Girl, China Town, China White, Dance Fever, Goodfellas, Great Bear, He-Man, Poison, and Tango & Cash.
Thousands of Pills Seized in Evansville Bust
In addition to what Evansville Police described as "thousands of fentanyl pills," they also a large quantity of powdered fentanyl. They also discovered two presses and a number of dyes and punches, all items used to manufacture pills.
Authorities Had to Use Extreme Caution Entering the Home
Because of the large amount of suspected fentanyl inside the home, authorities had to take additional precautions to keep themselves safe including putting on respirators, rubber gloves, and specially designed protective suits.
The Charges - Up to 30 Years in Prison
Both men are facing drug-related charges stemming from the investigation. Harvey was charged with Level 2 Dealing in a Narcotic Drug which, according to one Indiana criminal defense attorney's website, could carry a prison sentence of 10 to 30 years. Parker has also been charged with Level 2 Dealing in a Narcotic Drug, in addition to a Level 3 Dealing in a Schedule IV Substance with Enhancements which could carry an additional prison term of 3 to 16 years.
Read the full statement from the Evansville Police Department Below
If You or Someone You Know Are Struggling With Drug Addiction
If you or someone you know is struggling with substance abuse, there is help available and it is just a phone call away: 1-800-662-HELP (43570)
Evansville Police Officers Walk the Beat, Getting to Know Their Neighbors
This year the Evansville Police Department has really stepped up its efforts to get to know the citizens they serve. Walking Wednesdays is a great way for law enforcement to be seen in neighborhoods and to meet the residents and hear their stories.