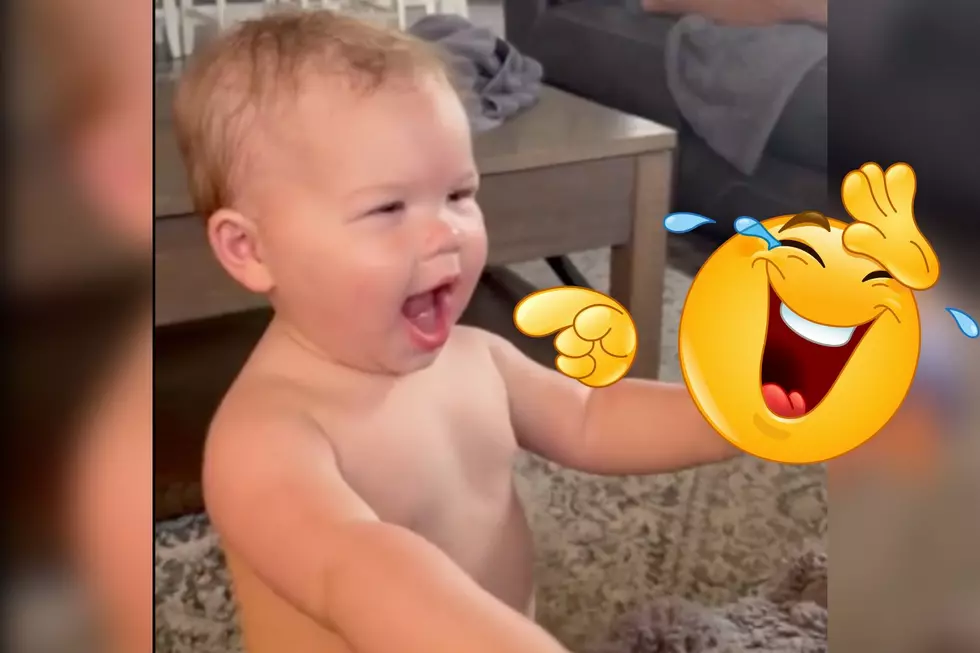 Midwest Grandpa Cracks Up Listening to Granddaughter Imitate His Snoring [WATCH]
Viral Hog vis Rumble
Snoring is just a thing in my family. My dad snored and still snored so loud that no one wanted to share a room with him or even be in a room next to his room. According to my nieces and nephews, my brother and sister also snore. As for myself, I've snored since I was a child.
My parents often took the kids on weekend trips, or when they came to visit us, they would stay in a hotel with a pool and the kids would stay with them. That meant staying in the same hotel room with Papaw. They all ended up having great impersonations of my dad's snoring.
When I saw this video, it reminded me of how funny my dad thought the snoring impersonations my kids would tease him with, and how much he would nudge them on to perform them.
Baby impersonates grandpa's snoring
Here is how the family described the video.
On Father's Day, my daughter heard my father snoring on the couch and decided to imitate his loud snoring. My mom recorded the video while my wife and myself were dying from laughter. My laugh is the one that is the loudest and most obnoxious and makes the video even funnier than it should have been.
- Info from Licensor on Rumble
---
---
Although hilarious, snoring can lead to serious health problems.
What happens if you snore too much?
If you regularly snore at night it can disrupt the quality of your sleep—leading to daytime fatigue, irritability, and increased health problems. And if your snoring keeps your partner awake, it can create major relationship problems, too.
When should you go see a doctor for snoring?
At my first appointment with our Nurse Practitioner, during her evaluation, she asked if I snored. When I told her yes, she wanted to order a sleeping student to see if I stopped breathing while sleeping.
If your doctor doesn't ask you about snoring, tell them you do and see if they can order a sleep study to find out the severity of your snoring.
Your doctor should evaluate any snoring that causes daytime sleepiness or that affects your ability to think clearly. If your partner hears you stop breathing during the night, call your doctor to see if sleep apnea is to blame.
Is there anything a doctor can do for snoring?
To eliminate snoring and prevent sleep apnea, your doctor may recommend a device called a continuous positive airway pressure (CPAP) machine. A CPAP machine delivers just enough air pressure to a mask to keep your upper airway passages open, preventing snoring and sleep apnea.
After my sleep test, I was diagnosed with a severe case of Sleep Apnea. Now, I sleep with a CPAP machine every night. I only wish I would have had the machine years ago.
I made a funny face, but I love it. Can't sleep without it.
If you or your sleep partner snores, ask your doctor for more info.
READ MORE: 8 Things You Can Do to Feel Better Right Now
15 Life Hacks the Tri-State Swears By