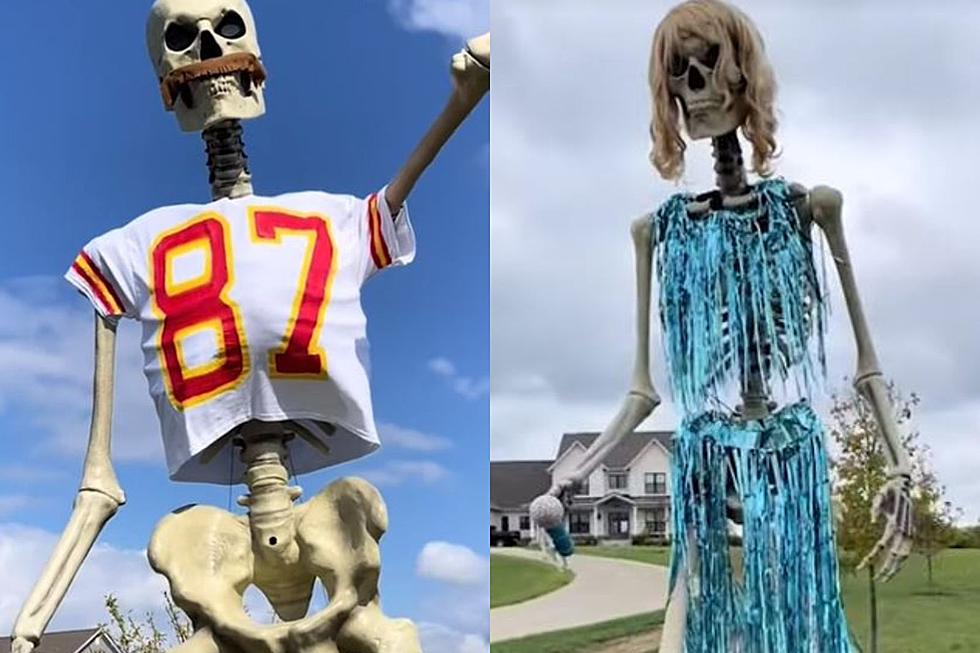 12-Foot Taylor Swift and Travis Kelce Skeletons Seen 'Shaking It Off' in Indiana
NBC Chicago
From Sunday night football to our Facebook feeds, we've seen Taylor Swift and Travis Kelce all over the place recently, but this has to be our favorite sighting. A family in Zionsville, Indiana took advantage of the 'Traylor' mania and created a skeletal version of the couple as their yard decorations for Halloween. Creepy, but cute. And the pictures hardly do them justice. In real life, they are a tall couple already at 5'11 and 6'5, but these skeletons stand at 12 ft. tall.
Check them out in the video below from Fox59 News in Indianapolis.
Michal Owens is the homeowner behind creating the spooky buzz across the country and tells CBS 4 that she is a huge Taylor Swift fan. What started with just 'Scaylor Swift,' Owens recently added "Skeleton Kelce' to the mix. And it is no easy task to transform this kind of 'Love Story' into an incredible Halloween attraction.
The skeletons stand 12 feet tall and are dressed to resemble the couple. 'Scaylor Swift' is wearing a two-piece outfit inspired by her blue 1989 tour look that she wore to announce '1989 Taylor's Version' at SoFi stadium back in early August. She is also rocking her signature bejeweled microphone. Owens also tells CBS 4 that in order to create Taylor's signature blonde hair, she had to sew 3 wigs together. 'Skeleton Kelce' is rocking his signature 'stache and Kansas City Chiefs 87 jersey.' Owens didn't mention how she got a jersey large enough to fit a skeleton that size, but it's definitely impressive.
And it doesn't end with just the skeleton couple as a part of the attraction. There are also three smaller skeletons stacked on top of each other holding a banner that says 'Taylor Swift 2024.'
The spooktacular pair is obviously causing a lot of traffic with people wanting to see the duo. And Owens says that she welcomes all the people and attention that these two have created in her front yard. She just wants you to pull in the driveway and not pull off like you're in a 'Getaway Car.'
Here's The Best Pop Culture Halloween Costumes For 2023
This Halloween why not dress up as some of the biggest moments in pop culture for 2023.
Gallery Credit: Nick Northern
BOO! Which State in America Loves Halloween the Most?
"examined the number of searches for haunted houses, haunted house reports, and the number of ghost stories and Ghost Adventures episodes filmed in each state".
Using this data, they were able to calculate a total score on a scale between 0 and 40. Here's how your state ranked in
AirportParkingReservations.com
ranking for The Most Halloween and Haunted House Obsessed States in America.
Gallery Credit: Scott Clow