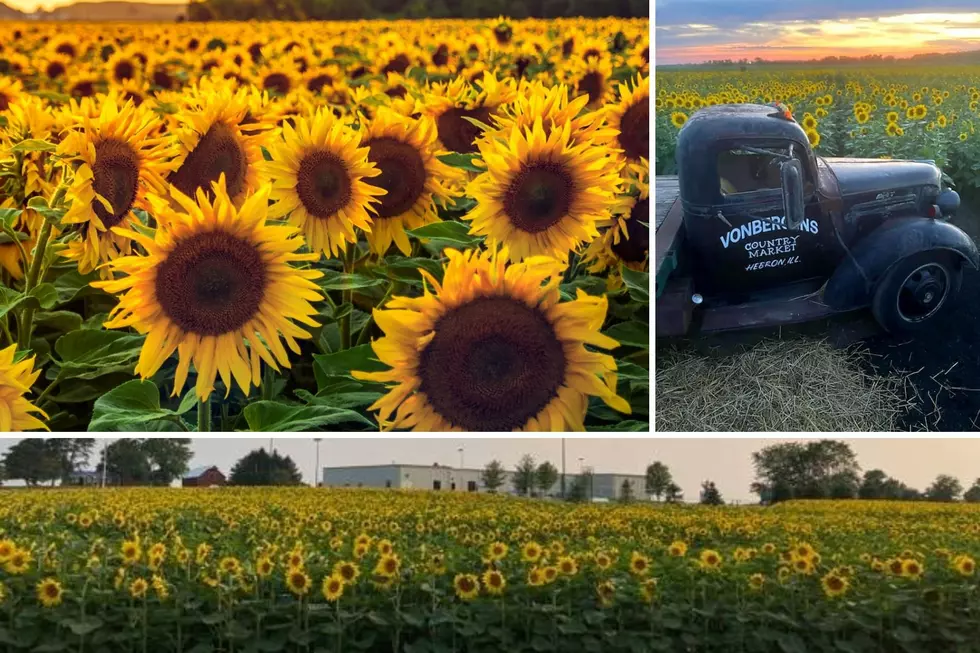 It's Sunflower Season! Here are 5 Huge Fields You Need to Visit in Illinois This Summer
Kuiper's Family Farm, Von Bergen's Country Market, New Life Bible Church via Facebook, Canva
Sunflowers and summer seem to go hand in hand, and their popularity has grown even more this year thanks to the outpouring of support for the people of Ukraine.
If you seriously need some sunflower joy in your life right now, you're in luck, it's officially sunflower season in Illinois!
If you're a sunflower lover, I'm sure you already have a few go-to spots you like to visit every summer. In case you don't, here are 5 sunflower fields that are just a short drive from the Stateline area that I am sure you will fall in love with!
1. Stade's Farm and Market in McHenry, Illinois - Besides a variety of pick-your-own fruits and vegetables, Stade's Farm and Market also has 2 full acres of 18 different varieties of sunflowers to pick from.
2. Von Bergen's Country Market in Hebron, Illinois - Von Bergen's Sunflower Festival is going on now through September 5, 2022, and features over 30 acres of gorgeous sunflowers. There's even a sunflower maze to run through!
3. New Life Bible Church in Pecatonica, Illinois - In 2021, New Life Bible Church planted sunflowers throughout the 13 acres that surround their church, and it was such a big hit, that they did it again this summer! It's completely free to pick flowers and take pictures throughout their field while the sunflowers are in bloom, just make sure you leave some there for other people to enjoy!
5. Kuipers Family Farm in Maple Park, Illinois - Kuiper's Sunflower Experience officially opens on August 27, 2022, and features 7 acres with over 20 different types of sunflowers to take pictures in and enjoy.
Remember, when sunflower season is over in Illinois it only means Fall fun is ready to begin! If you're already planning your Fall fun, here's some places you need to add to your to-do list...
5 Perfect for Fall Apple Orchards in Northern Illinois to Visit
Even the biggest spring and summer lovers have a deep appreciation for a trip to an apple orchard. We're lucky to have so many this close to us.
12 Amazing Illinois Day Trips to Take Each Month in 2022