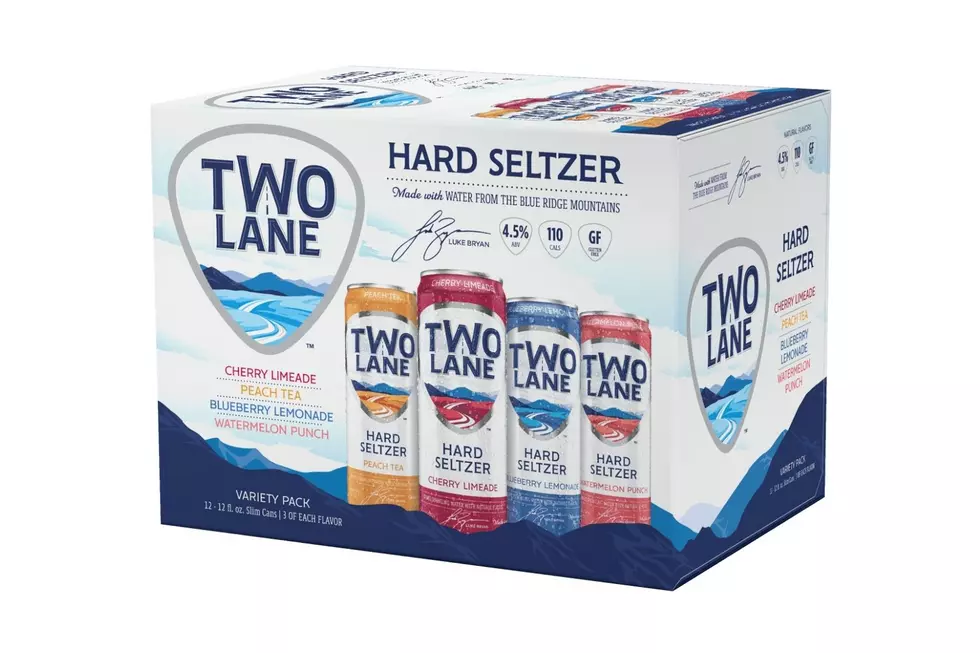 Now Luke Bryan Is Selling Hard Seltzers
Two Lane
The hard seltzer craze continues as Luke Bryan is the latest to come out with a line of drinks.
We all know someone who is obsessed with drinking seltzers. They became wildly popular over the past year or so. For many, it has become their "go-to" adult beverage. It seems like every beer company has come out with their own line of seltzers lately. Last week, we announced that Bang Energy Drinks are coming out with their own version of hard seltzers which you can read about by clicking here. That's not to mention all of the well known seltzer brands like Truly, White Claw, and several others. This hard seltzer thing is getting insanely popular.
Now, one of country music's biggest names is climbing aboard the hard seltzer bandwagon.
Luke Bryan announced the launch of Two Lane Hard Seltzer recently. As you might recall, Bryan partnered up with a company called Constellation Brands last year to release Two Lane American Golden Lager, but production was temporarily halted due to COVID-19. Now they are bringing back the beer and introducing their new line of hard seltzer, according to Delish.
Two Lane Hard Seltzer comes in four flavors including Cherry Limeade, Peach Tea, Blueberry Lemonade, and Watermelon Punch. It looks like each can has three grams of cane sugar, 110 calories, gluten-free, and is made with natural flavors and water from the Blue Ridge Mountains which sounds pretty cool.
Now, if you're planning on going out and buying some Two Lane, don't expect to find them in Indiana, Kentucky, or Illinois just yet. According to Delish, you can expect ot find Two Lane Hard Seltzers in Tennessee, Alabama, Georgia, Florida, North Carolina, South Carolina, and Virginia. However, they have plans to expand to additional states in the coming years, so fingers crossed for all you Luke Bryan and seltzer fans that we can get some closer to home!
(H/T- Delish)
The Beer Can Canldes Everybody Wants
Make Delicious 5-Ingredient Ski Pie
What Are the Signature Drinks From Every State?