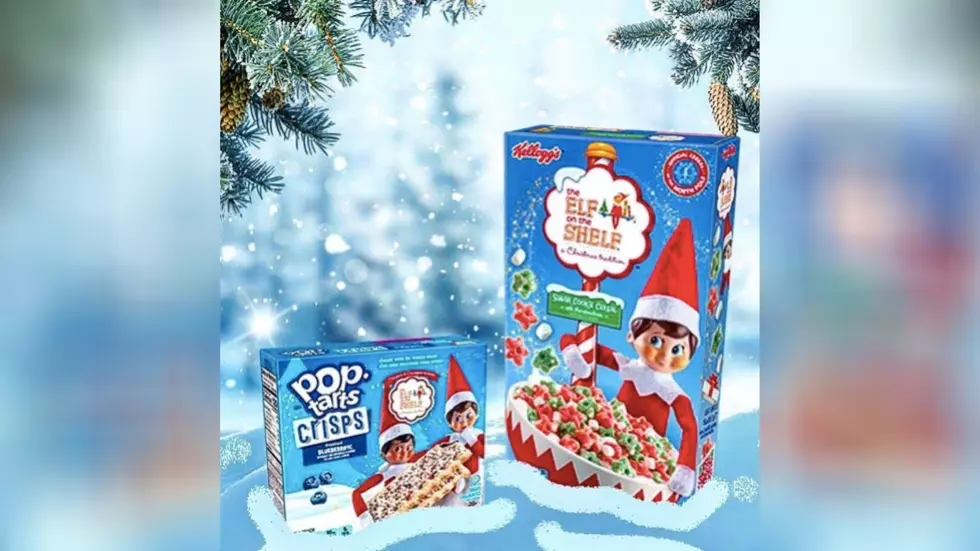 New 'Elf on the Shelf' Christmas Cereal and Pop Tarts Bring Candy Canes To Breakfast
@cereallife/Instagram
It's almost time to get the cute little elf and his book out of the box of Christmas decorations and put it on the shelf. Or, wherever you put it so can observe your kids behavior and report back to Santa.
By the time that Elf on the Shelf became a thing, my kids were too old to play. Trust me, I tried with my youngest, but he wasn't having it. I blame it on his two older siblings. Over the years, they ruined several things I had up my sleeve to help correct their little brother's bad behavior. I would be armed and ready to pull them out of my tired, but creative, parenting bad of tricks and then, BAM, they had already alerted him to my tactics. Even, a new and fun thing I wanted to try called, Elf on the Shelf.
The game of Elf on the Shelf is based on a children's picture book published in 2005. The idea is to set the accompanying Elf on a shelf, or someplace where it can see all things, and then it will keep track of both good and bad behavior, of the kid in the house, for Santa. Once the elf collects it's behavior data, the information is sent to the North Pole and there it's determined whether or not the kid gets the things on their Christmas list. I think that'a how it goes. Although, I'm sure parents have made their own modifications over time.
The Elf and the tradition surrounding it have become so popular it look like the Elf has gotten an endorsement deal with Kellogg's. Either that or it's another way for the Elf to keep an eye on things, even at the breakfast table.
According to delish.com, the cookie cereal and Pop-Tart crisps are flavored with vanilla, peppermint and marshmallow. Even though I'm not a big fan of chocolate and peppermint, the vanilla and peppermint sounds pretty good.
The limited time, Elf on the Shelf cereal and Pop-Tart crisps should be available starting this month (Oct.) and will be exclusively available at Walmart and Walmart.com.
Enter your number to get our free mobile app
Here are the Top 11 Doughnut Shops in The Tri-State