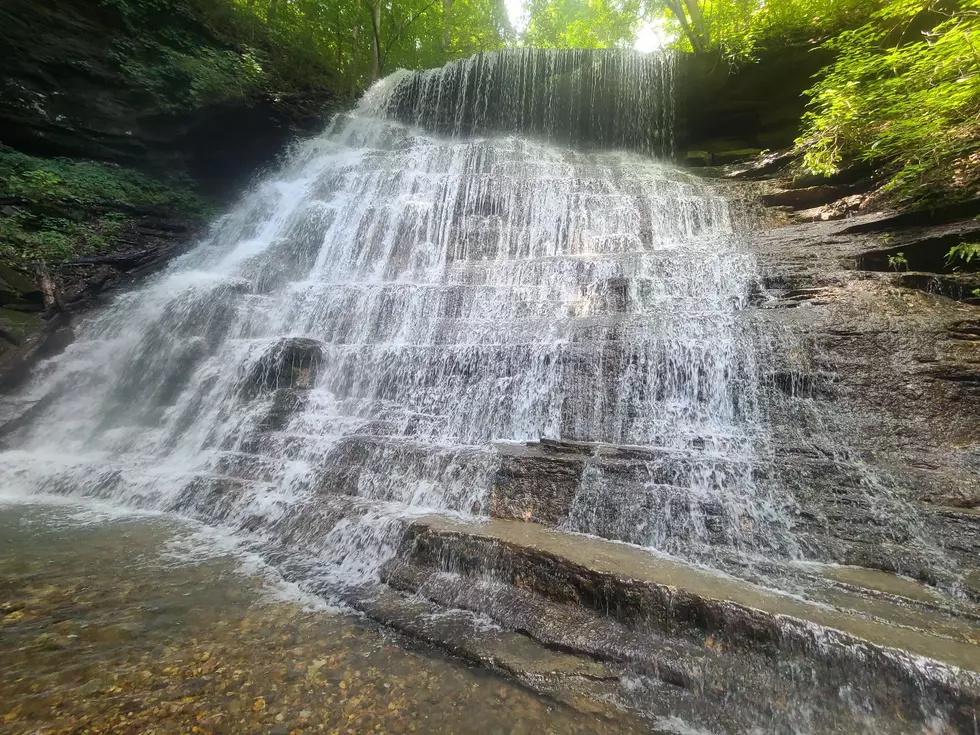 Mystery Falls-The Stunning Kentucky Waterfall You Can Only Get to By Boat
Photo by Sarah Lowe
Kentucky is full of stunning spots and scenic secrets, and this may just be one of Kentucky's best-kept secrets!
Kentucky Waterfalls
There's just something magical about waterfalls. Many people love finding a good waterfall to sit and enjoy for a while.  In Kentucky, there are several stunning waterfalls just waiting for you to find them.  Several beautiful Kentucky waterfalls are located in the Lake Cumberland area.
LakeCumberlandVacation.com  describes the Lake Cumberland area as:
Lake Cumberland is famous as the Houseboating Capital and is one of America's favorite lakes for boating, fishing, tubing or just cruising around. One thing that everyone agrees on is that Lake Cumberland is one of the most beautiful lakes in Kentucky – featuring gorgeous rocky cliffs, crystal clear water and of course… spectacular waterfalls!  If you want to get away from the crowds and find some true peace and quiet, be sure to check out the beautiful waterfalls on Lake Cumberland in Kentucky.
LakeCumberlandVacation.com even put together a list of waterfalls you can visit in that area, and you can see that list here.
Mystery Falls
If you decide to check out the Lake Cumberland area, there's one waterfall you'll absolutely want to see and that's Mystery Falls (and lets be honest, with a name like that, you'll definitely want to see it up close)! One of the really cool things about Mystery Falls is you can ONLY get to it by boat.  Whether you kayak, jet ski, or boat, water is the way to get to this stunning waterfall.
In the Kentucky Waterfalls, Arches, and Landscapes group on Facebook, Sarah Lowe posted about her visit to Mystery Falls and allowed me to share her photos here as well! Here's what she said about Mystery Falls and how to get there:
It's called Mystery Falls, you can only get to it by boat, jetski or kayak. There's a ramp called Twyford Point right across the way from the cove it's in for the kayakers. It's one of the most beautiful waterfalls I've ever been to. It's located at lake cumberland. So peaceful. We stopped and admired the view while eating lunch on the jetski. Definitely a trip worth making!
I don't know about you, but after seeing Sarah's photos and videos of the falls, I think I'll be purchasing a kayak (and learning how to kayak...) and heading that way, because Mystery Falls looks like the most perfect place to spend an afternoon!
Thank you so much Sarah for the information and for allowing me to share your photos!
12 Illinois Waterfalls All Within a 2 Hour Drive of Evansville Indiana
Check out these incredible photos captured by
Grant Twiss Outdoor Photography
featuring 12 Southern Illinois waterfalls that will have you ready to pay a visit to Shawnee National Forest and the surrounding area.