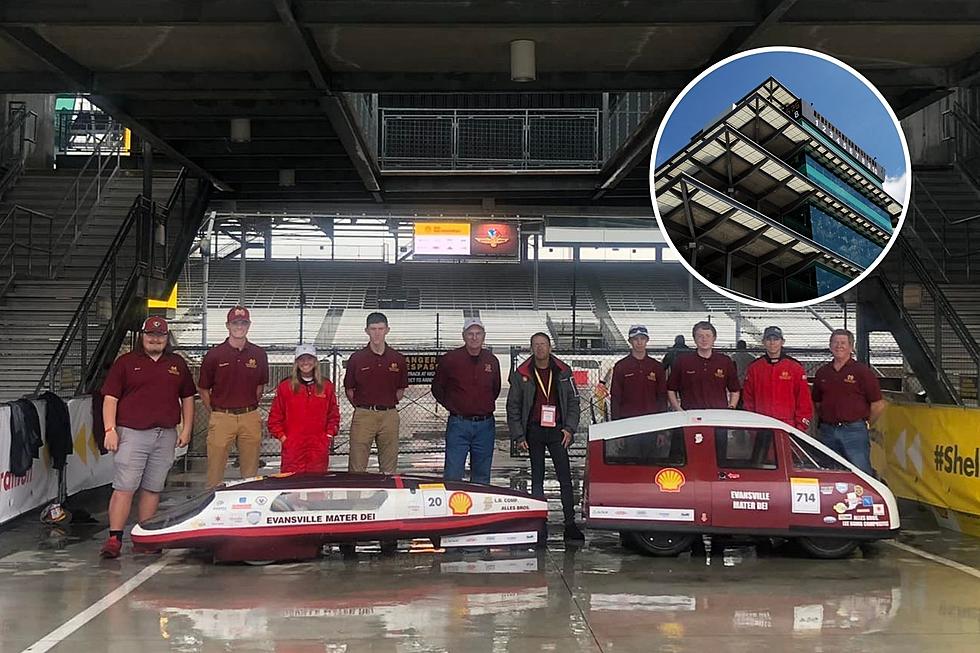 Indiana High School Scores 1st Place at Shell Eco-Marathon with 1,142 Mile Per Gallon Vehicle
Mater Dei High School Supermileage Team via Facebook / Canva
After months and months of work, the Mater Dei High School Supermileage Team made their way to the world-famous Indianapolis Motor Speedway earlier this week to compete in the Shell Eco-Marathon and put their fuel-efficient concept vehicles to the test against other supermileage teams from across the country. When all was said and done, the team brought home not one, but two first-place trophies for a couple of cars they built from scratch that are so fuel-efficient, they'll make your head spin.
What is the Shell Eco-Marathon?
In short, the Eco-Marathon is an annual competition that pits our future engineers (i.e. high school and college students) against one another in an attempt to design and create vehicles that can travel crazy-long distances on the smallest amount of fuel possible.
Here's the slightly longer explanation from the Eco-Marathon website:
Shell Eco-marathon is a global academic programme focused on energy optimisation and one of the world's leading student engineering competitions. Over the past 35 years, the programme has consistently brought to life Shell's mission of powering progress by providing more and cleaner energy solutions. The global academic programme brings together Science, Technology, Engineering and Maths (STEM) students from across the globe to design, build and operate some of the world's most energy-efficient vehicles. All in the name of collaboration and innovation, as students' bright ideas help to shape a lower carbon future for all.
The team entered two vehicles in this year's competition; A "Prototype," which looks like something straight out of a science fiction movie (think spaceship with wheels), and an Urban Concept car which, per the rules of the competition, is a more "roadworthy" vehicle designed to meet the needs of the consumer. Within each category are sub categories including internal combustion, which is the same type of engine your car has only WAY more fuel-efficient, battery/electric, and hydrogen fuel cell.
Here's a look at their Prototype:
And their Urban Concept:
2022 Shell Eco-Marathon Results
When the dust settled, Mater Dei's Prototype: Internal Combustion took first place recording a mind-blowing 1,142.66 miles to the gallon! Nearly 850 miles more than second place, Terre Haute South Vigo High School. To put that in perspective, that kind of fuel efficiency would allow you to drive from Evansville to Albuquerque, New Mexico without having to stop and fill up once! And you'd still have fuel to spare!
Their Urban Concept: Battery-Electric entry also scored a 1st place trophy, beating out teams from UCLA, Rice University, and the University of British Columbia in Canada with 122 miles per kilowatt.
This isn't the team's first eco-rodeo, so to speak, nor is it the first time they've brought home trophies. The school has competed in the Eco-Marathon and placed numerous times over the past several years.
As a Mater Dei alum, it makes me proud to see the current crop of Wildcats making their mark on the world in a way that can someday benefit everyone. Great job!
[Source: Mater Dei High School Supermileage Team on Facebook / Shell.com]
LOOK: See how much gasoline cost the year you started driving
To find out more about how has the price of gas changed throughout the years, Stacker ran the numbers on the cost of a gallon of gasoline for each of the last 84 years. Using
data from the Bureau of Labor Statistics
(released in April 2020), we analyzed the average price for a gallon of unleaded regular gasoline from 1976 to 2020 along with the Consumer Price Index (CPI) for unleaded regular gasoline from 1937 to 1976, including the absolute and inflation-adjusted prices for each year.
Read on to explore the cost of gas over time and rediscover just how much a gallon was when you first started driving.
See the Must-Drive Roads in Every State