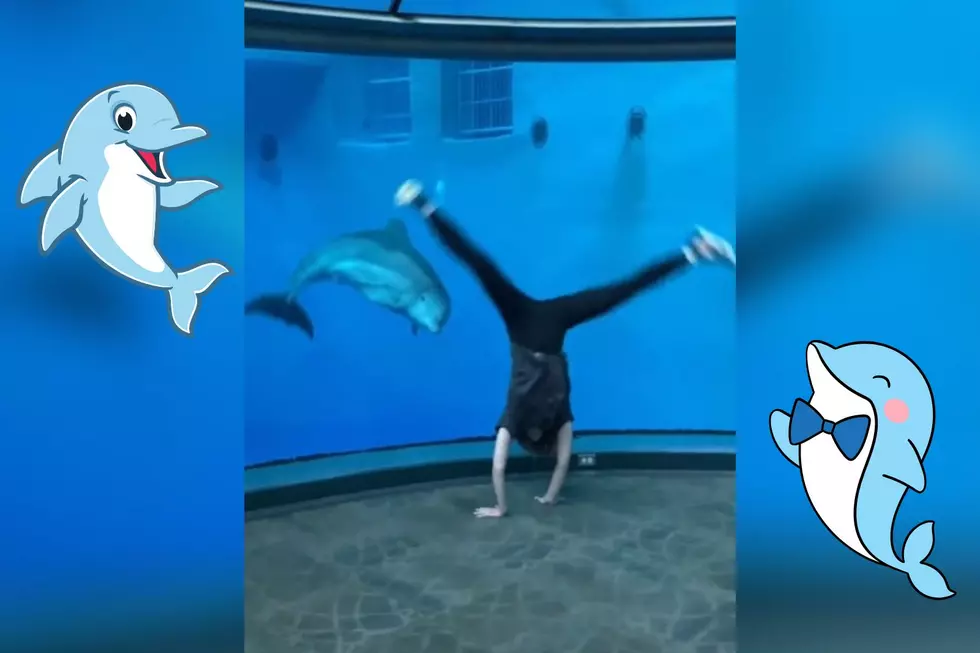 WATCH: Yoga Instructor Plays "Dolphin See, Dolphin Do" at the Indianapolis Zoo
Alysa Bradshaw via TikTok
We've all been to the zoo and tried to interact with the animals. More times than not the animals couldn't care less about us dumb humans, and our attempts get ignored. We might occasionally get some sort of reaction, but we rarely ever feel like the animal is actually seeing us and responding to what we're doing. Despite that fact, zoo visitors of all ages still try to get some sort of reaction from the zoo's residents. One woman has gone viral after capturing an adorable interaction on video.
Alysa Bradshaw is a yoga instructor in Indianapolis, she is also a lifelong lover of dolphins and a frequent visitor to the Indianapolis Zoo. During a recent trip to the zoo, Alysa tried to catch the attention of one of the dolphins by doing a cartwheel in front of the tank. She did more than just get its attention - the aquatic mammal decided to play a little game of "dolphin see, dolphin do." Alysa did a flip, the dolphin did a flip. Back and forth they went, and it was all caught on video.
Alysa posted the clip on TikTok where it has since been viewed over 1 million times and received more than 170,000 likes. It has also grabbed the attention of ESPN, Gatorade, and various news outlets. [h/t to WTHR in Indy]
Alysa calls the impromptu tumbling session "One of the best experiences of my life — to have that connection with my favorite animal."
Petting Zoos Within Driving Distance of the Tri-State
Anyone who knows me knows that I prefer animals over people most days. I tell my boyfriend all of the time that when we retire, I want a little plot of land with some cows, goats, pigs, chickens, and a whole lot of dogs. A girl can dream, right?
Sadly, since I can't have my own farm anytime soon, I guess I will settle for enjoying other people's animals, which means frequenting petting zoos and farms is pretty common for us. Luckily, I don't have to drive far to pet all the animals I can fit into a day.
From elephants to highland cattle to Clydesdales and a coatimundi, the tristate offers a wide variety of petting zoos that can be visited in a short day trip. Next thing you know, you'll be making your own list of animals to have on your own dream farm like me.
5 Reasons to Visit Mesker Park Zoo in Evansville, Indiana
There is quite an adventure on the West Side of Evansville, Indiana. What kind of adventure - It's a zoo!
Mesker Park Zoo & Botanical Gardens
is open 365 days a year and offers family memberships.