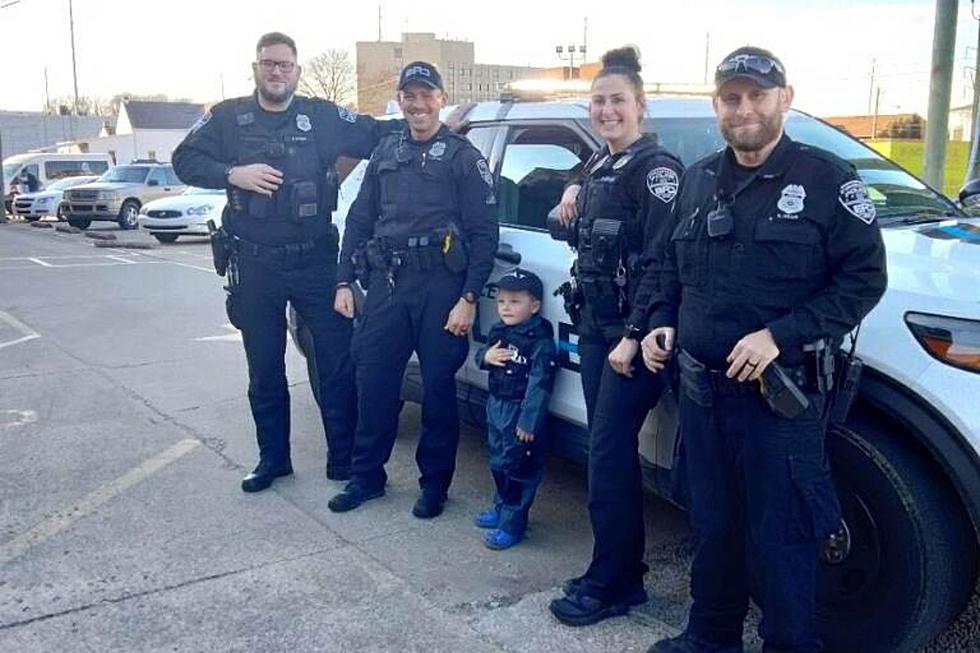 Indiana Police Department Makes 4-Year-Old Boy's Birthday One He Won't Forget
Jake Hale
We all have milestone birthdays we look forward to. Our 13th birthday marks the time we transition out of being thought of as a kid and start inching closer to becoming an adult. Our 16th means we can get a driver's license and can start to enjoy the feeling of freedom that comes with being able to drive ourselves wherever we need to go without having to rely on someone else. Of course, our 18th makes us an adult (at least in the eyes of the law), and our 21st gives us the chance to see what all the fuss about drinking alcohol is about (legally anyway). But for one southern Indiana boy, none of those upcoming birthdays may be able to top his fourth.
Evansville Police Surprise 4-Year-Old Boy with Squad Cars on His Birthday
Like so many little boys, Jake Hale's son loves first responders, particularly police officers. But, as Jake told me over the phone recently, even though he was the one who handled the logistics of getting the officers to come to surprise his son at his birthday party, it was God who put the wheels in motion a few years ago that made the whole thing possible in the first place.
While he didn't go into specifics, Jake told me he was a "reformed criminal" and credits the Lord for saving him from himself and the path he was traveling. After getting out of jail, Jake was welcomed into Churches Embracing Offenders (CEO), an Evansville-based, non-profit, religious organization that operates out of the West Side Community Center at 2227 West Michigan Street "dedicated to ministering to the spiritual, physical, emotional, and social needs of non-violent offenders living in and returning to the community." It was there he found his faith and gave himself up to God to guide him along the right path. He landed a job with Tri-State Towing and through his work, met a number of Evansville Police officers when he'd arrive at the scene of an accident or somewhere the department had requested a tow truck. Over time, his relationships with many of the officers evolved from simply saying, "Hey, what's up?" or, "Good to see you again, how are you doing?" to becoming close friendships. Something he says would have never happened had he not put his faith in God.
From time to time, Jake would take his son on his towing runs and while he worked on getting the vehicle that needed to be towed hooked up to his truck, his son would watch from the inside, fascinated by any first responder vehicle that was on the scene. He even met several of the officers his dad now calls friends, and his love for the men and women in blue took off from there.
So, when the time came to plan his son's birthday party, Jake reached out to Officer Tyler Wilson, an officer he had come particularly close with, and asked if he and some of his fellow officers would be willing to bring their squad cars to the party. According to Jake, Officer Wilson's response was, "Jake, I'd love to come to your son's birthday party."
After getting the green light from Chief Billy Bolin, Officer Wilson along with four of his fellow officers (pictured above), showed up at the West Side Community Center with the lights on and sirens blaring ready to deliver Jake's son a surprise he won't forget anytime soon.
Jake's close friend, Westin Leach, the Director of CEO, was on hand to capture the moment his son walked out the door of the Community Center dressed like one of the officers he idolizes (mom gets credit for that, Jake said) to see what was waiting for him. The look on his face was all Jake needed to see to know he loved what he saw.
Hats off to Officer Wilson, his fellow officers, and Police Chief Billy Bolin for making the day one Jake's son will likely never forget. It's moments like this that prove the department truly cares about our community and is there to do more than just serve and protect.
Thanks again to Jake for letting me share the story and to Westin for allowing me to share the video with you. If you'd like to learn more about Churches Embracing Offenders, visit its website at CEOEvv.org.
Evansville Police Officers Walk the Beat, Getting to Know Their Neighbors
This year the Evansville Police Department has really stepped up its efforts to get to know the citizens they serve. Walking Wednesdays is a great way for law enforcement to be seen in neighborhoods and to meet the residents and hear their stories.
Evansville Police and Animal Control Rescue Ducklings from Lloyd Expressway Storm Drain
With a storm drain too deep to simply reach in and grab the wayward ducklings, two EPD officers and a representative from Evansville Animal Control go "all in" to reunite the baby ducks with their mother.