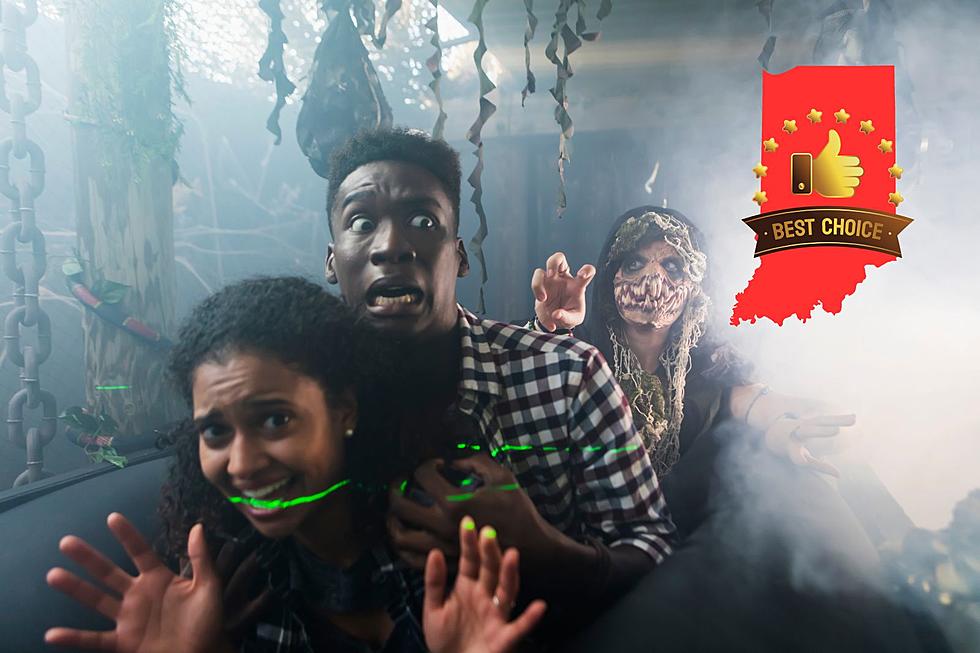 Indiana Has Three of the Best Haunted Attractions in America
Canva
It's that time of year again were people are ready to get terrified at haunted attractions. Luckily for us, Indiana apparently has three of the best haunted attractions in the country.
This is the best time of year for a good scare. Haunted attractions will soon be open everywhere. Perhaps you have already visited some. There's not a lack of haunted houses here in Indiana. In fact, there are so many that you might not have been to the one with the best scares. When it comes to haunted houses and haunted attractions in Indiana, we have three of the best in the entire country.
There's this thing called "HAA," the Haunted Attraction Association. They research, study, and know everything spooky and scary. Last year (2022) they put together a list of the top haunted attractions in the entire country. Granted, you've probably never heard of this organization (I didn't), but they are pretty legit:
The Haunted Attraction Association (HAA), the only official association in the haunt industry, has certified haunts across the country as official "Top Haunted Attractions." To be certified, attractions must be a member of HAA and meet a list of 10 criteria relating back to the mission of HAA – to protect customers, promote haunted attractions, and educate industry professionals.
By now, you are probably wanting to know which three Indiana haunted attractions were named among the top haunted attractions in the entire country. Well, let's check them out!
Fear Fair
Fear Fair is located in Seymour, Indiana. Here's what the HAA says about this haunted attraction:
This haunt delivers a 50,000+ square foot walk through and leads visitors to discover their deepest fears. Incredibly detailed sets, state of the art animatronics, and aggressive actors in movie quality costumes and makeup deliver a heart pounding thrill ride through your darkest nightmares.
Hysterium
This haunted attraction called Hysterium can be found in Fort Wayne, Indiana, and the HAA makes this place sound pretty scary and fun:
Started 20+ years ago as the Haunted Cave as the extension of a home haunt gone viral, the name and theme was changed to Hysterium Haunted Asylum in 2014. The scares have been turned up to new levels, the actors trained by nationally known acting and make-up specialists, as well as interactive, immersive scenes, this haunt is ready for YOU! As you enter Hysterium, you will be immersed immediately into the lobby waiting room where the patients will be glad to see you. They want to get out and the head nurse has to keep order while you await your turn in to the intake area. If you escape or not, you will be lost in the Hysterium Haunted Asylum and hopefully only have nightmares as you escape!
Stillwell Manor
Stillwell Manor is located in Anderson, Indiana and it's actually located inside an old abandoned theater.
Stillwell Manor is a haunted mansion with other Attractions of Forsaken and Tantibus Labs.
I think it's pretty cool that Indiana has three of the best haunted attractions in the country. Want to find out what other haunted attractions made the list? You can check those out by clicking here.
Which Wine To Pair With Different Halloween Candy
Pair some of that leftover Halloween candy with the proper wine this year. Here's which wine goes best with popular Halloween candies.
Not a Fan of Halloween? Celebrate These 31 October Events Instead
The entire month of October is dedicated to All Hallows Eve. But, for those of us who couldn't possibly care any less about a day focused on the undead, there are plenty of other things we can celebrate throughout the month instead.
How To Make Giant Halloween Spider
Indoor or outdoor, this giant Halloween spider is so easy, you could make several. Here's what you will need and the directions on how to make one.