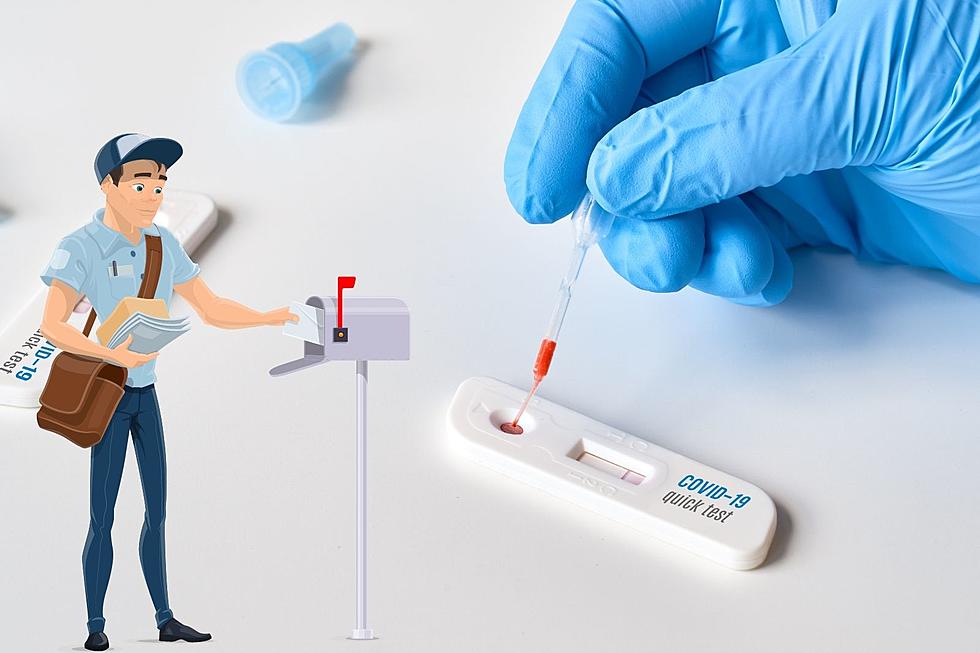 How Indiana Residents Can Order More Free At-Home COVID Tests Beginning March 7th
Canva
There's good news on the COVID-19 front. Based on information from the Centers for Disease Control (CDC) the number of daily cases, hospitalizations, and most importantly, deaths are declining across the country. The steady decline led the CDC to loosen its masking guidelines last week inching us closer and closer to a return to our pre-pandemic lifestyles. With that said, we're not out of the woods quite yet. The virus is still very much a part of our daily lives, and likely will remain so for some time. That means staying home when you don't feel good, and testing yourself for COVID when that happens so you can take the necessary precautions to keep from spreading it to your family and friends.
Where to Find COVID Tests in Indiana
Many pharmacies, such as CVS, Walgreens, and Rite-Aid sell a variety of at-home tests that range in price anywhere between $9.99 for a basic antigen test to $124.99 for a PCR test. Drive-thru testing sites are also available at many of those locations and others around the area. However, the federal government also makes them available to households for free, and as President Biden announced during his State of the Union speech Tuesday night, they are ready to expand that program.
When the administration first announced the at-home test program shortly after the start of the year, residents were limited to four tests to prevent hoarding and ensure everyone who wanted one would be able to get one. Once they were used, you would either need to find a local pharmacy to buy one or schedule an appointment to be tested. Beginning Monday, thanks to the expansion, you'll be able to order four more tests regardless of whether or not you've used the first four you ordered.
How to Order a COVID Test from the Federal Government
Ordering a new set of tests is actually pretty easy, considering we're talking about the government, where the simplest tasks can sometimes be convoluted with needless steps and red tape.
To order your new set of tests, visit COVIDTests.gov and click the big, light-blue "Order Free At-Home Tests" button. This will redirect you to the United States Postal Service website (they are responsible for delivering the tests to your home). Provide your name and address in the form provided and click the "Checkout Now" button to the right of the form.
If you need help ordering, you can call 1-800-232-0233 for assistance. If you have trouble hearing or are deaf, a TTY line is available at 1-888-720-7489.
According to the COVID Test website, your order will arrive anywhere between seven and 12 days after placing your order. So, don't wait until you start showing symptoms to order. By the time they get to your house, the illness will have likely run its course. Order them now so you have them in the event you do start to feel sick.
How to Use a Home COVID Test
My wife and son both contracted COVID over the Christmas holiday, and luckily I was able to find some tests at a CVS location in Evansville for me and my daughter to use. Up to that point, I had only been tested one other time prior to that due to being a close contact with someone I work with and that was by a health professional at a drive-thru clinic who stuck the swab so deep into my nostrils I think they may have touched my brain. I had not yet had the privilege opportunity to try collecting my own sample by jamming a cotton swab up my nose.
Fortunately, the home antigen tests don't require giving yourself a cotton swab lobotomy to get a good sample. As shown in the video below, you can get what you need with a simple twirl around the lower parts of your nostril.
[Source: COVIDTests.gov]
Answers to 25 common COVID-19 vaccine questions
Vaccinations for COVID-19 began being administered in the U.S. on Dec. 14, 2020. The quick rollout came a little more than a year after the virus was first identified in November 2019. The impressive speed with which vaccines were developed has also left a lot of people with a lot of questions. The questions range from the practical—how will I get vaccinated?—to the scientific—how do these vaccines even work?
Keep reading to discover answers to 25 common COVID-19 vaccine questions.
KEEP READING: See 25 natural ways to boost your immune system