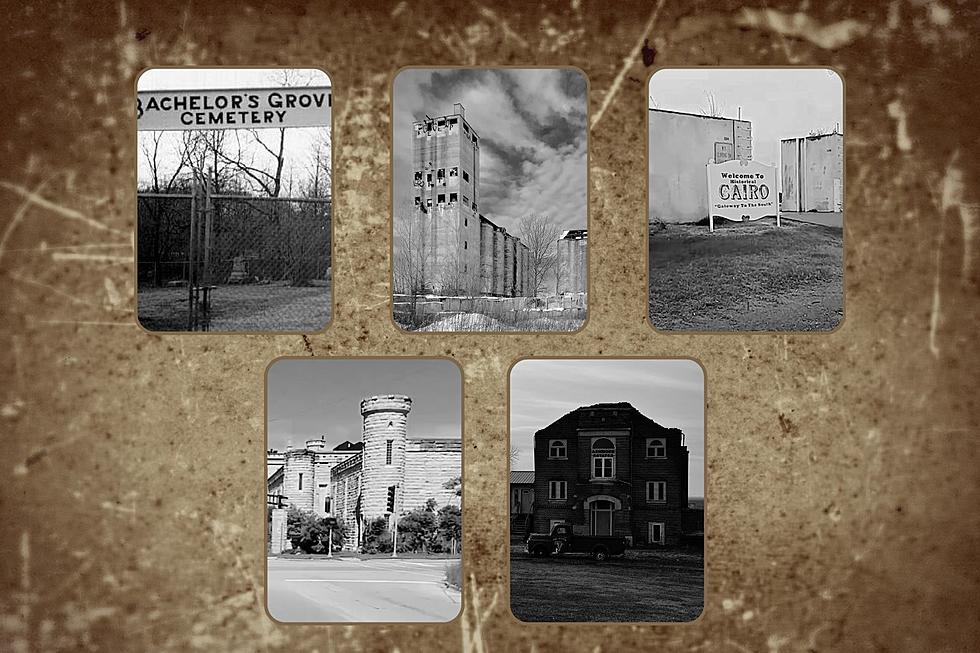 5 of the Most Fascinating Abandoned Places in Illinois
Ashmore Estates, John Dillon, Bachelor's Grove Cemetery via Facebook, Salvador Lopez, BackyardExploration via YouTube, Canva
I'm pretty sure every city, town, and village throughout the World is home to abandoned buildings with sordid stories to tell, and Illinois is no exception. Here are five of the most fascinating abandoned places you will find in Illinois today.
Abandoned Illinois Buildings
Like everyone else these days, I love looking at photos of old, abandoned buildings. I love imagining what these places might have looked like during their glory days or the haunted stories they could tell, and I am always amazed by the weird things people leave behind.
Illinois has hundreds, probably even thousands, of abandoned buildings lying in ruin throughout the state, and you never have to look too far to find them. Only In Your State has a great list of the most intriguing abandoned places you will find in Illinois, but here are five that fascinate me the most. (Warning: most of them are infamously haunted too!)
5 Fascinating Abandoned Buildings in Illinois (in no particular order)
1. Ashmore Estates in Ashmore, Illinois
Ashmore Estates served as a psychiatric hospital for several decades and is often considered Illinois' creepiest haunted house. Some of Ashmore Estate's most infamous ghost stories involve walls filled with vermin, mentally ill patients who committed suicide, and the ghost of a young girl who was killed in a fire. If you really want to get freaked out, they offer paranormal tours of Ashmore Estates several times each year, and you can even stay overnight!
2. Bachelor's Grove Cemetery in Midlothian, Illinois
Bachelor's Grove Cemetery has earned the infamous title of being one of the most haunted cemeteries in the World, and it has a long, history of paranormal experiences to prove it. Phantom animals, floating balls of light, a ghostly woman in white, audio anomalies, and more have been documented multiple times by recording devices, and I guarantee one visit here will leave you TERRIFIED.
3. Damen Silos in Chicago, Illinois 
The Damen Silos have been abandoned since 1977, but are still visible in the Chicago skyline. For over 40 years these deteriorating silos have been a hotspot for artists, and many television shows are movies have filmed scenes there. While I'm assuming the silos have a few paranormal experiences to share, I think the artistic vibe of the place is what attracts people the most.
4. Old Joliet Prison in Joliet, Illinois
If haunted places are your thing, visiting the Old Joliet Prison should be a must-do for you. Not only is it cool to see the insides of an old prison and to walk the same halls that notorious murder clown John Wayne Gacy once walked, but several ghosts are said to still live there too. Haunted tours are offered during the Halloween season for those that are brave enough to explore it.
The tiny town of Cairo, Illinois is often called "one of the creepiest ghost towns in America', although some people still live there amongst the abandoned ruins. Thanks to its location near the Mississippi and Ohio Rivers, Cairo was once a bustling place to be when the fairy and riverboat industry was at a peak, but when that collapsed, so did the town. You can still visit Cairo today if want to check out a lot of sad, deteriorating buildings.
WARNING: Under no circumstances should you enter an abandoned property. By doing so you risk bodily harm and/or prosecution for trespassing on private property.
Ready for more creepy abandoned Illinois stuff? Check these out...
This Abandoned Illinois Animal Hospital Is Littered with A Whole Lot of Strange
This animal hospital has sat deserted since at least the early 2000s.
Take a Look Inside an Abandoned and Creepy Chicago Police Station
If you were wondering what a police department would look like in an apocalypse, look no further.
42 Terrifying Photos Inside the Former Rock River Elementary School in Rockford, Illinois