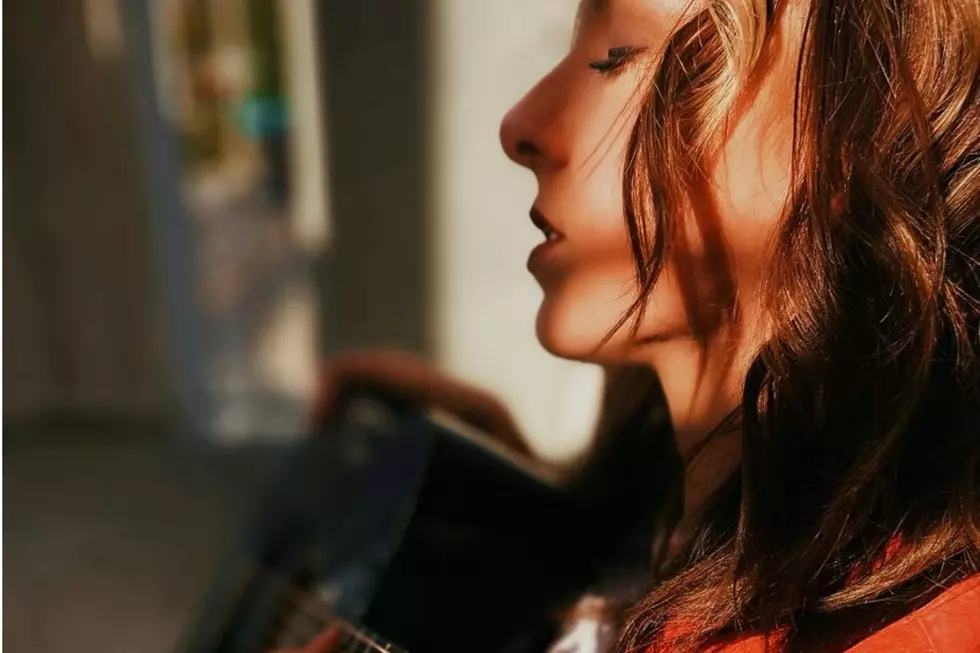 Country Singer-Songwriter and Evansville Native, Kenna Elpers, Releases New Song, 'New Me' [LISTEN]
Kenna Elpers
Evansville native, Kenna Elpers has dreamed of being a country singer-songwriter since she was 3 years old and has been working toward that dream ever since. Now, the almost 20-year-old splits her time between Murfreesboro, Tennessee studying music and music business as a student at Middle Tennessee State, and Nashville, where she collaborates with other singer-songwriters to make her dream a reality. One of those collaborations led to her latest single, "New Me."
Kenna Elpers Releases New Song, "New Me"
Kenna has been playing shows around the Evansville area for a number of years and has also had the privilege of singing the National Anthem at Lucas Oil Stadium and Gainbridge Fieldhouse (formerly Banker's Life Fieldhouse) in Indianapolis, as well as events at Busch Stadium in St. Louis. She's also had the opportunity to open for familiar names such as Craig Campbell, Jameson Rodgers, and Maddie and Tae.
We've been fortunate enough to have Kenna in the studio a few times over the years to talk about what she's up to and perform a song or two. Over that time, we've seen and heard her grow tremendously as a singer, songwriter, and performer. Today, there's confidence in her singing voice and maturity in her songwriting that wasn't quite as strong when she was younger. Much of that comes from diving headfirst into the music business and experiencing the highs and lows all singers and songwriters experience on their journey. One person may tell you you have what it takes, while another tells you you'll never make it. And, just like most singers and songwriters, Kenna expressed her thoughts on those moments in a song she released in the Spring of 2021 called, "Green."
Her new song, "New Me" ditches the acoustic guitar in favor of a more uptempo, country-rock sound which, as Kenna told us when she stopped by the studio recently, wasn't originally what she had in mind.
...whenever we wrote it, we wrote...not necessarily slower, but was just very chill. Nothing over the top. Even the demo of it is kind of different. And then, whenever I took it to the studio, the guy that I go to, he knows every now and again, I'm like, 'rock it up a little bit, go crazy, go crazy.' And so I talked to him, and we ended up creating something different. You know, I wanted something a little bit more upbeat and a little bit heavier, just to kind of match what the song is talking about.
As for what the song is about, Kenna told us that while it has the feel of a "breakup song," there's more to it than that.
I had the vision. Like growing as a person, not necessarily in just a breakup sense, but just in general...I feel like in the past year I grew a lot as a person, so I wanted to kind of reflect that into the song. And then with that, we took it and put it into this breakup, revenge song standpoint...you know, I've had people reaching out to me about different ways that they can relate to it just by saying, like you know, 'I stopped worrying about what this person thought about me or I stopped worrying about this breakup.' Hearing those words kind of just showed exactly why we wrote this song and what the intention was for it. It's for people to see that it's OK to change, to change yourself for the better.
When she's not back at Middle Tennessee State studying for her degree, or in Nashville working on her next batch of music, Kenna is playing shows around the Nashville area and back home here in Evansville. Check out her list of upcoming shows, and keep up with all things Kenna through her website.
The Best Country Singer From Every State
Some states, like Oklahoma and Texas, are loaded with famous country singers. Others, like Nevada and Maine, are still looking for a real breakthrough artist. See the best and most successful country music artist from all 50 states, starting with
Hank Williams
and Alabama.