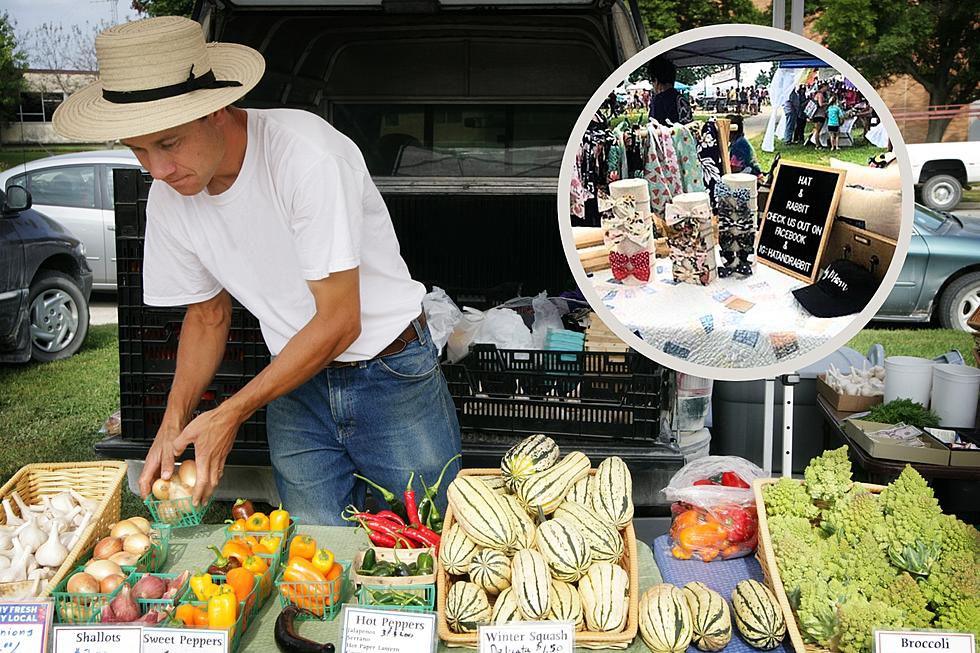 Evansville's Franklin Street Bazaar is Back May 27th-Experience Local Art, Food, and Entertainment
Canva/TSM
The bazaar will be back every Saturday through the summer, here are the vendors for the 2023 season!
How Bizarre How Bazaar (get it?)
Sorry I'll see myself out. 
One of my favorite things about Saturdays in the summertime is going down to Franklin Street and enjoying the Franklin Street Bazaar.  If you've never been, you definitely want to check it out! It's one of the coolest events, and we get to enjoy it every Saturday throughout the summer.
The bazaar usually has dozens of vendors of all varieties. You can find fresh produce, fresh flowers, local honey, locally made crafts, locally made sauces, leather goods, and more. There's live music, and activities for kids as well.  There's seriously something for everyone at the bazaar. There's also usually a long line of food trucks serving up delicious grub for lunch as well.
When is the Franklin Street Bazaar?
Good news, we can enjoy the bazaar sooner, rather than later as it starts for the 2023 season on May 27th.  The event runs from 9 AM to 1 PM each Saturday through August 26th.
Who be at the Franklin Street Bazaar?
The Franklin Street Bazaar took to Facebook to announce the 2023 vendor list:
3 Chicks Fudgery
A bit of sugar
All Breed Grooming, Boarding, & Daycare
Art by Brittany
Artisan Homestead
Bang Bang Ballistic Jewelry
Barefoot Dyes
Berkshire Hathaway Home Service
Big Roots Lavender Farm
Binding Thread
BJ's Produce
Blu K. Boss
Blue Eyed Owls
Bruce Li Food truck
Burson Enterprises
Carousel Country Crafts
ChalkVille USA
Chino Taco
Coco and Tucker Pets
Cygnushure Creations Art and Design
Dizzy Dreamer
Dusty Wood Creations
Eastham Flower Farm
Evansville Countryside Orchard
Evansville Estate Emporium
Evansville Lapidary Society
Finch's Confections
First Federal Savings Bank
Flour Power
Groots Roots, Knots and stiches
Hammerdog Arts
Harley's
Joe Brewski Coffee
Just DeeDee - Kindness Always - LLC
Katy's Kitchen & Garden
Kim's Kreations
Lolly's Pop
Loughrie's Honey
Madi's Main Squeeze
Melanie Rose Designs
Mesker Park Zoo
Midwest Writers Guild
Millers Catering
Mitchell's BBQ Sauce
Ms. Maggie's Shop
Ms.. Emmy's Vending Co LLC. DBA Papa T's Tamales
Newlife Rescue & Adoption
Pappy & Grammy's Popcorn
Precious Jewels
River City Dawgs
Scott's jerky sales
SNAP / Junior League of Evansville
Stiches and Stuff
Stoll's Greenhouse
SWIMGA
Tammy Oliver Design
Tenbarge Farm Stand
The Cheese Queen food truck
The Confectionery
The Crystal Orb
The Owl Upstairs
The Pizza Revolution
The Thirsty Mango
Timberview Flower Farm
Totally Art
Travelin Tom's Coffee Truck
TripL-D Creations
VFW
Wesselman Woods Nature Preserve
Winking owl creations
Woods & Stems
Yip-Yep Candles, LLC
Yochum Farm Produce and More Wild Caught Seafood
Zipper Chic
Here's to an exciting 2023 season at the bazaar! I can't wait to stop by and grab some produce and a bouquet of fresh flowers!