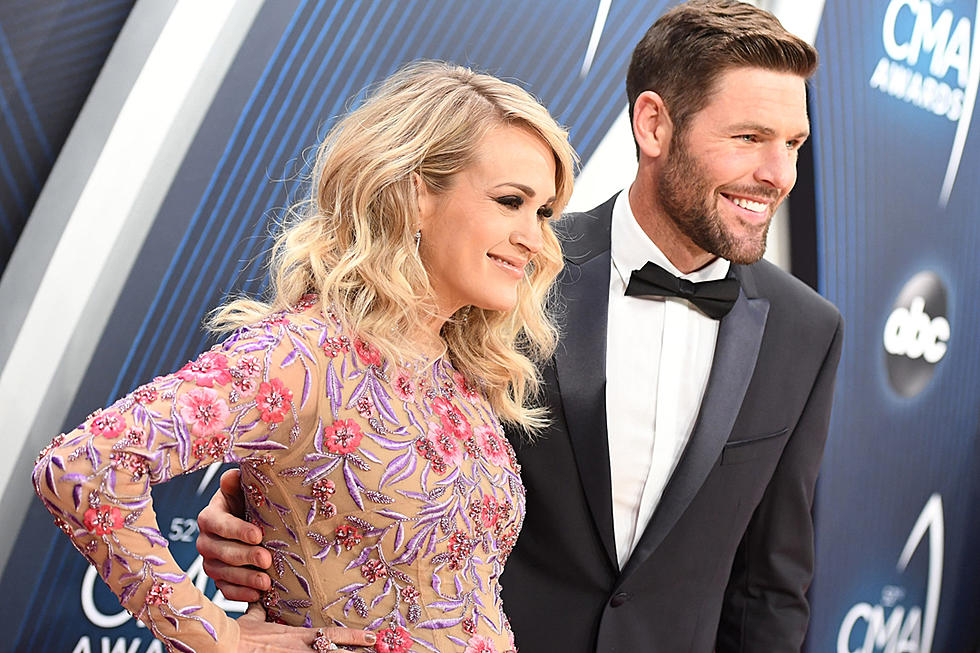 Carrie Underwood Is So Pregnant, She's Now Wearing Her Husband's Clothes
LA/ABC via Getty Images
Carrie Underwood is in the homestretch of pregnancy, and she's got Mike Fisher's clothes on to prove it. The couple's second child — another boy — is due in January, and with just over a month until delivery, the country superstar is having trouble finding clothes that fit.
"Officially wearing Mike's clothes in public now, so...," Underwood writes on Twitter with some telling hashtags:
Fisher responded to his wife with a jab that may have him in the doghouse for the foreseeable future:
Remember How Carrie Revealed She Was Expecting? So Cheeky!
Underwood suffered three miscarriages over the course of two years, so this pregnancy is particularly emotional for her and Fisher. "We were just so excited. It took us a while to get here, and we were just feeling so blessed," she tearfully noted at the CMA Awards. "And then to find out Isaiah is going to have a baby brother, it was just great news."
Her new bundle of joy will join older brother Isaiah, who turns four in February. Underwood previously admitted that she's not too sure how Isaiah will react once he realizes he has to share his mom.
"[He] told me recently that when the new baby comes that Daddy could have that baby and then he could be mine," Underwood remarks to People. "His world is about to get rocked."
She and her eldest son have a remarkable bond that might make it hard for both of them to adjust to sharing, she says. "He loves me. He looks at me and talks to me and interacts with me like nobody else on this planet," Underwood says of her firstborn. "He'll stare at me and I'm like, 'What are you looking at?' And he's like, 'I just love you.' What kid does that?"
Underwood acknowledges that it might be a good thing if the new baby gravitates toward Daddy.
"Maybe this next one will be all Mike's. Maybe that will be how it works out. Mike needs some love too," she says. "I feel bad for him sometimes."
Carrie Underwood and Her Bump Were Best Dressed at the 2018 CMAs: