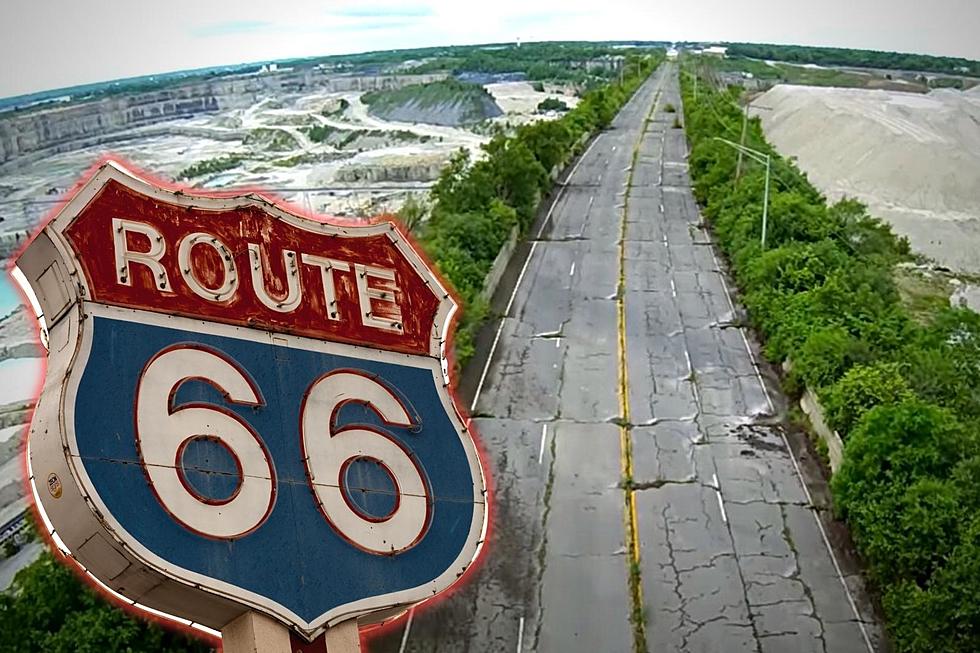 Abandoned Stretch of Route 66 in Illinois Looks Like a Post-Apocalyptic Movie Scene
Canva/YouTube
Drone footage captures incredible views of what an abandoned road looks like as nature slowly reclaims it.
Get Your Kicks on Route 66
It's impossible to hear the name "Route 66" without thinking of the song.  Route 66 is easily one of the most famous highways in the country, many like to travel Route 66 and sightsee and stop at the many towns lining the highway.  So why is Route 66 so famous?  Well according to the National Parks Service, it's because this highway was known as the shortest route from Chicago to Los Angeles.
The highway quickly became a popular route because of the active promotion of the U.S 66 Highway Association, which advertised it as "the shortest, best and most scenic route from Chicago through St. Louis to Los Angeles.
I feel like the ultimate American road trip is to travel Route 66 from Chicago to Los Angeles and stop at several small towns along the way.  Maybe one day I'll finally have time to fill up the tank and take that trip! While much of Route 66 is still around and you're still able to take the trip down the highway, did you know there is an abandoned mile-long stretch of Route 66 that now sits abandoned?
Abandoned Strip of Route 66
I've seen plenty of abandoned buildings, but I don't think I've ever seen an abandoned stretch of road, and to be honest, it is quite unsettling to see, it almost looks like it belongs in a post-apocalyptic movie. This particular stretch of road is located in McCook, Illinois.
So why is this strip of Route 66 now sitting and being taken over by nature?  There is a quarry on each side of this particular stretch of highway, and they couldn't stop the highway from cracking.  According to Forgotten Railways, Roads, and Places:
In 1998, cracks began developing in the roadway, and rapidly grew into pavement buckling. IDOT was forced to close the road, making traffic have to detour onto arterial streets. On either side of the roadbed, Vulcan Materials Company owned the land, a mined the area, in some cases hundreds of feet deep, causing the land under the road to give way.
This stretch of highway still sits abandoned today, and it's a bit of an eerie sight.  Personally, I think it would make a great backdrop for a scene from a post-apocalyptic movie!

LOOK: Route 66's quirkiest and most wonderful attractions state by state
Stacker
compiled a list of 50 attractions--state by state--to see along the drive, drawing on information from historic sites, news stories,
Roadside America
, and the National Park Service. Keep reading to discover where travelers can get their kicks on Route 66.