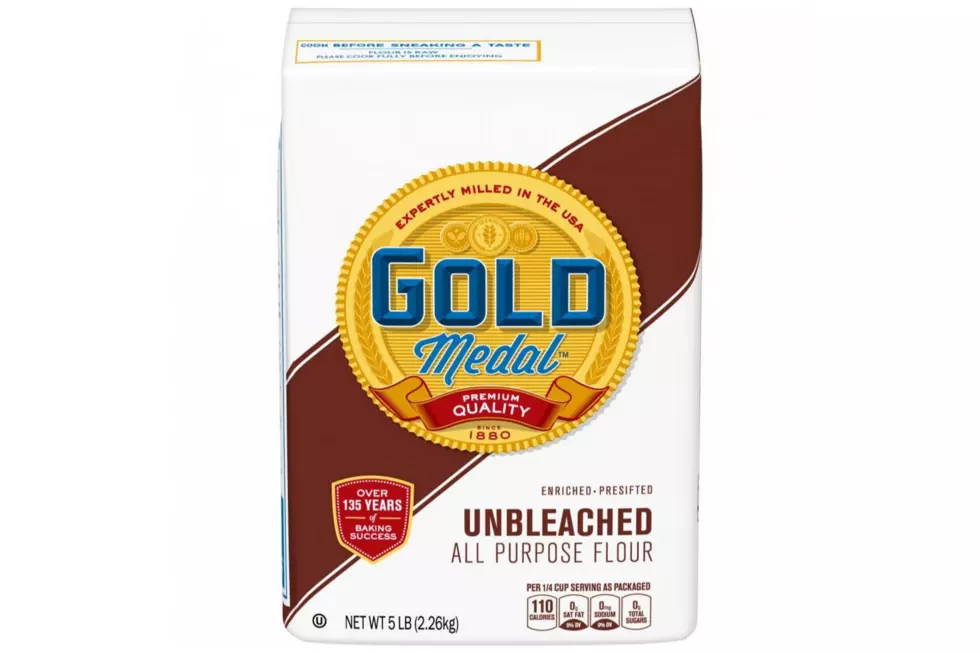 600,000 Pounds of Gold Medal Flour Unbleached Flour Recalled for Possible E. coli Contamination
(General Mills via the U.S. Food & Drug Administration)
General Mills has issued a voluntary recall of roughly 120,000 bags of their Gold Medal Unbleached All Purpose Flour after the discovery of E. coli bacteria during a random sampling test.
The recall, published by the U.S. Food & Drug Administration (FDA), states the recall applies only to the Unbleached All Purpose Flour brand, pictured above, and that all other brands of Gold Medal flour are not included.
While this particular strain of E. coli (E. coli O26) can be "killed by heat through baking, frying, sautéing or boiling products made with flour," the FDA is warning us not to eat any raw products made with flour, and to throw out this particular brand if we have it in our pantries or cabinets.
Here's what to look for on the package:
UPC Code 016000 196100
Better if Used by Date 06SEP2020KC
The FDA also notes that many strains of E. coli are harmless, however the strain found by General Mills is potentially deadly, especially if consumed by children, the elderly, and others with weaker immune systems. Symptoms of E. coli illness include "bloody diarrhea and dehydration." No illnesses have been reported at the time of the recall, but if you or someone you know start to develop either of these symptoms, contact your doctor immediately.