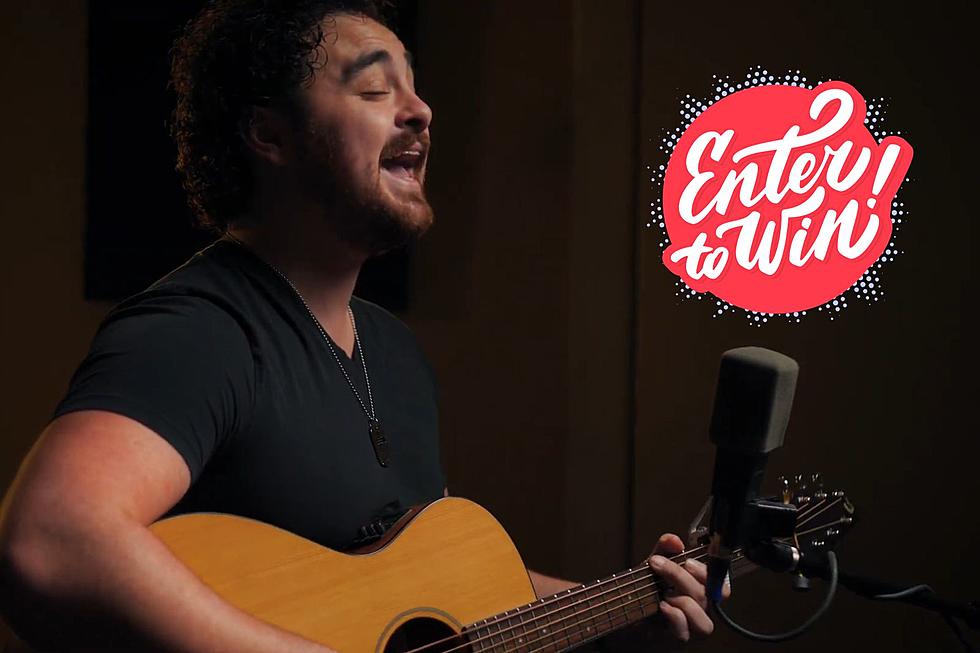 Win VIP Seating and a Gift Card to See Songwriter Matt Wynn at Evansville O'Charley's
Matt Wynn via YouTube / Canva
Over the summer, O'Charley's on Evansville's east side has been hosting a live performance series giving you the chance to see and hear several up-and-coming songwriters from Nashville and other cities. Even though summer is officially over and fall is underway doesn't mean the music stops. The series continues on Thursday, October 26th with another rising start out of Music City, Matt Wynn.
O'Charley's Summer Songwriter's Cafe
The Summer Songwriter's Cafe was started by O'Charley's back in 2020 as a virtual series since everyone was stuck at home and couldn't go anywhere thanks to the pandemic, and featured artists such as Lee Brice, Tenille Arts, and others. The series has continued post-pandemic at locations around the country giving the previously mentioned up-and-coming singer/songwriters a chance to perform and possibly gain a new fan in you.
Meet Matt Wynn
Matt was born and raised in the small town of Flint Hill, Missouri (population: 600). He discovered country music at a young age riding around with his dad and quickly became a fan of several of the '90s greats like Tim McGraw, Aaron Tippin, and Darryl Worley. It was through his father he also discovered the songwriting talents of artists like Beatles, Motown, Phil Collins, and Frank Sinatra. But it was through attending church that his love of singing took root. It was there where he "fell in love with being able to move people and watch them react to the emotion of a song."
Upon graduating from high school, Matt struggled with the decision to either attend college or pursue a music career. He took a chance on music and auditioned for season 12 of American Idol where he advanced to the Hollywood rounds.
While he didn't place in the competition, the experience helped him make the decision to pursue music full-time. In the years that followed he moved to Nashville and began working as a songwriter, collaborating with some of his songwriting heroes like Phil Vassar and Aaron Tippin. Matt has also recorded a few of the songs he's written himself. For example, "Hometown Holy."
His talents have also given him the opportunity to open for some of the biggest names in Country Music including, Luke Combs, Brothers Osborne, Sam Hunt, Vince Gill, Chris Janson, and Scotty McCreery.
Most recently, the Queen of Country Music, Reba McEntire recorded the song, "Seven Minutes in Heaven," which was co-written by Matt and songwriter Olivia Rudeen.
Win VIP Seating to See Matt Wynn at O'Charley's on October 26th
Matt is set to perform from 6:00 - 7:00 PM on Thursday, October 26th on the patio at O'Charley's in Evansville, and we're giving you the chance at VIP seating for the performance along with a $30 O'Charley's gift card. Enter below between now and Wednesday, October 25th at 10:00 AM Central Time for your chance to win. Good luck!
*Two winners will be selected at random with each winning a VIP table for themselves and their guests and a $30 O'Charley's gift card. Winners will be contacted by e-mail on Wednesday, October 12th, and will claim their prize at O'Charley's on the evening of the show.*
[Source: Matt Winn]
Meet Team Reba: The 14 Contestants Reba McEntire Will Coach on Her First Season of 'The Voice'
The Blind Auditions are over, and Reba McEntire has officially stocked her team with 14 talented would-be stars! Get to know The Voice contestants on Team Reba this season.
Gallery Credit: Carena Liptak
10 Artists We Totally Underestimated
Oliver Anthony
is country music's newest underdog, but he's just next in line on a list of hitmakers that fans, the media and the music industry scoffed at.
This list of 10 artists we underestimated includes at least five legitimate superstars with dozens of No. 1 hits, two
American Idol
finalists and country music's first real viral sensation. Each has proven themselves worthy in ways nobody saw coming.
Gallery Credit: Billy Dukes