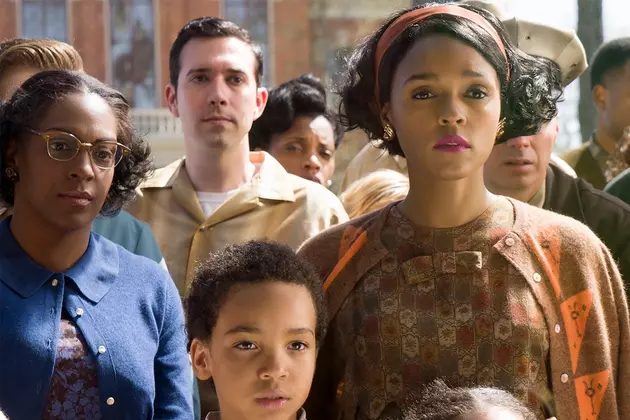 Weekend Box Office Report: 'Hidden Figures' Gives 'Rogue One' a Run For Its Money
Fox
Eventually, some movie will unseat Rogue One: A Star Wars Story from its spot at the top of the box office charts. That movie will not be Hidden Figures, but man, it sure came close. Unless the final numbers shift ever-so-slightly, the drama about the African American women behind the math that helped launch NASA's first space missions came this close to unseating the massively successful blockbuster, taking the runner-up position by less than $1 million.
Film
Weekend
Per Screen
1
Rogue One: A Star Wars Story
$21,972,000 (-55.7)
$5,286
$477,273,000
2
Hidden Figures
$21,800,000 (+2,440.1)
$8,822
$24,754,000
3
Sing
$19,573,000 (-54.4)
$4,949
$213,373,000
4
Underworld: Blood Wars
$13,100,000
$4,267
$13,100,000
5
La La Land
$10,000,000 (+4.7)
$6,601
$51,656,000
6
Passengers
$8,800,000 (-45.5)
$2,588
$80,893,000
7
Why Him?
$6,500,000 (-35.3)
$2,238
$48,559,000
8
Moana
$6,413,000 (-41.6)
$2,516
$225,394,000
9
Fences
$4,700,000 (-53.2)
$1,985
$40,663,000
10
Assassin's Creed
$3,800,000 (-56.2)
$1,438
$49,505,000
Hidden Figures expanded into wide release and was greeted with a weekend haul of $21 million, bring its current gross to $24 million. Those are terrific numbers for a historical drama released in the doldrums of January, especially one budgeted at only $25 million. They're even more impressive when you consider that the film is still battling the remnants of December's blockbuster slate, which is still going very strong. Next weekend will be key in seeing if Hidden Figures will be a minor hit or a major hit, but this is an exceptional start.
While Rogue One still went strong in first place, its power is definitely starting to wane a bit. With a weekend total of just under $22 million, the first standalone Star Wars movie is going to fall from that top spot very soon. But there's no shame in that – with a current domestic total of $477 million, the film should crack $500 million at the domestic box office within a week and change and should break the $1 billion mark at the international box office soon after that. It will still trail Star Wars: The Force Awakens by a fair amount when all is said and done, but that was expected. This film is a huge success and don't let the comparison game throw you off.
In a tight third place finish, Sing grossed $19 million in third place, brining its total to $213 million. The film is still in a strong position to reach $300 million at the domestic box office, but it should still trail The Secret Life of Pets and Finding Dory when all is said and done. It will probably only be the third highest grossing animated movie released in 2016.
And that takes us to fourth place and Underworld: Blood Wars, which opened with $13 million, a disappointing number for a franchise that has traditionally opened north of $20 million. With a budget of only $35 million, it still has a chance of breaking even when the smoke clears, but this is the kind of opening that suggests we've seen the last of this series.
In fifth place, La La Land continued to emerge as the biggest box office hit of this award season's top contenders, grossing $10 million for a $51 million total. If it wins big at the Golden Globes tonight (and it probably will), expect this film to keep on raking in the cash until the Academy Awards (were it will also probably win big).
The homestretch is home a grab bag of mixed successes and failures. Passengers isn't the massive bomb its opening weekend seemed to suggest, but it's certainly not a hit. Why Him? is a hit, but it's a minor hit. Moana is doing quite well, but it's not doing Frozen, Zootopia, or even Sing-well. Fences plummeted from last weekend's strong showing, grossing only $4 million in ninth place. And Assassin's Creed? Well... it didn't even manage to crack $50 million before falling to tenth place.