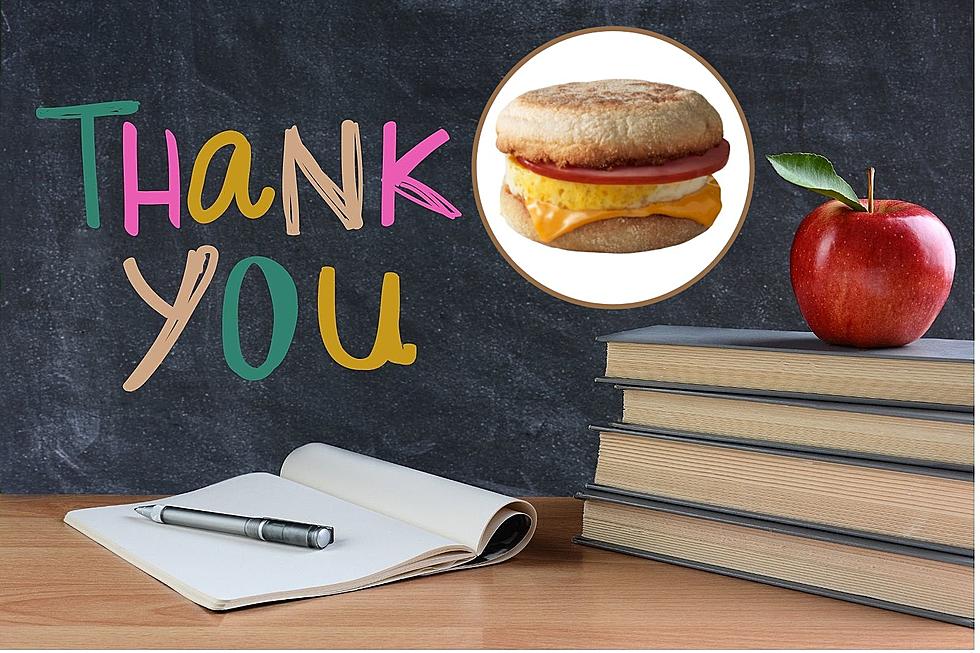 So. Indiana McDonald's Locations Celebrate Teacher Appreciation Day With FREE Breakfast
Canva
I have written several articles over the years about how the locally-owned McDonald's restaurants here in the Southern Indiana area give back to the community. I hope you're not tired of reading them because I am certainly not tired of writing them.
McDonald's is at it again, this time offering a FREE breakfast sandwich for some of the most important people in our communities - our teachers.
Every year, local McDonald's restaurants honor educators in their communities on National Teacher Appreciation Day as a way for Owner/Operators and their crew members to say thank you for their hard work, dedication, and commitment to local youth. In addition to yearly celebrations in May, local McDonald's restaurants also host the annual McDonald's Outstanding Educator awards in the Fall of each year. Since the program began in 2020, local restaurants have awarded more than $45,000 in cash and prizes to 240 local educators.
Tuesday, May 2, is National Teacher Appreciation Day, and to show their appreciation, McDonald's is giving a FREE Egg McMuffin breakfast sandwich to any area educator who wants one. Teachers just need to show a valid educator ID between 6:30am-10:30am at participating McDonald's restaurants. No purchase is necessary and there is a limit of one per person.
If you know an educator, please let them know about this offer. They deserve this freebie and so much more, so let's make sure they don't miss out.
Participating Locations
There are literally more than 100 different McDonald's locations that are participating in this offer. You should be good to go at just about any McDonald's in Southern Indiana, Western Kentucky, Southeastern Illinois, and even parts of Missouri.
Do You Remember These Vintage McDonald's Glasses?
Long before we had the luxury of finding collectibles on the internet, we had to remember to get to our local McDonald's every week to get the next collectible glass. Yes, back in the late 70s and into the 1990s, McDonald's offered some really cool glasses. Here's a look at some of them that I found on eBay.
Whatcha Drinking? The Tri-State's Favorite Beverages