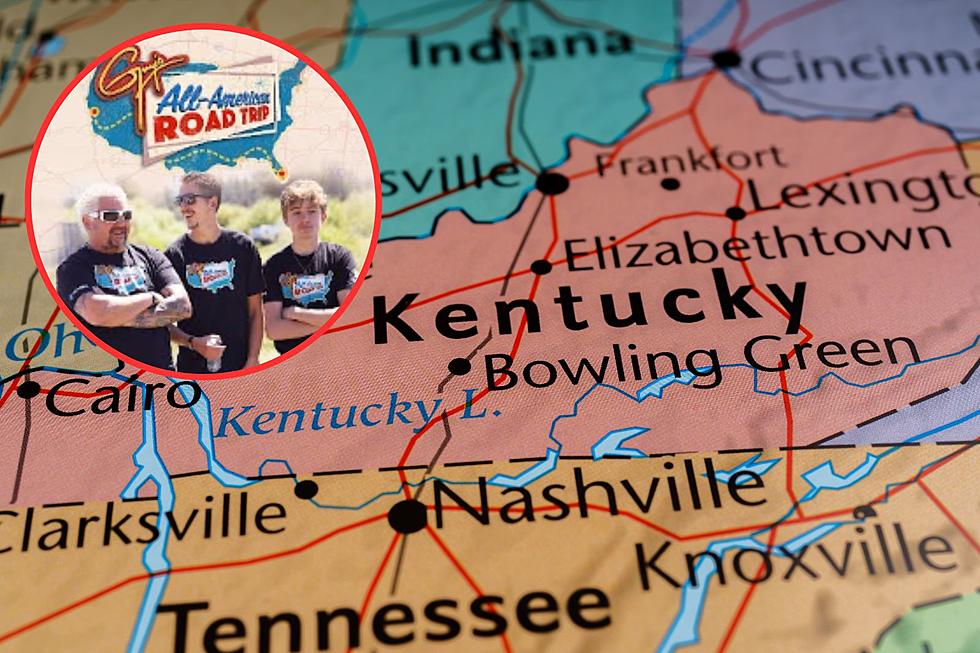 Popular Kentucky Dairy Farm to be Featured on Guy Fieri's New Series on Food Network
Photo: THE FOOD NETWORK DISCOVERY | CANVA
Friends, I have been waiting almost a year to write about the upcoming season of Guy Fieri's All-American Road Trip. The four-episode series was filmed around this time last year and the trip takes the Fieri family across the country from California to Kentucky and Tennessee. I know that one of the spots that will be featured is his own Downtown Flavortown in Pigeon Forge, TN. That is where I had the amazing opportunity to meet the Mayor of Flavortown and that's why I have his autograph tattooed on my arm.
Chaney's Dairy Barn - Bowling Green, Kentucky
Chaney's is a destination for fresh milk and some of the best ice cream treats in Kentucky. They raise cattle that produce fresh milk and cream and they take pride in this family-owned generational farm.
The Chaneys have been bursting at the seams to tell the world about the special visitors they had last summer. Can you just imagine Guy Fieri's people calling you to reserve your farm for the day? Oh my goodness! I'm not talking about Diners, Drive-Ins, and Dives. This is a special that takes the entire Fieri family, cousins and all, on an extreme cross-country road trip.
So, how was it meeting the Mayor of Flavortown and his family?
Chaney's is grateful for this once-in-a-lifetime experience! We were open to unusual requests to make this episode as entertaining as possible.
From the Dairy Farm to Recreational Motorsports
Chaney's is not the only spot that the Fieri family visited in Bowling Green, Kentucky. NCM Motorsports Park will also be featured on Guy's All-American Road Trip. But wait...What are they going to eat at a racetrack? Well, Guy's family isn't just made up of foodies. In fact, they are extremely competitive and in between featuring local shops, you will see some epic family games. 
Oh, and while we know that Guy and his family enjoyed eating the freshest farm ice cream that you can get in Bowling Green, I'm willing to bet there were some crazy family games played at the farm too. Last season, there was a milking competition. That is exactly how it sounds. So, I cannot wait to see what happens this season!
Check out Season 1
Read More: Guy Fieri Answers What's your favorite diner, drive-in, or dive?
Guy Fieri's Downtown Flavortown Pigeon Forge, Tennessee Ribbon Cutting
Downtown Flavortown
is a family entertainment center that includes a restaurant showcasing Guy Fieri's famous culinary combinations; a 14-lane Duck Pin bowling alley; over 10,000 square feet of state-of-the-art arcade games; and a full-service tiki bar.
This Is Why We Are Obsessed With Guy Fieri
10 Juicy Reasons Why Someone Should Open a Guy Fieri Chicken Guy! Restaurant in Southern Indiana
Chicken Guy!
is a franchise, which means, for the right person, and the right amount of money and perfect location, you could own a piece of the Fieri fortune. If we had Chicken Guy! in Southern, Indiana it would be Winner, Winner - Chicken Dinner!