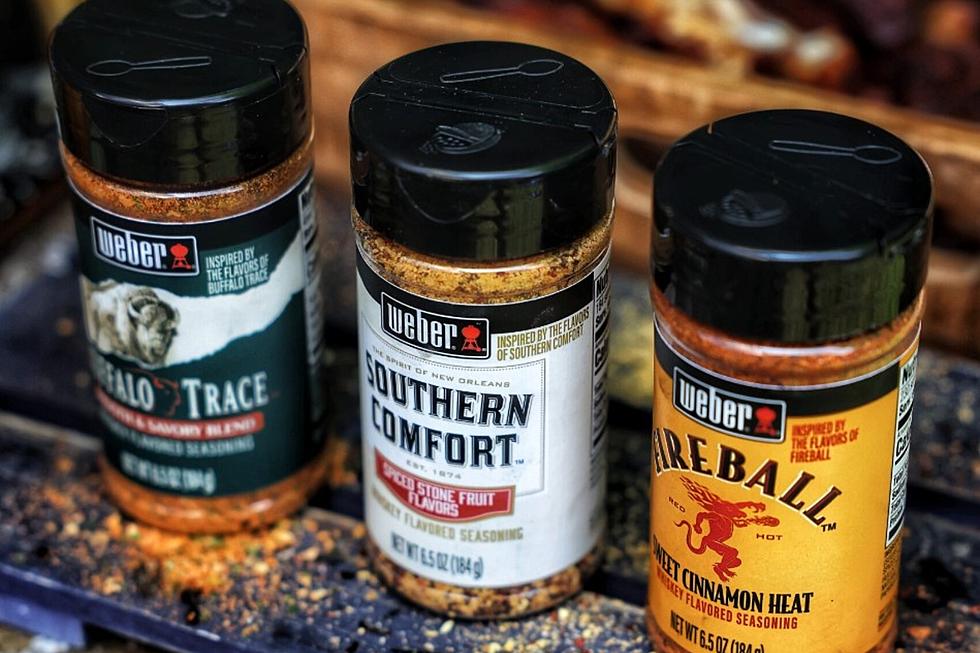 Kentucky Bourbon Inspires New Line of Weber Seasonings
Photo courtesy of Weber
Weber has a new line of seasoning blends and they're sure to get your spirits up (get it, spirits?).
Grilling Season
It may be the end of summertime, but in our house grilling season is all year long.  It's even better when the nights aren't sweltering so it makes grilling even more enjoyable.  If you enjoy grilling, there's no doubt you've heard of the brand, Weber.  Weber is king when it comes to grilling. Do you want a charcoal grill?  Weber sells those.  Do you want a gas grill?  Weber sells those too.  Do you want a smoker?  Yep, Weber has those! Oh, you want seasonings and grilling accessories?  You're not going to believe this...  Weber recently teamed up with a few distilleries around the country and has created special whiskey-flavored spice blends.
Whiskey Flavored Seasonings
Weber teamed up with Kentucky's own, Buffalo Trace, as well as Fireball, and Southern Comfort to release a line of whiskey-inspired seasoning blends.
New Weber®️ Seasoning Blends inspired by Whiskey Flavors including Fireball™️ Cinnamon Whisky, Southern Comfort™️ Whiskey, and Buffalo Trace™️ Bourbon. Each seasoning blend is non-alcoholic and has been meticulously crafted to capture the flavors iconic to each spirit brand.
If these sounds right up your alley, you can check out where to get these seasoning blends, here.  Below is how Weber describes each flavor.
Buffalo Trace
Kentucky's own Buffalo Trace made the lineup, which is pretty cool!
Buffalo Trace™️ Whiskey Flavored Weber Seasoning – inspired by the sweet fruit flavor and rich caramel notes of Buffalo Trace, bringing a smooth, savory flavor to various meats, sides, and even desserts. Fire up the grill and wow your friends with the flavor of this award winning spirit on meats, desserts and sides such as Caramelized Onion Macaroni and Cheese.
Fireball
Fireball™️ Whiskey Flavored Weber Seasoning – embraces the bold heat of Fireball with sweet cinnamon heat flavor. This seasoning is perfect for igniting your Fall tailgate spread when paired with wings, ribs, pasta salads, desserts and other touchdown worthy food such as Fireball Sweet Potato Fries.
Southern Comfort
Southern Comfort™️ Whiskey Flavored Weber Seasoning – features a balanced blend of stone fruit flavors, warm spices, and garlic to bring the signature, smooth, laid-back Southern Comfort vibe to any dish. It's versatile enough to enjoy on chicken, vegetables, potatoes and more. Try it in Savory Southern Comfort Biscuits for the ultimate in flavorful comfort food.