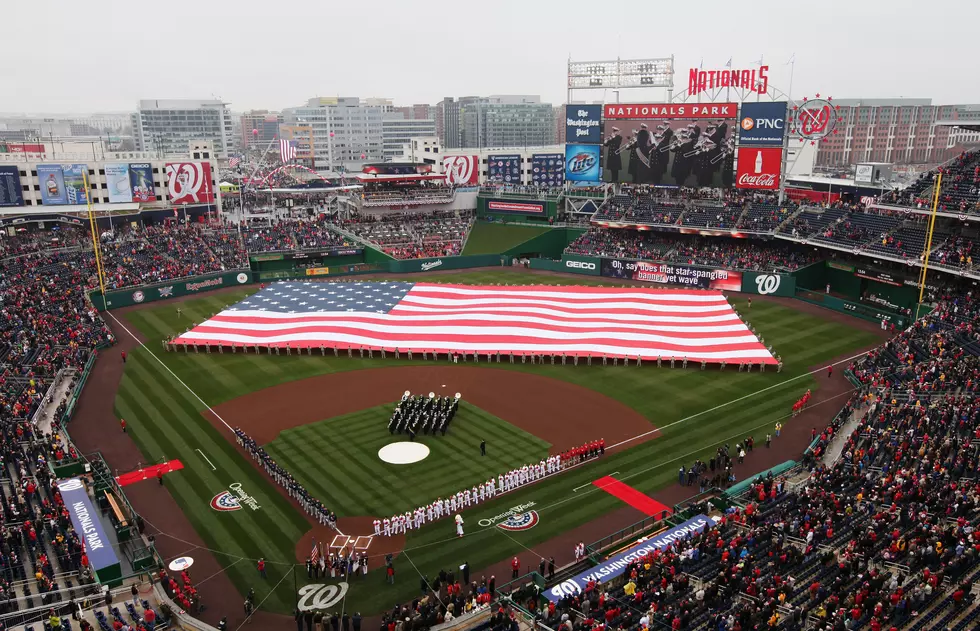 Indiana College Bans National Anthem At Sporting Events
Rob Carr / Getty Images
As shocking as that headline might be, it's true even though I know how hard it is to believe. Goshen College in Northern Indiana has decided to replace the "Star Spangled Banner" with "America the Beautiful" because the lyrics are better suited to the pacifist ideals of this campus whose motto is "Healing the World, Peace by Peace".  Goshen president James E. Brenneman says the debate over the national anthem has engulfed the school for almost two years. Goshen College is a Mennonite campus and has never played the national anthem before a sporting event until March 2010 when the school adopted an instrumental version of the anthem at the urging of Brenneman in a lengthy statement explaining the change in policy. Brenneman said, "I am committed to reatining the best of what it means to be a Mennonite college, while opening the doors wider to all who share our core values."
The playing of the anthem was immediately controversial among the 1000-person student body of which 58 percent belong to the Mennonite faith, which is built on pacifism and global citizenship. The students argued the "Star Spangled Banner" conjured up imagery of war which of course is counter to their beliefs. Brenneman said he considered many patriotic songs until finally settling on "America the Beautiful" last Friday.
Brenneman may have found a compromise to satisfy the students and alumni, but the decision has sparked anger and protest from many outsiders. One man tweeted, "Goshen College should be banned from NCAA competition until they start playing the national anthem again." Wrote another, "Goshen looks horrible. It's a tragedy that my brother is still forced to go to such a prison of a school." What do you think?