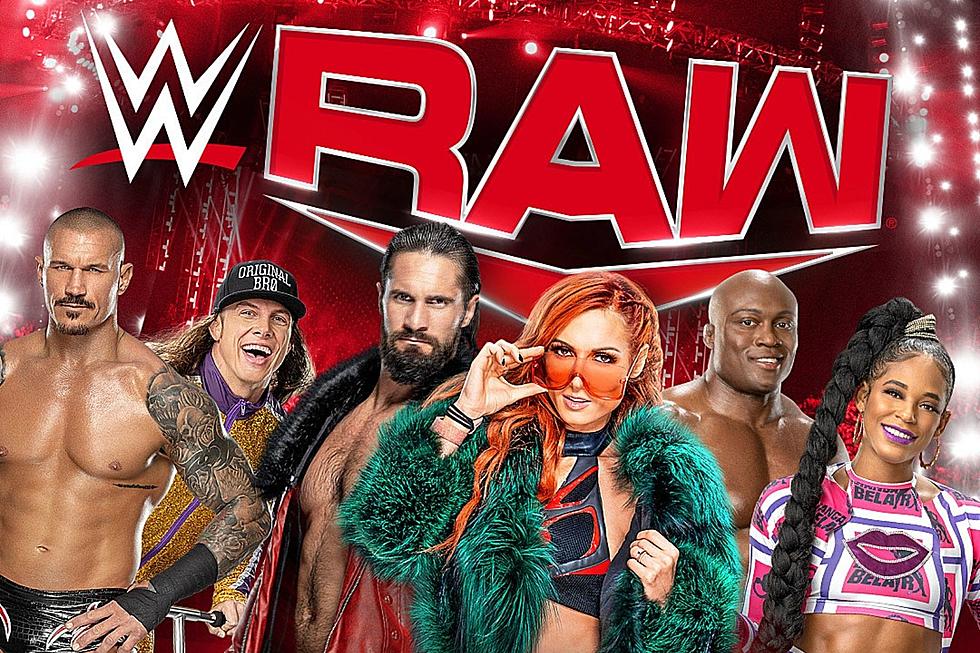 Here's How You Can Sit Ringside At Monday Night Raw In Evansville
World Wrestling Entertainment
WWE's Monday Night Raw is returning to the Ford Center in Evansville on May 23rd, and you have the chance to sit ringside for the show!
We have only a couple of weeks until the Superstars of Monday Night Raw take over the Ford Center for a night full of action, drama, suspense, and surprises. I can't wait to be there at Raw, but what is going to make it even cooler is that I will be there with YOU...which we'll get into here in a second.
Monday Night Raw Coming To The Ford Center
As previously mentioned, Monday Night Raw will be at the Ford Center in Evansville on Monday, May 23rd. It will be the first time that the brand has aired live from the Ford Center in five years. If you are a fan of WWE, you know that there are currently a lot of interesting rivalries going on right now, and some of them will be settled this Sunday at WrestleMania Backlash, while others will just be getting started. This means we are going to be in store for an epic night in Evansville.
All of your favorite Raw Superstars will be in town including Cody Rhodes, Becky Lynch, Bobby Lashley, Bianca Belair, Seth Rollins, Randy Orton, Riddle, AJ Styles, Kevin Owens, Finn Balor, Liv Morgan, and more! Heck, even Ezekiel, the younger brother of Elias, might even be in town! You never know what the Raw Superstars will have in store for the Evansville crowd. This show will be leading up to one of their premium live events, Hell In A Cell, on Peacock on Sunday, June 5,  so we could see some big things happening in Evansville.
How You Can Sit Ringside At Monday Night Raw
By now, you probably just want to know how you can sit ringside for Monday Night Raw. Okay, okay...I'll tell you! I'm giving you the opportunity to sit ringside at the Ford Center with 99.5 WKDQ's "Wrestling Guru"...ME!
One listener and a guest will have a chance to sit front row, ringside with me, Travis Sams at the Ford Center for Monday Night Raw. All you have to do is go one on one with me in a game called Smack Talk SmackDown May 9-13!
Each day on the  Afternoon Show, caller number 9 will have to cut a "promo" on me as your favorite WWE Superstar (past or present). Once they complete that, they win a pair of tickets to the show. Each winner that week will be qualified to get "upgraded" and win ringside tickets next to me at the show. After we find our final winner on Friday, May 13th, there will be a random drawing of all five qualifiers, and one will get upgraded to a pair of ringside tickets to Monday Night Raw at the Ford Center!
Brush up on those promos, as they could score you ringside seats next week with WKDQ!
Wrestling Matches That Could Win A Gold Medal If Professional Wresting Were An Olympic Sport
I belelive that these are some of the best matches of all time. No gimmicks, just a good old fashioned match that told a great story and left the crowd in awe of what they just witnessed.
25 Businesses That Should Come To Evansville In 2022
Evansville is constantly growing. How would you like to see any of these businesses make their way into the area this year?
25 Hidden Evansville Secrets That May Blow Your Mind
An Evansville resident recently posted a question in the "I Grew Up in Evansville, Indiana"
Facebook group
asking other members to share any hidden or little-known facts about our city not many residents would know. The answers were wide-ranging, covering everything from our manufacturing history to our place in Civil War, to a couple of popular landmarks still standing today that were the first in the entire state of Indiana. No matter how long you've lived here, chances are there will be a few things on this list you didn't know about the city we call home.