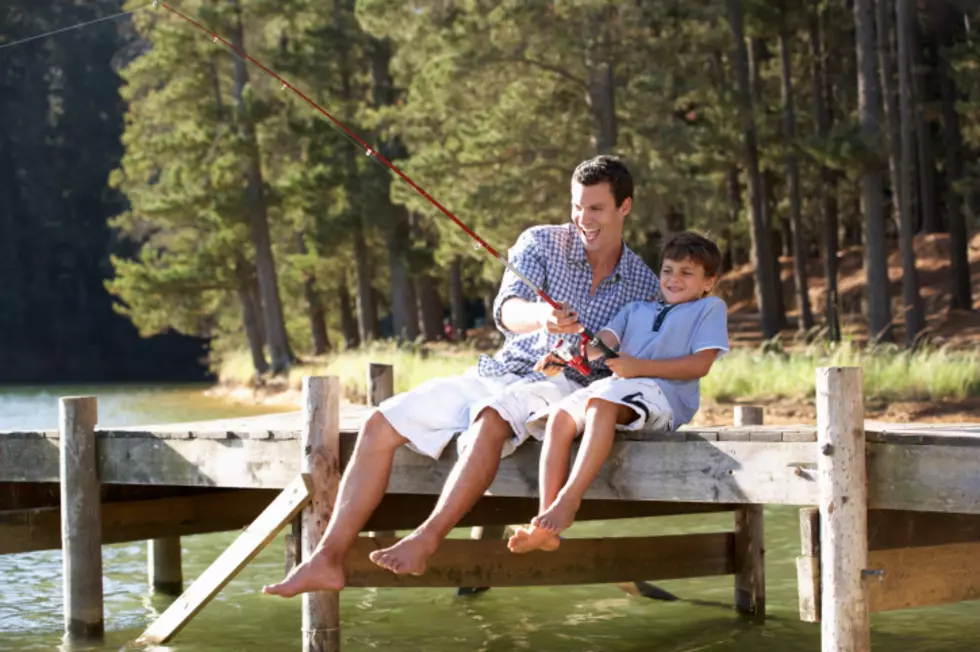 Here Are 30 of the Best Country Songs About Dad
Catherine Yeulet
Father's Day is this Sunday, and what better way to celebrate Dad than with country songs about...Dad!
There are quite a few songs that remind me of my dad, but if I had to pick one off of the top of my head, it would have to be "Drive" by Alan Jackson. I remember like it was yesterday, Dad sitting me on his lap, letting me "drive" the car down old back roads. I thought it was the coolest thing in the world. Those are memories that I will never forget, and I know he won't either. The older I get, the more it's apparent that my dad is my best friend. I don't know what I'd do without the guy.
Perhaps there's a certain song that comes to mind when you think about your dad. A song that takes you back in time to a particular memory you two shared together, or maybe it's a song that really just reminds you of your dad as a person. That's the beautiful thing about country music...it's about real life. Things that people can relate to. Whether it's a song about the good times or a song about the memory of someone we lost, there's always a song that you can relate to in country music.
So, I have compiled a list of 30 Country Songs About Dad for your Father's Day entertainment. Some of these songs are from a child's perspective, while others are from dad's. Check it out, and let us know which one is your favorite song about dad!
1. Watching You- Rodney Atkins
2. Love Without End, Amen- George Strait
3. Drive- Alan Jackson
4. That's My Job- Conway Twitty
5. The Best Day- George Strait
6. Anything Like Me- Brad Paisley
7. There Goes My Life- Kenny Chesney
8. The Greatest Man I Never Knew- Reba McEntire
9. My Little Girl- Tim McGraw
10. Just Fishin'- Trace Adkins
11. Mr. Mom- Lonestar
12. Cleaning This Gun (Come On In Boy)- Rodney Atkins
13. Family Man- Craig Campbell
14. Daddy's Hands- Holly Dunn
15. He Didn't Have To Be- Brad Paisley
16. A Boy Named Sue- Johnny Cash
17. The Walk- Sawyer Brown
18. My Old Man- Zac Brown Band
19. Tough Little Boys- Gary Allan
20. Boy- Lee Brice
21. It Won't Be Like This For Long- Darius Rucker
22. I Loved Her First- Heartland
23. Even Though I'm Leaving- Luke Combs
24. Roll On (Eighteen Wheeler)- Alabama
25. Coal Miner's Daughter- Loretta Lynn
26. One Wing In The Fire- Trent Tomlinson
27. Ready, Set, Don't Go- Billy Ray Cyrus
28. Daddy Never Was The Cadillac Kind- Confederate Railroad
29. Butterfly Kisses- Bob Carlisle
30. Highway 20 Ride- Zac Brown Band
Do You Remember What These Evansville Businesses Used To Be?
On this Throwback Thursday, let's take a stroll down memory lane to see if you remember what used to be located at these Evansville Businesses.
2021 Showplace Cinemas Family Film Festival Schedule
Evansville's own Showplace Cinemas is bringing back their Family Film Festival for the summer of 2021 after sidelining it last summer due to the COVID-19 pandemic. Admission $1.50 per person for each show with all shows starting at 9:30 a.m. local time at the East and North locations in Evansville, as well as the Connorsville, Indiana, and Harrisburg, Illinois locations.
Travis' 10 Best Fishing Lures To Catch Bass
Here are some of the best lures that my friends and I have found for bass fishing. There's a little bit of everything on here: topwater lures, middle water lures, and bottom bouncers. All are great for bass fishing and you could probably find these easily at your local Walmart!
9 Ways To Stay Connected With Your Child When You Are Out Of Town