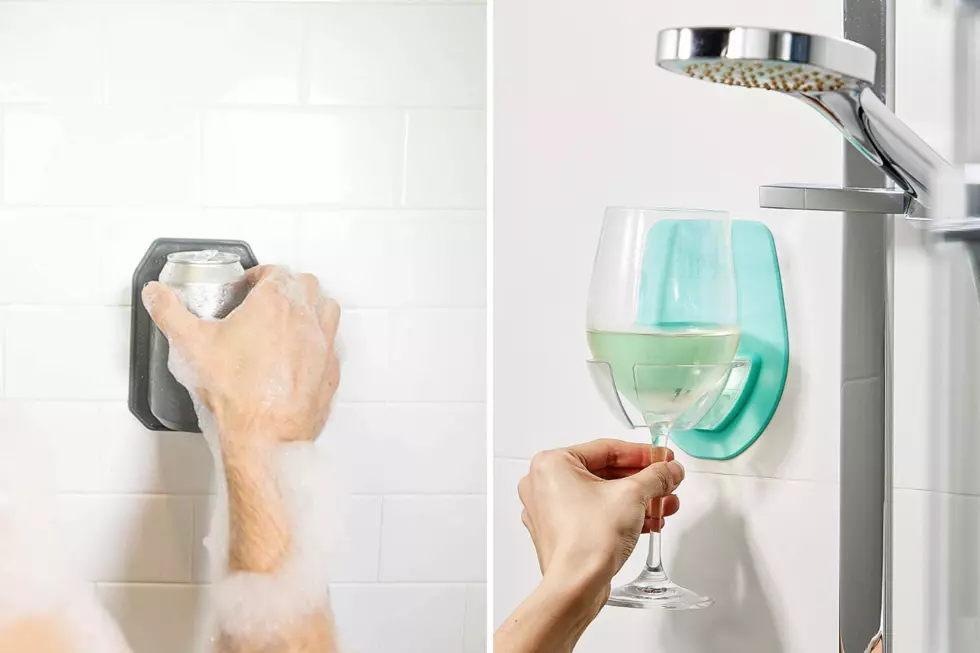 You Can Enjoy Beer/Wine In The Shower With These Drink Holders
30 Watt via Amazon
Taking a nice hot shower or bath after a long day is always nice. It's even better when you throw in a cold beer or glass of wine...but where do you sit it?
Sure, you could move your shampoo or soap around to make room for it, but you don't want the can or glass to get filled with soap and water. That's why when I saw a friend of mine share these shower drink holders on Facebook, I knew I had to share them with you.
You can buy silicone can and wine glass holders that are designed for the bath and shower. These are game changers. According to the product descriptions, These holders grips securely to glossy surfaces like glass, mirror, marble, metal, shiny tile and laminate No suction cups, adhesives or wall mounts are needed. Won't leave any residue behind, either.
Applying these to your bath or shower sounds pretty easy too. Remove protective film from back and mount it on to a dry surface, smooth out the air bubbles, wait 24 hours, and then you're ready to get the shower party started. Simple enough, right? Plus, if you don't like where it is placed, or you just want to relocate the drink holder, all you have to do is peel it off the wall and stick it where it feels right. However, you will have to wait another 24 hours though.
The beer can holder comes in four different colors and will cost you $17.99.
If you are interested in the wine glass holder, those come in three different colors and will cost you $13.99 or $14.99 depending on the color.
Now let's say you are a fan of both beer and wine, and would like a drink holder that could hold both a can of beer or a glass of wine. They have one of those too! It will cost you $11.99 with your choice of three colors.
Enter your number to get our free mobile app