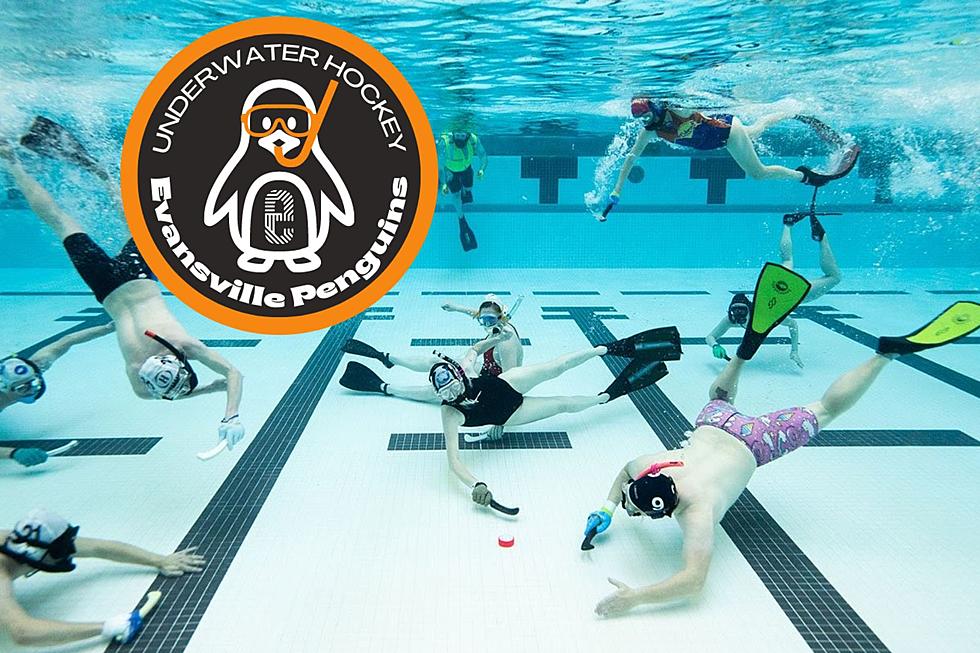 Evansville Penguins, the New Underwater Hockey Team, is Looking for Players
UNDERWATER-HOCKEY-EVANSVILLE-PENGUINS
If you live in the Evansville, Indiana area, you know that we have a hockey team that plays at the Ford Center. But if you replace skates with fins, shorten the stick, and add a snorkel and you have Evansville's newest sport - Underwater Hockey.
When Did Evansville Get an Underwater Hockey Team?
Well, there is actually a meeting coming up Monday, February 20, 2023, at 5:30 PM to gauge interest in this 'New to Evansville' sport. I say new to Southern Indiana because Underwater Hockey has actually been around since the 1950s.
Dominic Poggi is the Club President, and he is very excited to get the new Evansville Penguins swimming.
I found underwater hockey in 2011 while living in Chicago and looking for a new way to get some exercise. After giving it a try over a few practices, I was hooked and played through 2018 until moving to Southern Indiana. Now I'd like to bring this sport to the Evansville area for anyone interested to enjoy.
Chicago Under Water Hockey Club
After watching the video, I can safely say that I'm out! I would be covered in bruises, but it is certainly fun to watch.
A meetup on Monday, February 20th, 5:30 pm-6:30 pm is scheduled to help beginners get familiar with the sport (no swimming during the meetup). The meetup location is 318 Main St. in Downtown Evansville. Email uwhevv@gmail.com to RSVP.
Beginners are welcome at any practice. Visit Info for Beginners to learn more and email uwhevv@gmail.com to RSVP. Include your shoe size (if you'll need fins) and whether you're left or right-handed. Arrive for your first practice at 7:00 pm so we can get you fitted with gear and review some initial information.
30 Bizarre (and Real) Indiana High School Mascots
According to
High School.com
, there are 682 high schools in Indiana. 555 of those are public schools, while the remaining 127 are private. A majority of those schools have chosen typical mascots to represent them, like eagles, tigers, lions, jets, patriots, and so on and so forth. But, these 30 schools decided to go, well, a different direction.
See 11 Unique Attractions You'll Only Find in Indiana
From the World's Largest Ball of Paint to a pink elephant drinking a martini, the Hoosier State is filled with quirky little things worth a detour on your next road trip.
38 Celebrities Who Were Born in Indiana
There are a bunch of famous folks that everyone knows were born in Indiana, but there are even more that you didn't know about. Most of this list is arranged in alphabetical order, except for the handful of celebrities born in our neck of the woods here in southern Indiana. I gotta give them a little preferential treatment.