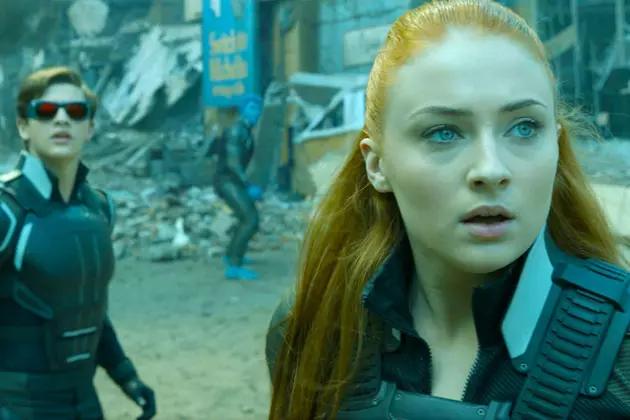 Weekend Box Office Report: 'X-Men: Apocalypse' Lands On Top and 'Alice Through the Looking Glass' Bombs
20th Century Fox
Despite the arrival of two major films, this Memorial Day weekend was ultimately a disappointing affair, as X-Men: Apocalypse and Alice Through the Looking Glass both underperformed. The former should ultimately emerge untarnished in the long run, likely making enough money to keep the X-Men franchise breathing. However, the second Alice adventure only confirms what everyone outside of Disney already knew. People don't like the first Alice in Wonderland and they had no interest in a sequel.
Film
Weekend
Per Screen
1
X-Men: Apocalypse
$65,000,000
$15,663
$65,000,000
2
Alice Through the Looking Glass
$28,112,000
$7,471
$28,112,000
3
The Angry Birds Movie
$18,700,000 (-51.0)
$4,756
$66,353,000
4
Captain America: Civil War
$15,135,000 (-54.1)
$4,458
$372,610,000
5
Neighbors 2: Sorority Rising
$9,100,000 (-58.2)

$2,664
$38,336,000
6
The Jungle Book
$6,967,000 (-36.3)
$2,761
$338,478,000
7
The Nice Guys
$6,370,000 (-43.1)
$2,223
$21,733,000
8
Money Monster
$4,250,000 (-39.4)
$1,836
$33,902,000
9
Love & Friendship
$2,496,000 (+345.9)
$5,063
$3,874,000
10
Zootopia
$831,000 (-50.7)
$1,453
$335,874,000
X-Men: Apocalypse opened with $65 million, which sounds like a decent number until you put it in context. That is roughly half of the opening weekend gross for Fox's other 2016 mutant-centric superhero movie, Deadpool, which opened to $132 million earlier this year (and cost significantly less to make). That opening is also less than the second weekend of Captain America: Civil War. If you really want some perspective, note that X2, X-Men: The Last Stand, X-Men Origins: Wolverine, and X-Men: Days of Future past all had bigger openings.
Audiences simply weren't lining up to see this film, which had already been preceded by lukewarm buzz and negative reviews. The X-Men series is not over and this one will make just enough money to look respectable, but don't be too surprised when Fox taps the breaks on a direct sequel to this entry and puts all of their eggs in the Deadpool basket.
Meanwhile, Alice Through the Looking Glass bombed with a devastating $28 million. The first film impressively opened with $116 million back in 2010 and the sequel will be lucky to gross that much in its entire run. Considering the lack of enthusiasm surrounding Disney's sequel, it will be fortunate to hit $100 million. A final domestic total of $80 million or so feels more likely. In a year where Disney has otherwise been releasing hit after enormous hit, this feels like a major statement from audiences: quality matters. The Jungle Book, Captain America: Civil War, and Zootopia all proved that.
Speaking of those three movies, Civil War continued its steady climb to $400 million, arriving at $372 million this weekend. The Jungle Book continued to showcase strong legs, reaching $338 million. Zootopia is about to end its run and exit the top 10 with $335 million and nearly a billion worldwide. Disney won't cry too many tears for the cash lost on Alice, which could still generate some decent revenue worldwide.
In third place, last week's champion, The Angry Birds Movie, dropped 51 percent and grossed $18 million for a $66 million total. That's a large drop, especially in terms of animated family movies, which tend to have more endurance than most blockbusters. This could be a sign that audiences simply aren't embracing the concept. Right now, it looks like it will crack $100 million but won't get too far beyond that.
Elsewhere, Neighbors 2: Sorority Rising and The Nice Guys are still failing to connect with audiences despite rave reviews. The former won't make half of what its predecessor made. The latter will be lucky to hit $30 million — and with a reported budget of $50 million, that's bad news for Shane Black unless The Nice Guys becomes a sleeper hit in the next couple of weeks.