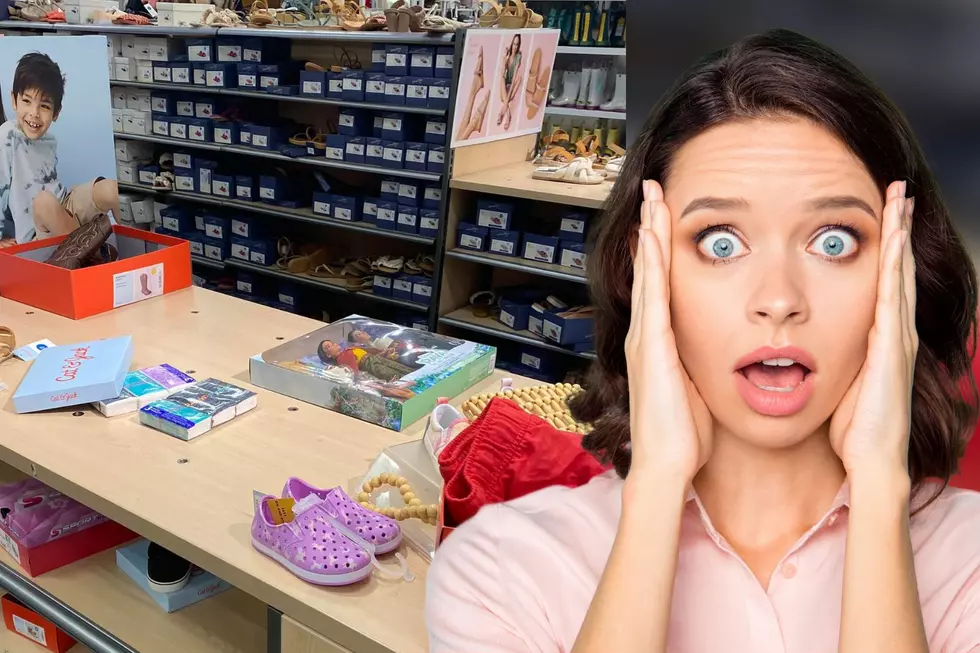 Viral Facebook Post Reveals How Badly We Behave When We Shop and We Should Be Ashamed
Bre McCorkle/Canva
When I saw the photos from this viral Facebook post, I immedialty go hot fired up. Why? Because, I see stores, like Walmart and Target , with messed up shelves all the time.
Is it the fault of the retail workers that didn't straighten up the items on the shelves? No, it's our fault. It's like we have no sense when we go shopping and we think that everyone should pick up after us.
And sadly, they WILL pick up our messes, but they shouldn't have to. They are paid to stock the shelves, not throw your trash away.
Here is a part of Bre's viral 'Human Chat' Facebook post,
Because we suck at being respectful shoppers. The store was trashed... by us. The employees are unable to focus on their job at hand because they are constantly picking up after us. (Their wording was directly related to customers and their lack of common courtesy with these things).
 Amen, Bre!
See photos of messes left behind by careless shoppers
Look at the messes she found while she was shopping and some of the comments posted with each of the photos.
As someone who works at Target as a cashier, it's disgusting what ppl do to the store. I've seen ppl throw half-eaten food on the floor and just go abt there a day like it's our responsibility to clean it up. ppl need to get a grip and be respectful. - Molly S. 
Every store I have shopped at lately has looked like this. People are getting out of control. I feel bad for our friends that work in retail. They spend all of their time cleaning up messes and very little time putting out their freight. Thanks for sharing. - Shelly T.
Did people LEARN anything during a pandemic, IF NOT BEFORE!! GROSS and beyond lazy!!! - Angie D.
...It's called being a decent human being and having respect for others. You would want people leaving your house after destroying, putting things where they shouldn't even go in the first place, having guests go off on you for something you can't even control, leaving trash everywhere and so much more! More workers wouldn't even help this situation. People just need to have respect, and manners, be decent human beings, and understand people have felt they wouldn't talk to their friends like that, or heck they wouldn't even want people to talk to them the way and things they say to employees. Lots and lots of people forgot it's not cool to be Karen in this world. It's just sad. - Olivia S.
If you don't want it, take the extra steps to put it back, it will help your health! - Jennifer R.
I think everyone should work in a retail store at least once. Maybe they would realize the hard work and little pay a person gets. Of course, most people just don't have any respect. - Katherine M.
 How to behave when you are shopping in a retail store
 Bre also offered some helpful tips to make us better shopping humans.
We need to hang clothes back up when we pick them up to look at them and they slip off the hanger.
We need to pick items up when we drop them AND place them back where they go.
We need to throw our garbage away -- in a garbage can, NOT a random store shelf.
If we change our mind on an item in our cart, we need to put it back where it went, or at least give it to the cashier and inform them that we changed our mind. We need to stop just putting said item wherever we please because we are lazy.
We need to be responsible and respectful shoppers.
We need to show the employees kindness and understanding, especially in these crazy times.
We've all (mostly) done one or more of these things. We've all seen others do these things, too. Let's start doing better.
Preach!
LOOK: These Are the 50 biggest retailers in America
LOOK: Here are 25 ways you could start saving money today
These money-saving tips—from finding discounts to simple changes to your daily habits—can come in handy whether you have a specific savings goal, want to stash away cash for retirement, or just want to pinch pennies. It's never too late to be more financially savvy. Read on to learn more about how you can start saving now. [
From:
25 ways you could be saving money today
]