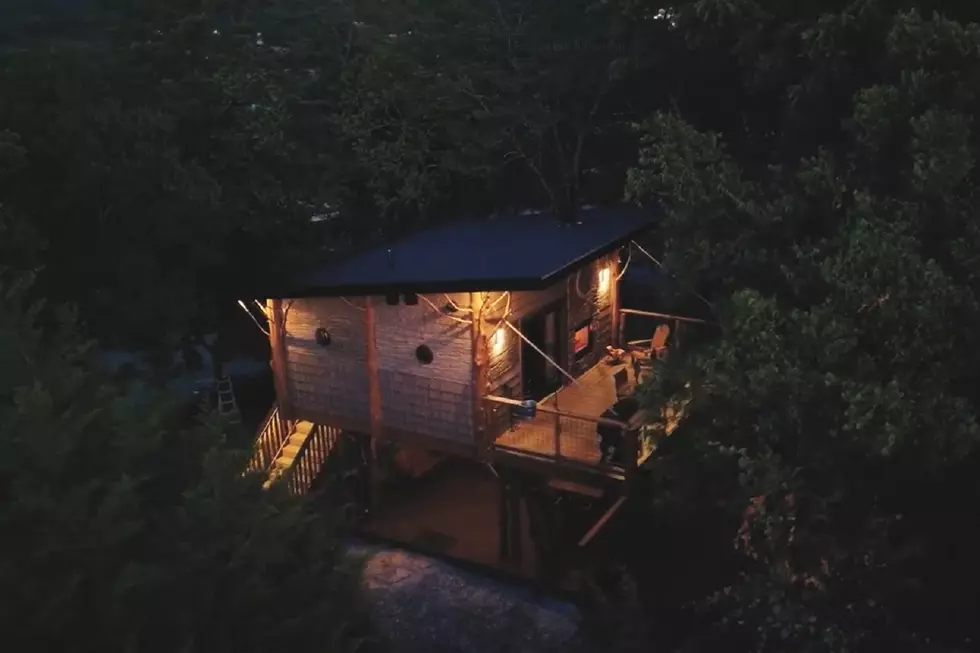 'Largest Treehouse Resort in the World' to Open in East Tennessee [PICS, VIDEO]
Sanctuary Treehouse Resort via YouTube
One of my favorite attractions at Disney World, when I was a kid, was the Swiss Family Robinson treehouse, a walk-through attraction modeled after the treehouse in which the Robinson family lived in the book and on the big screen.
It's fascinating. Mom, my sister, and I spent a lot of time in this treehouse. Since the tour is self-guided, you can. We had family and neighborhood friends who constructed AMAZING treehouses, so this Disney attraction just blew my mind.
THE 'LARGEST TREEHOUSE IN THE WORLD'
When what is being billed as the "largest treehouse resort in the world" is completed in the Smoky Mountains, I'm going to have to check it out.
WELCOME TO THE SANCTUARY TREEHOUSE RESORT
Scheduled to open this summer in Sevierville--seriously, is there anything you CAN'T do in eastern Tennessee--the Sanctuary Treehouse Resort will give patrons three types of treehouses from which to choose.
Guests will also enjoy an enchanted forest; get their steps in on a walking trail; and experience beautiful views of the Great Smoky Mountains. Plus, golfers will love the fact that it will be situated on two 18-hole courses.
WHAT TO EXPECT AT THE SANCTUARY TREEHOUSE RESORT
The Sanctuary Treehouse Resort will only be accessible via golf carts, but I think that adds to the charm. Each of the three treehouse lodges will offer unique amenities. In the Tree Fort, you'll find will offer unique amenities like spiral slides and custom drink chutes from the kitchen to the lower porch, escape hatches, secret ladders, rope climbs, and so much more.
That curved piece behind those two swings is the drink chute. I love that.
THREE TYPES OF TREEHOUSE LODGING TO CHOOSE FROM
The Tree Fort Double has all of the Tree Fort features plus a drawbridge connecting two treehouses, in case multiple friends are joining you. The Luxe is the most upscale of the trio with, among other things, outside tubs on bottom-level porches, suspended outdoor day beds, copper clawfoot tubs, and more.
THE IDEA BEHIND THE SANCTUARY TREEHOUSE RESORT
The Sanctuary Treehouse Resort was inspired by a treehouse Amanda and Brian Hensen built for their kids years ago.
When that was complete they wondered about building multiple treehouses on another of their properties and turning them into a resort.
While most sources say summer of 2022 is when the Sanctuary Treehouse Resort will open, its Facebook page indicates it might be in the fall. Regardless, it's coming and it sounds like a perfect way to spend time in the Smokies...AND to reminisce about the lower-tech treehouses of your childhood.
The Ultimate Smoky Mountain Vacation
Some of my favorite vacations have been to go spend time in Gatlinburg, and soaking in those Smoky Mountains. Here's the must-see sights and must-do activities so you get the most out of your next Gatlinburg vacation!
Brand New Dale Hollow Vacation Home Is Beautiful With Huge Indoor Pool, Diving Board and Incredible Lake Views
A vacation home to meet everyone's needs.
"Captain's Quarters." A Ten Acre Treehouse in Nauvoo, Illinois
This might be the best treehouse hotel in Illinois.