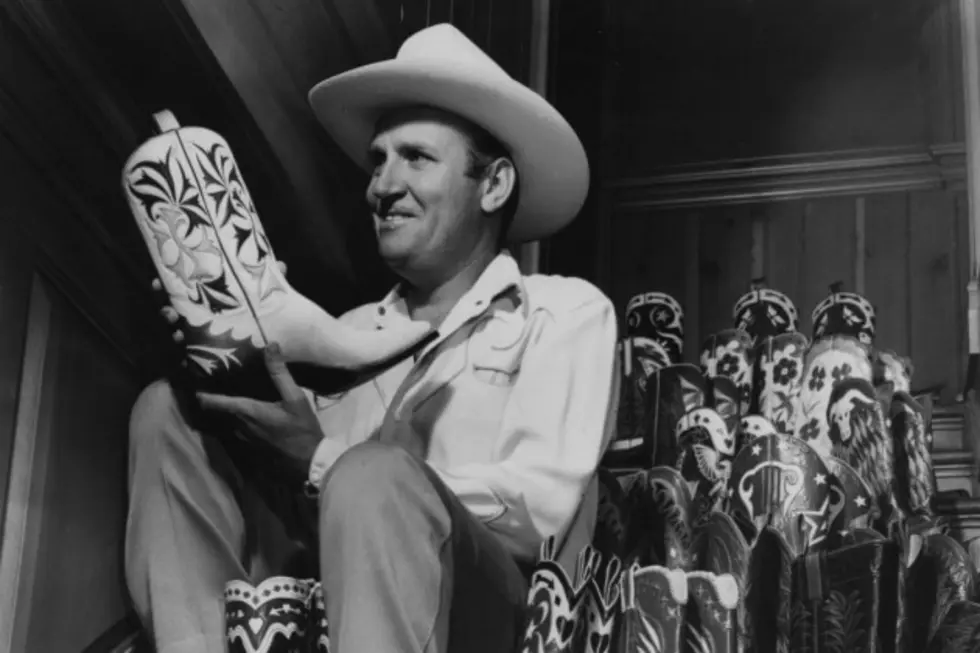 Hulton Archive / Stringer, Getty Images
Gene Autry, also known as the "Singing Cowboy," is one of the most beloved names in music. Well, not just in music -- also songwriting, acting and rodeo performing, to name a few things. In fact, Autry has five stars on the Hollywood Walk of Fame, for movies, radio, recording, TV and live performance.
The famous crooner made his name largely by the bringing his signature style to television, radio and the movies in the 1930s, '40s and '50s. The biggest songs of his career, though, also include some of the most recognizable Christmastime songs. Read on for The Boot's picks for Autry's five best tracks:
5

Co-written by Autry and Fred Rose, "Be Honest With Me" found popularity, as was the case with many of Autry's songs, because of his performance of the song in a movie -- in this case, 1941's Ridin' on a Rainbow. The song's message is simple: "Be honest with me, dear / Whatever you do / Remember you're mine, dear / So always be true."

"Be Honest With Me" earned Autry an Academy Award nomination for Best Original Song.

4

"That Silver-Haired Daddy of Mine"

1935

"That Silver-Haired Daddy of Mine," a duet with Jimmy Long, was Autry's first certifiable hit. The gold single was originally written and recorded in 1931, but Autry's performances of the song in the 1935 films Tumbleweeds and The Phantom Empire were what helped its popularity soar. The song is an ode addressed to the singer's "silver-haired daddy," and the lyrics express love, fondness and regret, with the narrator concluding, "I'd give all I own / If I could atone / To that silver-haired daddy of mine."

3

Autry's "At Mail Call Today," was his most successful song for the Juke Box Folk chart: It was a No. 1 hit for eight weeks, and rose to the top position on the Billboard Hot Country Singles chart as well. The song is a mid-tempo "Dear John" waltz, with a soldier narrator describing the devastation of receiving a letter from his (now ex-)girlfriend. "Good luck and God bless you," he sings in resignation. "Wherever you stray / The world for me ended / At mail call today."

2

"Rudolph, the Red-Nosed Reindeer"

1949

You know Dasher and Dancer and Prancer and Vixen, right? If you do, it's probably because of Autry. While Johnny Marks originally wrote this Christmas classic in 1939, it was Autry's recording of the song that became a No. 1 hit, instantly cementing itself as a forever Christmas classic. To wit: Autry's version of the song charted on the Billboard Hot 100 (peaking at No. 27) as recently as December 2018, 70 years after it initially appeared on the charts in 1949. It should come as no surprise that "Rudolph, the Red-Nosed Reindeer" is in the Grammy Hall of Fame.

1

"Back in the Saddle Again"

1939

"I'm back in the saddle again / Back where a friend is a friend."

That's how Autry's signature song, "Back in the Saddle Again," opens. Autry initially recorded his version of the song in 1939, but it truly became popular when he performed it in the film Rovin' Tumbleweeds. He later made it the theme song for his radio show, Gene Autry's Melody Ranch as well. "Back in the Saddle Again" is in the Grammy Hall of Fame, and the Western Writers of America put it at No. 5 on their list of the Top 100 Western songs of all time.