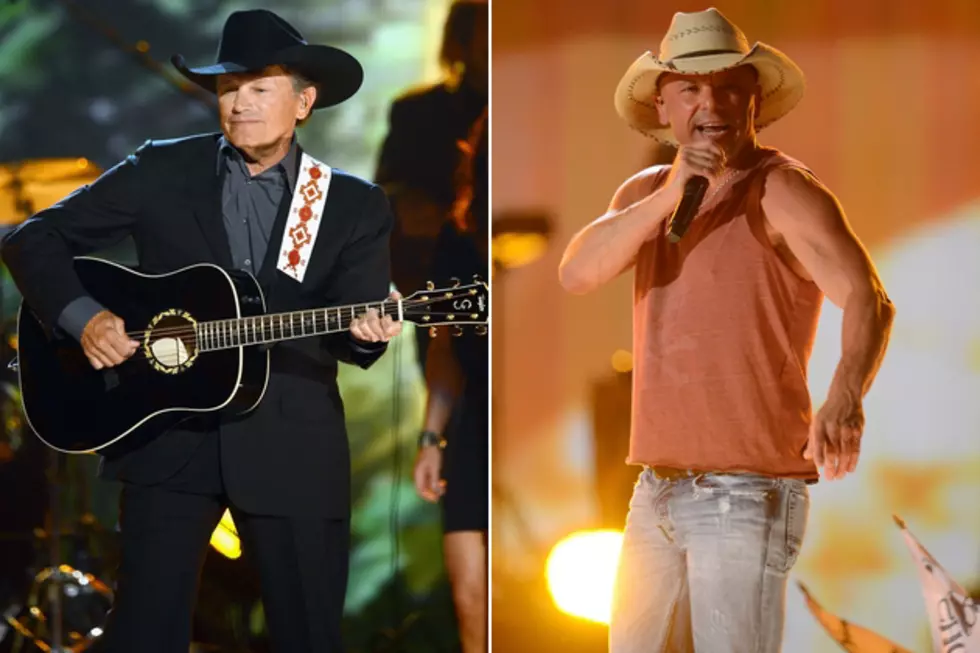 Top 10 Country Songs About Fall
Ethan Miller (2), Getty Images
Fall is the perfect time to curl up with a sweater, a mug of coffee (pumpkin spice or not!) ... and a good country song.
From songs about small-town football teams to songs about harvesting crops to songs about mourning lost summer loves, The Boot is counting down the best country songs about fall. The tunes on this countdown span the years, too; you'll find a new song by Jason Aldean, a classic from Marty Robbins and more:
10

Leafy Lyrics: "Fall, go on and fall apart / Fall into these arms of mine / I'll catch you every time."

Okay, this one is a little bit of a stretch for inclusion on this list. Walker does sing "fall" a lot, but he's talking about the verb, not the season. Still, taking into account the outdoor scenery in the "Fall" music video and the repetition of the word "fall," we're assuming that Walker is, at least subconsciously, making a seasonal play on words.

9

"A Little More Summertime"

Jason Aldean

Leafy Lyrics: "She might have stayed forever and never ever left these arms / If only I had a little more summertime ... I brace myself against the cold / And let her memory take hold."

There's a sub-genre of fall songs that are focused on the summer -- missing it, remembering it, wishing it would stay around longer. Usually, wishing summer would stick around has something to do with wishing a summer love would stick around, too. This song is no exception.

8

"When the Work's All Done This Fall"

Marty Robbins

Leafy Lyrics: "When the roundup days are over and the shipping all is done / I'm going right straight home, boys, before my money's gone / I have changed my ways, boys, no more will I fall / Yes, I am going home, boys, when the work's all done this fall."

The cowboy narrator of this song insists early on that he'll be going home to his heartbroken mama -- but we should have known that as soon as he started talking about it, he was doomed. Sadly, he perishes in a freak accident, and his ghost finishes the tune.

7

Leafy Lyrics: "Oh, but here it is October / Oh, the leaves are turning gold / Each night's a little bluer / But autumn's not that cold."

This song plays with the familiar symbolism of fall: death and change, exemplified by the changing colors. But the narrator of this song is surprised to find that even though she thought she'd "stop living without you here to hold," in fact, she's happy and surviving. "Guess I'm just not that lonesome," she admits. "And autumn's not that cold."

6

Leafy Lyrics: "The words came out, I kissed your mouth / No Fourth of July has ever burned so brightly / You had to go, I understand / But you swore that you'd be back again."

The fall season in this song has the narrator pining for a lost summer love; the cooler weather and abandoned boardwalk remind him of kissing a girl on the Ferris wheel and falling in love on the Fourth of July five years earlier. He sounds heartbroken, but he admits that he "got a job at the old park pier" in order to wait for her ... so, at the very least, his heartbreak resulted in a paycheck!

5

Leafy Lyrics: "And I'll begin to feel the chill of an early fall / And I'll be drinking again and thinking whenever he calls / There's a storm comin' on / It won't be too long 'til the snow falls."

Country songs about fall tend to have a mournful air to them, and in this case, it's literal: It's the chill in the early fall air that's the backbone of Strait's song. That chill reminds the narrator of his (probably) cheating lover, and he sings bitterly, "Love and seasons never stay."

4

Leafy Lyrics: "It's harvest time in this little town / Time to bring it on in, pay the loans down / Fill our diesel tank up, make another round / There's a big red moon comin' up in the sky."

Bryan comes from a farming family, so he knows what farmers know: Fall is about the harvest. In the backdrop of the song are more small-town farm realities -- football games, big red moons -- but the stars of this song are the farmers and field laborers bringing in the harvest.

3

Leafy Lyrics: "She said, 'Hello, country bumpkin / How's the frost out on the pumpkin? / I've seen some sights, but man, you're somethin' / Where'd ya come from, country bumpkin?'"

Smith's sweet story song follows a couple through life -- from when they first meet in a bar, to the birth of their son a year later, to their deathbed goodbyes. It's all framed by the refrain about country bumpkins and pumpkins: Her baby boy is "fresh as frost out on the pumpkin," and at the end of her life, 40 years later, she says, "So long, country bumpkin." Any love that lasts that long should be celebrated, but we're also impressed she found a word to rhyme with "pumpkin."

2

Leafy Lyrics: "In little towns like mine, that's all they've got / Newspaper clippings fill the coffee shops / The old men will always think they know it all / Young girls will dream about the boys of fall."

This song is the musical version of Friday Night Lights. Chesney celebrates small towns and big dreams, and the "boys of fall" who battle it out each weekend on the gridiron in high school football games while their devoted fans watch on.

1

Leafy Lyrics: "While the wind chased the leaves outside / Passion found a place to hide / Late September heat / Couldn't be denied."

This song has everything a good country fall song should: a football backdrop, autumnal imagery and a mournful love story. It's about the girl who got away to start something new, and about the boy left behind, remembering the wonder and the hunger.