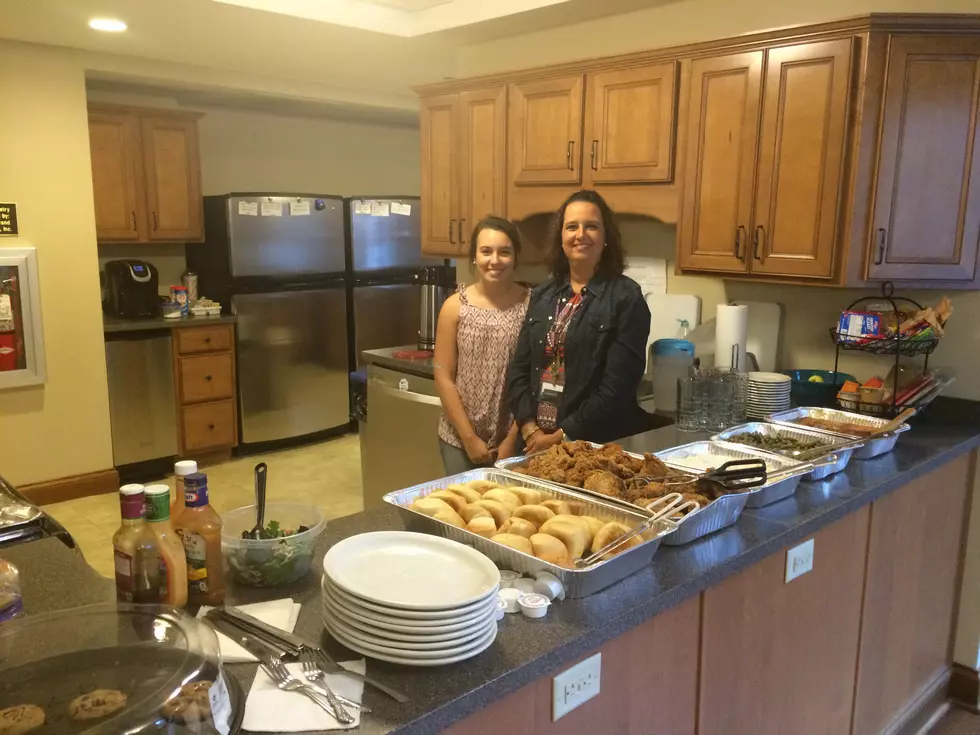 Ronald McDonald House of the Ohio Valley in Need of Home Cooked Meals for Residents at New Gateway Location
Chandler Meal Train
The Ronald McDonald House is a home-away-from-home for families who have sick kids in area hospitals that live out-of-town.
On October 15, 2019, the ribbon was cut and the doors of Ronald McDonald House Gateway officially opened! RMH Gateway will serve more families whose children are undergoing medical treatment. The RMH hopes to triple their impact with the expansion of services through the second Ronald McDonald House.
Every Christmas, I have the extreme pleasure of delivering toys and home goods to The Ronald McDonald House of the Ohio Valley with 911 Gives Hope for the Holidays. And during the holiday season, we are all excited to pitch in and extend good will towards man but sometimes we don't know where to start to help out.
If you've ever spent any time in the hospital you know that you get tired of hospital food really fast. The Ronald McDonald House is in need of some special volunteers to purchase and prepare home cooked meals or restaurant carry-in for their residents.
Complete details on the program, including the easy online sign-up tool and a GrubHub purchasing link at the Gateway or Washington locations, can be found here:  http://rmhcohiovalley.org/how-you-can-help/provide-a-meal/ Be sure to call the day before to check for occupancy of the House (812 ) 402-7642.
One of our most popular community group volunteer opportunities is our meal program. It is an act of kindness that translates feelings of concern into a tangible expression of human compassion. In a time when families are going through difficult circumstances, it is nice to have a hot, delicious home-cooked meal prepared for them.
Please don't hesitate to contact us with any questions (812) 402-7642.
It's easy to sign up!
Simply create a free account on our Meal Train Calendar, and you can schedule a time that works for you and your group.
*Note: If you're unsure of what you will be serving when you reserve a date, we welcome you to re-visit the website and add it.
Here are a few quick tips for our Meals of Love program:
The average number of people to cook at the Washington Avenue House for is 15-20, and the average number at the Gateway House is 28-30.  Because we never know from day to day how many people will be staying with us, it might be helpful to call a day or so before to check for occupancy at either House.
Kitchens at both Houses are equipped with pots, pans, baking sheets, and cooking utensils. We have a pantry with most staples (flour, sugar, seasonings, salad dressings) but ask that you bring all main ingredients.
Please note that our families may or may not be at the House during the time the meal is served. Their children's medical needs dictate mealtimes. Rest assured, though, that the ability to warm up a home-cooked meal is a huge gift of comfort even if you're not here to see it.
There is a gas grill available for volunteer use at the Washington Avenue House.
We ask that breakfast is ready at 8 a.m., brunch at 10 a.m., lunch at 12 noon, and dinner at 6 p.m.
To avoid duplication of meals through the week and to help families plan, please be sure to include your menu when signing up or at least one week before your meal.
Meal groups should not exceed 8-10 people.
*As Amazon associates we earn on qualifying purchases.
Need some help cooking for a crowd? Check out these items!
Gorilla Cutting Board
Professional quality cutting boards and cheese servers are both strong and durable to help ensure that they remain in place on most smooth and clean surfaces.
12 Pcs Silicone Cooking Kitchen Utensils Set with Holder
This 11-piece kitchen utensils set will satisfy all your needs for cooking. Everyone of them has its unique use. It would be your great companion in the kitchen. Elevate your kitchen and prepare to savor these unique kitchenware as much as the food itself!
Roaster Oven with Self-Basting Lid
Electric roaster oven accommodates turkeys up to 26 pounds